Beige Magazine
Beige Magazine
14-12-12
Glossy gay mag Beige join us this Saturday for the launch party for their winter issue. They're teaming up with DJ Rokk and the Body Talk crew to bring one amazing night of  music and celebration of LGBT creativity here in London. Taking to the decks deep down in the lazer basement will be Firecracker Records producer, the enigmatic Linkwood. Whilst his sound is hard to pin down you can be sure it'll traverse all sorts of house, disco, techno and funk.
Ahead of the party we caught up with Beige's Publishing Editor Barry Johnston to find out the lowdown on his magazine and why you should already be a regular reader...
What is Beige Magazine's ethos?
Tagged as 'The Provocative Cultural Quarterly' we aim to deliver passionate, creative and diverse coverage to the LGBT community and beyond, in a visually striking and thought-provoking format, destined to be a keep-sake collectors item.
Why did you decide to set up the magazine?
Partly due to our frustration at the misrepresentation of the LGBT community being a one trick pony in the gay press. We felt that this was not doing us any favours, and often portraying a negative image of our lifestyle to the 'outside' world. We are part of such a rich tapestry of talent and creative people who deserve to be captured and presented in a clean, crisp format, minus the aspects which would prevent you from being able to read it on public transport or leave it out on the coffee table at home because your mum might find it.
Who has been your favourite cover star so far?
We're in awe of all of the covers. Having the likes of Patrick Wolf and Marc Almond on previous covers was epic for us. Ana Matronic, who graces our current cover, is our first female cover as well as Ana's first solo cover. A perfect example of how we are trying to the break boundaries as to what you would expect from a homo magazine, a seductive and gorgeous female cover is just as visually enticing to us as a half naked man would be.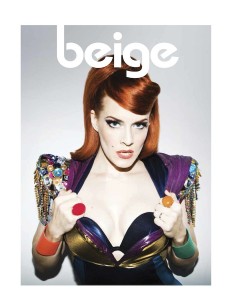 Who are the Beige Magazine heroes… who inspires you?
We are inspired by people from all walks of life. If you have an interesting story to tell then we're prepared to listen. We actively seek out new people to feature and collaborate with, not just from our community, but beyond, drawing inspiration from the past and hunting out new ideas for the future.
What and who is on your 2013 wish list?
Like our covers, which don't give anything away regarding the content of the issue, our content is always a closely guarded secret - we like the element of surprise.
Why is it important to have a diverse range of LGBT press here in London?
London epitomises diversity and it's healthy to have press coverage that caters to all tastes and persuasions. 
What is a local issue dear to your hearts?
Helping to give exposure to up and coming artists, designers and performers who deserve a platform and to get their name and work out in the public domain.
Who are Beige Magazines best new discoveries?
We have worked with so many incredibly talented and undiscovered people in producing Beige. In turn we try to utilise that talent again in a way/shape/form that may not be expected, i.e: using an artist as a photographer for a fashion shoot or having a previously featured author interview one of their heroes.
Why did you decide to have your winter issue launch here at Dalston Superstore?
Superstore has always been a favourite hang out spot of ours. We love the transition from cafe/art gallery by day to club by night. The crowd Superstore attracts is always as diverse as our content so it was a no brainer. It is also an honour for us to be working with Body Talk and Linkwood.
And finally who is currently on the Beige stereo?
We are still slightly obsessed with Lana Del Rey and her epic music videos. Needless to say that due to our involvement with Body Talk, Robyn and Linkwood have been on repeat lately in the studio.
Join the Beige Magazine team for their issue launch this Saturday 15th December with Body Talk and Linkwood from 9pm - 4:30am. 
For more info on Beige visit their official site: www.beigeuk.com
post-template-default single single-post postid-3286 single-format-standard tribe-no-js loading
Beige Magazine