Benedikt Rugar
Benedikt Rugar
25-10-17
This November we ring in the third birthday of our favourite happy-go-lucky queer rave, Homodrop! Over the last three years, the Homodrop crew have cemented their place in East London queer nightlife, with a strong emphasis on the visual element of their identity. Their resident graphic designer for the past year has been Benedikt Rugar, whose lurid, cheeky and abstractly sexual work has been turning many heads in the venue! Having worked with iconic clubs and brand from Berghain and Cocktail D'Amore to Beam Club Bangkok, his artwork is now synonymous in London with Homodrop's colourful, mad aesthetic. We caught up with him to chat childhood inspiration, mosaics and, of course, gay nightlife!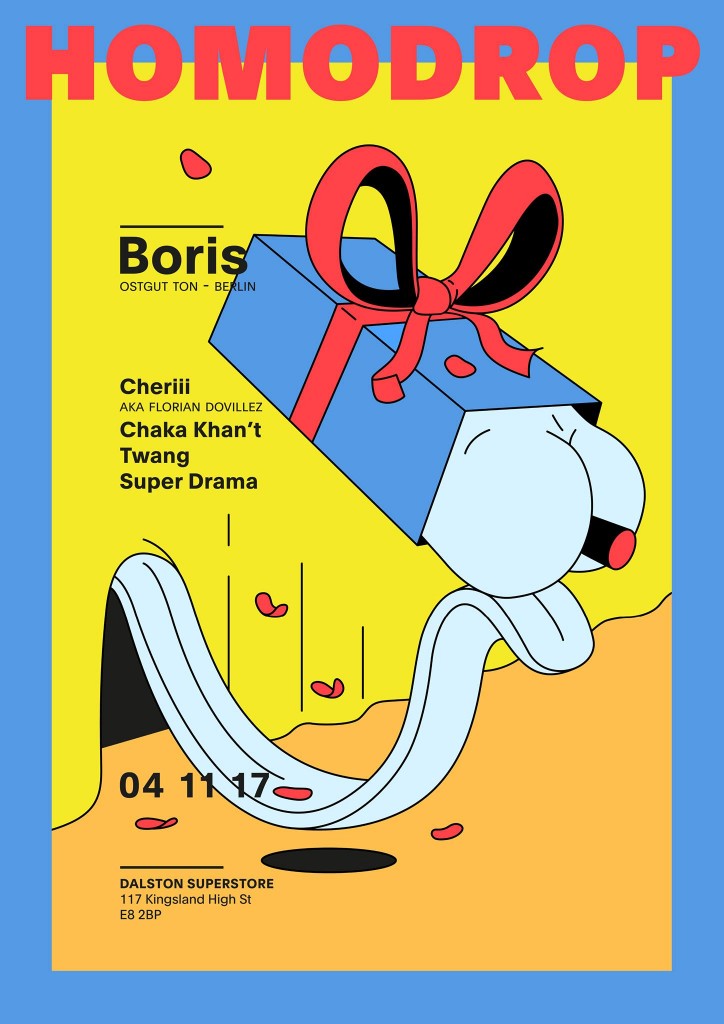 Hi Benedikt! We absolutely ADORE your kinky, abstract Homodrop artwork! Where do you get your inspiration?
Hi – thank you so much! It is lots of fun to work for Homodrop. I get the concept of the party from my going out in the queer/gay scene in Berlin. I think I understand what Homodrop wants. It's queer and colourful, sexy and playful, and it doesn't take itself too seriously. Music, fun and love are in the foreground of the experience. For the poster series, I developed absurd spatial still-lifes that played around with queer topics, without necessarily showing men. From futuristic penis-instruments to a blowjob fruit salad in a glory hole – clichés from the scene in a new packaging.
Has graphic art always been a big part of your life?
I was always a very visual person. I have trouble remembering names, but faces I never forget. My graphic awakening was quite early, at the end of my school years. University was like a forge for my visual understanding, and drawing has never left me since. Graphics and drawing are a language that can be more easily read and understand across cultures. I find this exciting – that it can breach borders.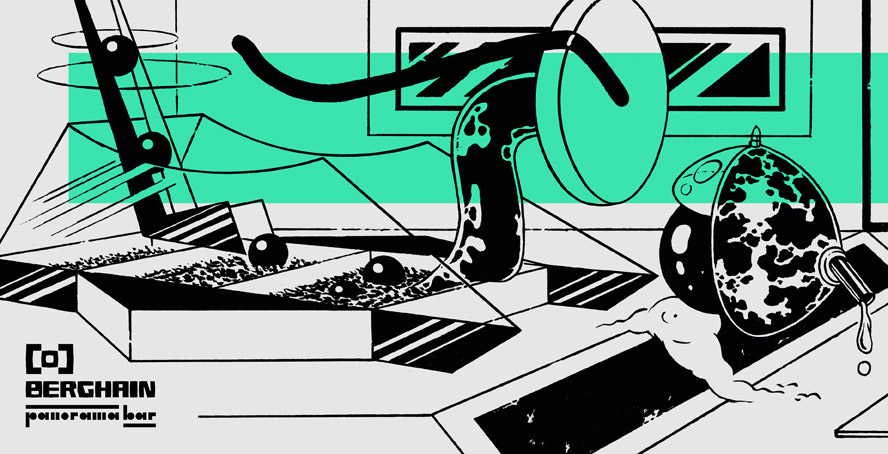 You've worked with the Homodrop crew for a year now - can you describe the party in three words?
Unicorn, kinky, adorable.
What kind of music do you listen to when you're making work?
Very different kinds of music. Lena Platonos is super!
What is your earliest artistic memory?
As a child, I drew my own action figures on card, cut them out and made them fight with each other – like you would with actual action figures. Almost all of these card figures were muscly "male mermaids" with vampire teeth. A mash-up of the Little Mermaid, He Man and Count Dracula. They belonged in a world of their own. Sadly I lost them over time, otherwise I am sure they would be on one of my walls now. 
That's so cute! Which other artists or designers do you most admire?
Of course there a few artists that I like. But off the top of my head, I can think of the posters from Braulio Amado, which are amazing, or I still love – and have done so for years – the graphic and comic worlds of Igor Hofbauer or Yuichi Yokoyama.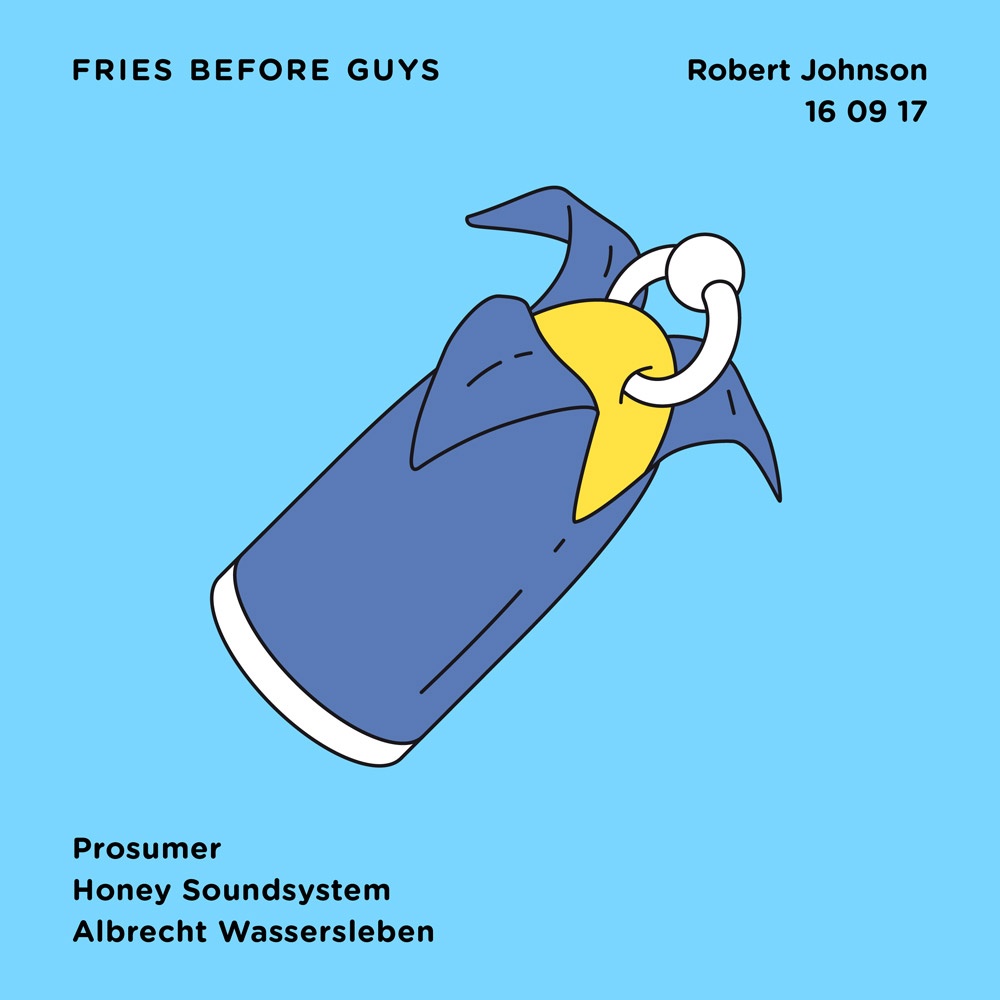 Which work of art do you wish you created?
Ask me that again when I'm so old that I can't hold a pen with my hand.
You were recently commissioned to create a mosaic for Bangkok-based Beam Club – what was that project like?
It was definitely something special. I was asked to design a seven-meter long mosaic wall for the Beam club in Bangkok, which had recently been finished with an interior design concept by William Russell of Pentagram. The wall lies behind the bar in the lounge, a quieter area of the club, so the owner wanted the illustration to have a dream-like feel about it, inviting guests to linger in the space.
My immediate reference were vintage illustrations from the 1960s, where families gather in front of futuristic buildings, a representation of everyday life scenarios but in an imposing environment. These were the raw materials that I used to create a window into a fictional landscape. Instead of a conventional rendering, we decided to solve this challenge by creating a huge mosaic wall in tune with the materials used throughout.
The artwork – which I had to "translate" into the language of mosaics – is made up of hundreds of 1 x 1 cm pixels: the actual black or white tiles on the wall. The technique allowed for matt and glossy finishes, which used in combination allowed me to introduce highlights.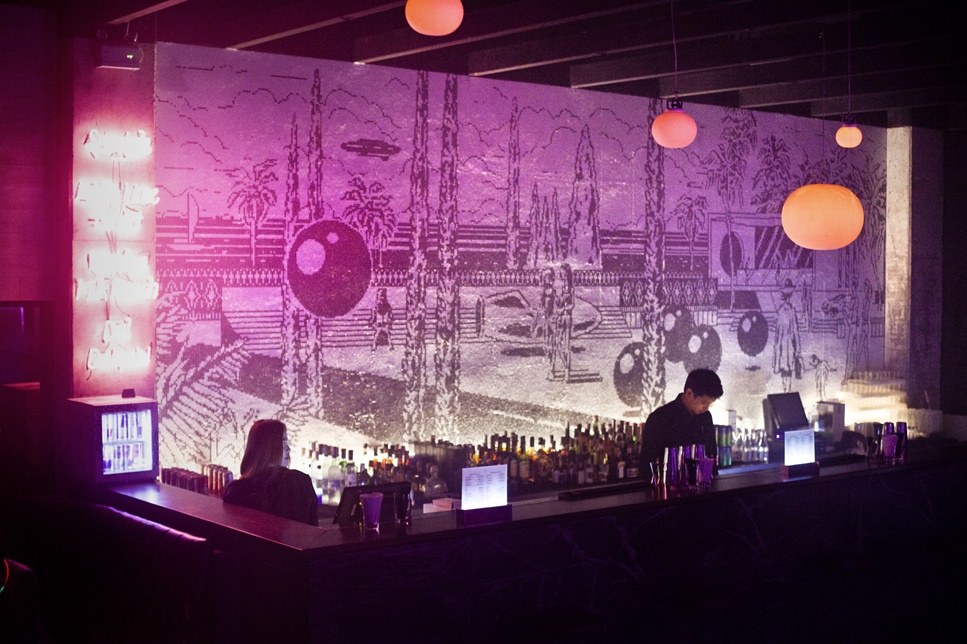 You're involved with a lot of graphic design for nightclubs – is the clubbing world a big part of your life? How does it inform your work?
It has a big influence in my work, yes. I went clubbing a lot, especially during my first years in Berlin. It's what happens here. In Frankfurt, where I come from, I never found parties like the ones I enjoyed later in other cities.  I got to know many different kinds of people going out in Berlin, and with some I am still connected. When I first met them, I never suspected that it would lead to very nice collaborations later, like record covers and club posters. The scene is full of talented people from the creative business – and it's not all lost on the dancefloor. Sure enough, I love dancing and going out. It's a part of life in Berlin.
What does your queer utopia look like?
Queer utopia ? It depends from where you start. From outside: for sure, more love and tolerance. And from inside – for the scene itself: less narcissism, more activism!
Any exciting project in the pipeline you can let us in on?
My biggest project at the moment is to follow my own art, next to my regular jobs. I just had my first solo exhibition in Hamburg, which was a very nice experience, but in very busy periods like those, I miss sometimes the energy and time to work on my own stuff. And it's from these self-initiated projects I draw the material that I use in my other work, especially in club posters which depend so much on the visual. Free artworks need their own process, and usually jobs don't give you the time for this. So it's important for me to be connected with myself like this too.
---
Check out Benedikt's artwork for Homodrop, and join us on the next party on Saturday 4 November from 9pm-4am at Dalston Superstore!
post-template-default single single-post postid-12701 single-format-standard tribe-no-js loading
Benedikt Rugar