Bica & Cathal
Bica & Cathal
01-09-14
London's premiere Thursday night social for thirsty lesbians and their gay boyfriends Clam Jam turns ONE YEAR OLD this week! And to celebrate, we rounded up resident DJs Bica and Packin C aka Cathal to find out how they keep managing to attract the hottest girls, interesting guests (this week as a birthday treat, Pat Butcher- ok Jacqui Potato dressed as Pat Butcher- takes to the decks) and still manage to play good music...
"Clam jam" is the female equivalent of cock blocking. But isn't what you guys are doing basically the opposite?
bICA: We called it that because it was one of our favourite lesbian slang expressions.
cATHAL: We wanted to turn it on its head - claim the expression for ourselves and bring a bit of humour to it. Plus I mean, come on, if you're getting clam jammed it means there are some serious fitties in the room.
bICA: Yeah, who doesn't like some hot and healthy competition?!
Before you settled on the obviously amazing name, what else hilarious was up for consideration?
bICA: Anything that had pUSSY cat or female genitalia was obviously considered.
cATHAL: mINGE bINGE was tossed around and is still in the running.
bICA: Yeah, we're still considering using it as an after cLAM jAM party should the occasion arise.
Why do lesbians like dancing on Thursdays?
bICA: It's weird innit because we presume the majority are employed and still have to get up on Fridays!
cATHAL: From the outset we thought if it's a good party the ladies will come regardless of what day it is - Thursday just seems to fill their slot.
What's a guaranteed Packin' C dancefloor filler?
cATHAL: Anything sleazeh and chunkeh.
bICA: With a Jäger bomb bass line and a healthy amount of pheromones sprinkled across it.
cATHAL: This Toddler T track with Shola Ama is a favourite  - it's a bit of a Clam Jam anthem now - it ALWAYS gets the girls dancing, if you hear it you know you're here and the fun is gonna increase ten fold.
Fave photo each snapped by Cathal that sums up the night for you...
cATHAL: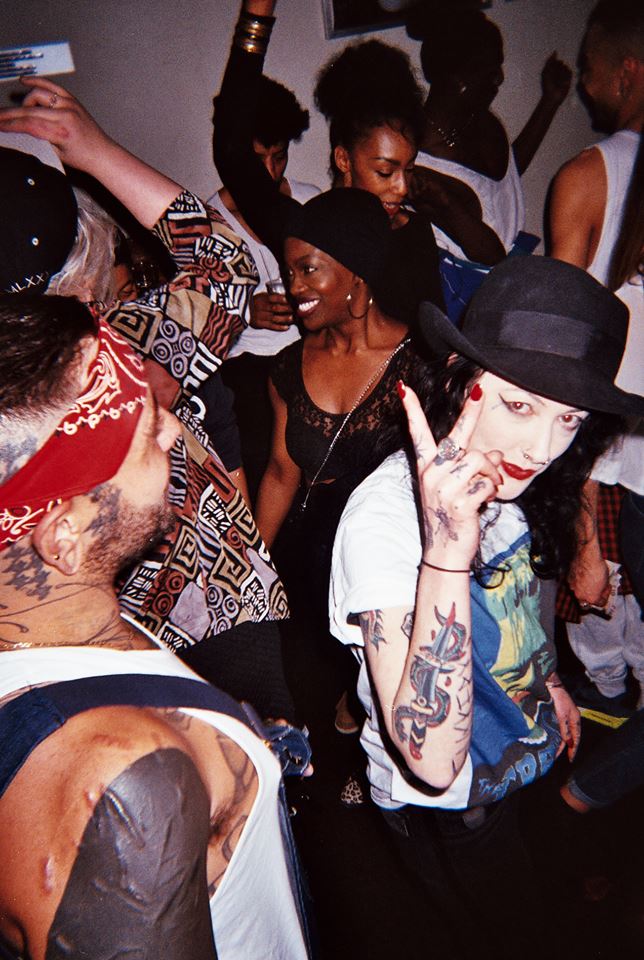 bICA:
Forget "what happens at Clam Jam, stays at Clam Jam", what is the craziest thing you have seen with your own eyes at Clam Jam?
bICA: Girls getting it on in the most unusual crevices of Superstore, naked dancing on the bar...
cATHAL: I've got a vivid memory of these really hot girls packed into a gold BMW outside doing their nails getting ready to come in - that gave a happy warm feeling inside.
Who is your dream Clam Jam guest?
cATHAL: Aside from Pat Butcher?
bICA: I'd have to say Courtney Love on one on the decks.
cATHAL: Beth Ditto dressed as Lil'Kim holding hands with Sandra Bernhard would be nice.
If Clam Jam was a cocktail what would the ingredients be?
bICA + cATHAL:
7oz crushed ice
500ml Hendricks gin (strong as fuck, gets you unawares)
A large unused (please girls) slice of cucumber
Lucy Fizz tonic (for the ting)
A big red sugary rim 
NB: it's paramount not to be stingy with the measures.
All of this is guaranteed to leave you with no regrets, just a fuzzy clammy feeling of joy.
What would you improve about London's lesbian scene?
cATHAL: Consistency.
bICA: There simply should be more to it.
cATHAL: Yep, I think people being more aware that there are a whole bunch of girls out there who are pretty next level and wanna go out somewhere together.
bICA: Definitely… sometimes a factor that is  missing from lesbian nights is a good directional music policy.
What's the ratio of girls to boys on a standard Thursday?
bICA: I think I would say 85% girls, 10% fit gay boys, 5% drag queens, 0% straight pervy boys hassling ya.
What can we expect from Clam Jam Year Two?
cATHAL: We have a really exciting warehouse collaboration coming up - still under wraps, I can't wait , our girls are going to LOVE IT.
bICA: We've had some really great girl guests in our first year - we wanna continue bringing a diverse element to the east end - if I tell you more I'm gonna have to kill ya.
cATHAL: Our website is launching next week so keep ya clams peeled! It's going to be a great showcase of all the photos I've taken over the past year as well as the posters we've created with Shay Malt - he has been brilliant. We want to continue pushing a strong visual identity for cLAM jAM and most importantly, continue in making a difference.
bICA: We wanna thank our fiercely loyal girls by making the night even more bam! 
What advice would you give to a Clam Jam virgin?
bICA: Brush your hair, change your underwear, do some pelvic floor exercises.
cATHAL: Bring a jar, we provide the jam.
Join Bica, Cathal and Pat Butcher (aka Jacqui Potato) this Thursday 4th September from 9pm - 2.30am at Clam Jam's 1st Birthday.
post-template-default single single-post postid-7518 single-format-standard tribe-no-js loading
Bica & Cathal