Bj Broekhuizen
Bj Broekhuizen
31-03-15
This Wednesday as part of the next Arthole exhibition, we welcome South African-born, London based Bj Broekhuizen for his solo show MAN. 
"Raw, brutal, rough; his works are pure depictions of flesh and fibers, muscles, skin and life force. Paintings with a subconscious sexual, male, powerful, energy."
We caught up with Bj to find out more about his roots within art and about his challenging and beautiful paintings ahead of the private view...
Who are you and what medium do you work in?
My name is Bj Broekhuizen, I was born in Cape Town, South Africa but I've been living in London for the past 13 years. I've slowly been making the transition from working with inks to oil paint, I'm finding the oils being a more raw brutal medium to work in preferred to the fluidity and softness of inks.
Who was the first artist who mesmerised young you, and what work specifically caught your eye?
Learning about Picasso at an early age in art class, and my mothers obsession with Paloma Picasso as a teenager, his name stuck with me all these years. Guernica is definitely my favourite, so much violence and chaos, it really excites me.
What training have you received in your chosen medium, if any?
My mother started taking me for extra art classes from a really young age at around 10-11, and that continued through out my high school years. I did a three year Textile & Design course as part of my school programme from age 16-18. I did my BA in Menswear for three years after school at the Cape Town Technicon with a successful end of year final fashion show. I got offered a job as Head Visual Merchandiser Menswear for Harvey Nichols in London straight after my show and packed my bags for London in 2002. I was at Harvey Nichols for seven years till 2009 when I decided to resign and start my art career which I have been doing now for the past six years.
What's your fave piece of your work on exhibition with ArtHole?
King (51 x 76cm) oil on canvas, the name says it all.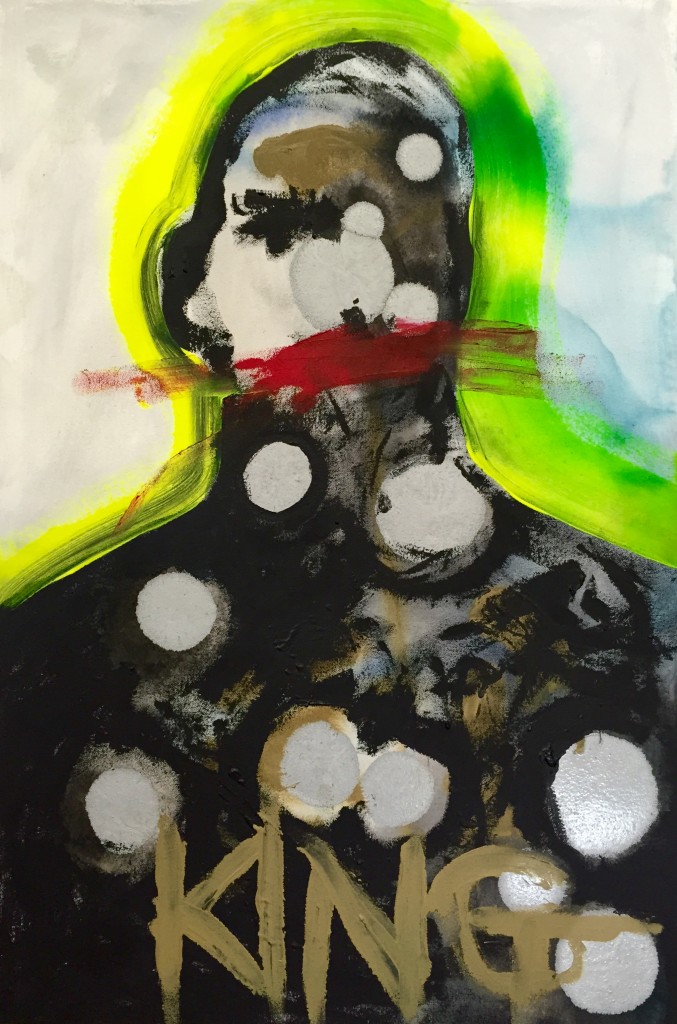 In an ideal world, what would you change about the current art world?
Make it less political and more about humanity.
What do you aspire to?
I think that enduring, committed love between two people in a relationship, is the most noble act anyone can aspire to. It is not written about very much.
Tell us a secret about yourself...
I have tattoos in unexpected places!
What music do you make your art to?
Ray LaMontagne, Damien Rice, Perfume Genius, Marilyn Manson, Portishead, NIN, the list goes on... I have an eclectic music taste.
Describe your working process for us...
I was approached by my best friend who knows Morris from Arthole and we set up a studio meeting and selected a few pieces and named the show Man. The following body of works was created from the selected pieces as main influence, It has been a very organic beautiful growth process for myself as an artist and a person looking at my own work and developing ideas and concepts further. Constant communication has been a vital part of this process discussing which pieces will work or developing certain ideas further. The past four months has been a creative high working with Arthole creating this show from start to finish and I am excited to unveil this to the public and press.
What was the last thing that moved you to tears?
Saying good bye to my boyfriend as he was leaving on a work trip to Asia.
Join Bj Broekhuizen for the private view of his new solo show MAN this Wednesday 1st April at Dalston Superstore from 6pm - 9pm.
Visit the Arthole website to find out more and purchase Bj's work: www.artholelondon.com
post-template-default single single-post postid-8390 single-format-standard tribe-no-js loading
Bj Broekhuizen