Clara 3000
Clara 3000
23-04-15
Tomorrow night we welcome Parisian up-and-coming DJ and producer Clara 3000 to Dalston Superstore for another edition of LAZERTITZ! A protégé of French legend (and Superstore fave) Chloé, Clara made her name as a DJ and kick-started her career at the tender age of 19 supporting famed electro band Justice. Now she's made her own EP for French label Kill The DJ and playing in our basement! Ahead of the party, we caught up with her to find out more...
Your DJ name makes you sound like a futuristic robot disguised as a hot girl… Are you a modern day Maria from Metropolis?
I'll just take the compliment.
You started writing for a dance music magazine at 17 AND you interned at Ed Banger… is there a better induction into dance music for a french teenager?
It was a good way to start indeed and I learnt a lot about clubs, music, and its business. Looking back, I realize how lucky I was: in 2007-2008 Ed Banger was the most exciting thing in the French electronic scene, there really was a feeling of "here and now". These two jobs also gave me an excuse to spend three nights a week going out, which allowed me to start figuring out more precisely what sound I really related to, what worked and what was boring, what I loved in the night itself, etc. After a while I realized I wanted to be more than witness of this and I eventually started DJing myself.
If you had a time machine and could visit any dance floor anywhere/anywhen, where would you want to go dancing?
Wigan Casino 1965, Mudd Club 1980, Hacienda, 1985. 
Your Rinse FM show is described as super eclectic… how do you go about digging records for it? Do you start with a theme or do you freeform it?
It's more like wandering, every week I listen to a lot of stuff from different sources (blogs, YouTube, Discogs, books...) I usually just get caught by something I like and research around it. Most of the time you have listen to a hundred bad songs to find a good rarity. 
At our sister venue Voodoo Rays we have pizzas named after Giorgio Moroder and Hot Mix 5…. What base and toppings would a Clara 3000 pizza have on it?
Pepperoni for ever.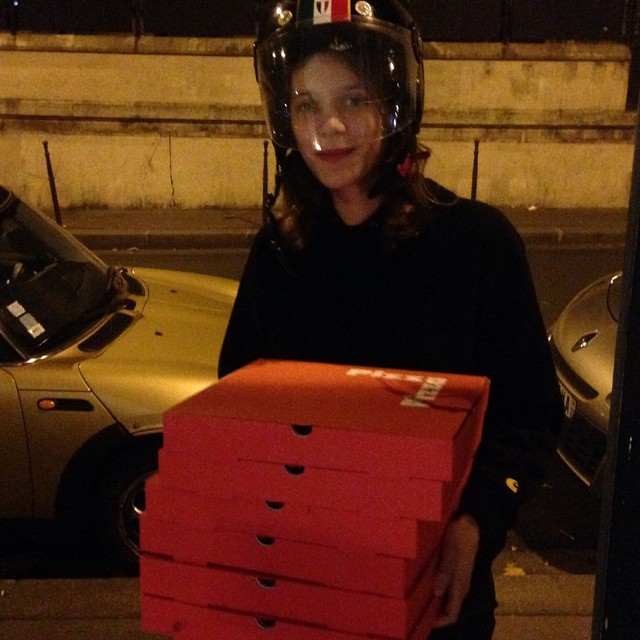 Talk us through your debut release! Super exciting! We want to know all about it please…
It's been super interesting to lock myself in the studio, and it was more introspective than I thought it would be. I knew nothing about production so it took some time to learn about the technical stuff but the EP is almost finished now and I can't wait for it to come out. It'll be released in Kill The DJ after summer.
If you taking us on a date in Paris where would be going to eat, drink and dance?
First a rubbish bar because it's always more fun, then sea food at Terminus Nord, and after we improvise.
But if you could change one thing about Paris nightlife what would it be?
More girls behind the decks. 
You've previously spoken about your childhood love of the Batman soundtrack… if your music was scoring a film what film would it be?
A western.
You describe yourself as a "no-pants DJ"… Firstly,do you mean American pants or British pants because frankly your answer changes EVERYTHING. And secondly, is this something we can expect at Lazertitz?
Come and see! 
Join Clara for Lazertitz this Saturday 25th April at Dalston Superstore from 9pm - 4am.
Photo credit: Pierre-Ange Carlotti
post-template-default single single-post postid-8487 single-format-standard tribe-no-js loading
Clara 3000