Dario Argento
Dario Argento
09-02-12
Cult cinema night Cigarette Burns returns to our neighbour, the wonderful Rio Cinema, next weekend with a rare screening of Dario Argento's classic thriller Profondo Rosso. Considered by many to be his masterpiece, it's a prime and visceral example of the uniquely Italian genre 'giallo', a blend of suspense, horror and mystery.
David Hemmings stars as music teacher Marcus Daly who witnesses the murder of a famous psychic. After realising he might hold a clue to the identity of the killer, he obsesses over this, not realising he's endangering his own life and that of his friends and family. He, his best friend Carlos, and feisty reporter love interest Gianna must then try to evade the attempts on their lives by the hatchet-wielding figure.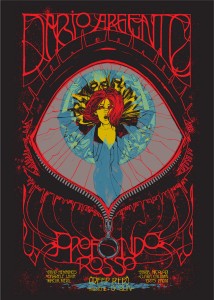 Aside from its lengthy scenes of violence, Argento adds a sense of realism and everyday nature to Profondo Rosso, which even extends to his portrayal of gay characters; something almost unheard of in '70s Italy. As Josh from Cigarette Burns tells us, 
"Sex and sexuality run deep through Dario Argento's films, from foot fetishes to strangulation, but against the stereotypical ideas of a conservative mid 70s Italy, Argento's approach to the revelation of Carlos' homosexuality is shot through an almost indifferent lens. As we find him hiding away in his gay lover's flat, half passed out on the bed, David Hemmings hardly notices his best friend's sexuality. While as an audience, we veiw it as a plot device, a red herring, but regardless of that, Carlos is a frightened yet comfortable gay man, hiding away in the safest place he knows, in the arms of the person who loves him, not some aberrant beast. Even 30 years later, it's still difficult to find such portrayals grace our screens."
Profondo Rosso screening by Cigarette Burns Cinema at The Rio on Saturday 18th February at 11:30pm. Tickets are 7.5 and can be bought from The Rio's website.
post-template-default single single-post postid-833 single-format-standard tribe-no-js loading
Dario Argento