Dick And Fanny
Dick And Fanny
29-05-12
Mixed gay dance party Dick And Fanny comes to Superstore this Sunday to see in the Queen's Jubilee in style with special guests from Berlin, The Pet Shop Bears. We pinned down the promoters behind the celebrated night, Alex Karotsch and Sandra Le, to find out what makes their night so special and how they come up with inspiration for their fabulous posters...
Tell us about the genesis of Dick And Fanny?
Alex: I started running Kimono Krush with a few friends back in October 2008 at the Royal Vauxhall Tavern and Sandra was kind of begging me to do something east. When I finally did it was Dirtbox, which is very man-heavy. So we decided to do something together that's a more mixed affair. Sandra and her friend Simon had always talked about how they can never really go out together because it's either girl nights or boy nights. So we decided to organise something that might appeal to both sexes. Sandra really wanted to book Kim Ann Foxman, so asked her, booked a venue and went ahead with it. We were really shitting ourselves that nobody would turn up but it was a huge success.
Sandra: The genesis really came from wanting to dance with (gay) friends of whatever gender to great dance music. Simon and I had been thinking that if we couldn't find such a party maybe we should start one but then nothing came out of this. In the meantime I was nagging Alex about starting such a night in east London. I only got involved in it seriously because I really wanted Kim Ann to come and play in London. One day I contacted her not really thinking that it'd work but not only she was super lovely but she was also totally up for it. This is how it started and the rest is history...
How did you come up with your amazing DJ names?
Alex: I came up with my name years before I actually started DJing. It came from a jokey conversation I had with a friend about her wanting to make a porn version of Gosford Park and call it Gosford Pork. I was going to 'make' the sequel and call it The Duchess of Pork. And when I was deciding on a DJ name a couple of years later I thought it'd be funny.
?Sandra: Well I don't have a DJ name but Dick And Fanny was coined by a friend of Alex's. The idea was to have a name that would appeal to both sexes and be funny. Dick and Fanny are old-fashioned names but also, well, you know...
Describe the musical policy at D And F...
Alex: Our musical policy was very much informed by our first few guests. Since we had Kim Ann Foxman as our main guest for the first DAF and we really love classic house and techno we built the music policy around that and added some Italo and hi-nrg for fun which usually gets played earlier in the night.
What's one quintessential D And F track?
Kim Ann Foxman - Creature (MR.INTL)
Why is it so rare to find gay clubs that attract equal numbers of guys and girls?
Alex: I think there can be a bit of animosity between lesbians and gays so they don't always mix when going out; a lot of nights are also geared towards a specific audience, either guys or girls. But in east London there's a bit more crossover and there are a lot of friendships between gay and lesbians.
Sandra: Not sure why because we are definitely not the only ones wanting mix places. If I had to guess I'd say that maybe people who are starting gay nights here are generally younger and what you're after when you're in your twenties is different from what you're after when you are older. But that's just a thought. I don't necessarily think that there is animosity between gays and lesbians (I don't see it in my circle of friends for sure) but I think guys are not always super comfortable trying to pull when girls are around and girls don't necessarily go out as much. But these are just sweeping generalisations and I'm very happy that so far we have managed to keep the night really mixed. Essentially we try to make ourselves happy and share that happiness with our friends and anyone else who has similar tastes as we do. 
Who is a true Dick And Fanny icon?
Sandra: Madonna...!
Alex: I'd second that.
We love your posters- how do you find the inspiration for them and which is your favourite?
Alex: We love a bit of a pop culture reference so a lot of the inspiration for our posters comes from film, music and TV but we also throw in the odd random image like the aerobic one last year (inspired by '80s workout videos and Jane Fonda) and the swimwear one the year before (inspired partly by Tom Selleck in Magnum, P.I.).
My favourite is the Pretty Woman poster, I saw it about five times in the cinema when it came out and the poster was too good an image to not recreate as a DAF poster. I also love the Jeff Koons and Top Gun ones.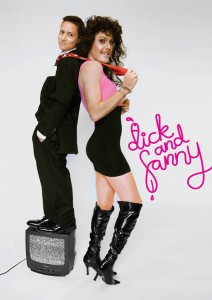 Sandra: I think my favourite is the Kurt Cobain and Courtney Love one. For what it is but also for the actual photograph, its colours and composition.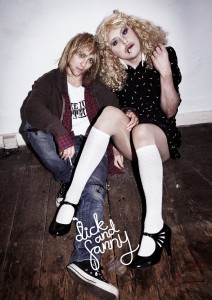 Alex: A special shout out also needs to go to our collaborators at this point: Khalid El-Awad and Christa Holka for shooting the images and Lazy Susan for being incredible on all the images.
You've been going almost three years- in that time who's been your favourite all-round guest, your best dressed guest and your most surprising guest (for whatever reason)?
Sandra: We can't single anyone out really. All the talent we book, we book because we love their work. We have also been super lucky because everyone has been so nice and we have made really good friends along the way too such as Kim Anh from LA.
The best dressed guest was Feral! And our most surprising guest was Maya Jane Coles, we were lucky enough to book her before she became a superstar. We love Maya and we hope to have her return to our decks very soon!
Join Alex and Sandra for Dick And Fanny Presents the pEt sHOp bEARs - Jubilee Sunday Special this Sunday 3rd June from 9pm - 4am.
post-template-default single single-post postid-1634 single-format-standard tribe-no-js loading
Dick And Fanny