Dope Boy
Dope Boy
25-07-14
Tonight sees a very special live performance from young up-and-coming gay rapper Dope Boy at the freshest party in town, Dirty Diana. Ahead of the festivities we caught out with him to find out more about his roots, influences and style...
Who is Dope Boy and where does he hail from?
Dopeboy is a London Based Gay rapper from Nottingham. But I've been in London for about four years now.
What are you earliest musical memories?
This is so bait but when I was a kid at about 3-5 years old I loved Take That and I  knew every song and every dance. I swear my auntie has a video of me singing into a fork with my tux on. 
Why is a visible LGBT presence in rap important?
I think now it is very important with everything changing within the gay rights movement and equality. Like how gay marriage is being accepted in many countries and that's still growing. The reason it would be important in hip hop is because it's currently the most influential within the music industry at this precise moment. People relate to music and I think it grabs people's attention. I think it's something that should of happened along time ago but I'm happy it's happening now because I get to be apart of it.
Who are your hip hop heroes?
Missy Elliot, Busta Rhymes, The Fugees, Lauryn Hill, Eve, Lil Kim, 2Pac, Biggie, A$AP Rocky, Lil Wayne  and that just a few. I'd say for right now.... it would have to be Mykki Blanco, Le1f, Brooke Candy, Junglepussy, Chance The Rapper, Childish Gambino are among many people repping the gay community. I like what they're doing and I think it's different within the industry right now.... they're like the next big thing.  
If you could only listen to one record on repeat for the rest of your life, what would it be?
En Vogue - Don't Let Go. THEE MOST EMPOWERING SONG!!! GIVES ME LIFE.
Describe your look.
Futuristic, punk, grunge, MOD, Chav, ghetto space cadet.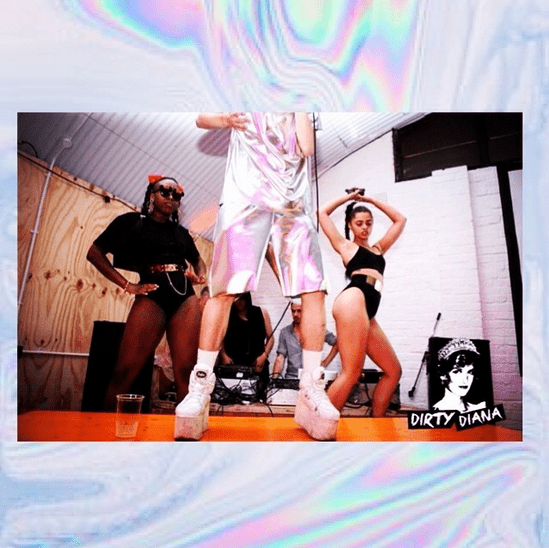 What will a live Dope Boy performance here at Dalston Superstore entail?
Sexy girls, naked boys, fabulous outfits, good music, sunglasses, platform shoes, booty shaking, split dropping, turnt up realness.
As a self-proclaimed East London gay rights preacher, what would you change about the queer scene here?
I don't think there is anything wrong with the gay scene. We turn up, we have fun, and we do us. I don't think its the gay scene that is the focus. We all just here to have fun.
We have a time machine and we can go visit any dancefloor from anywhere/anywhen.... where are we going?
'90s America. New York City.  Danceteria. Specifically Michael Alig's Club Kids scene.
Out of your own tracks, which are you most proud of and if you could explain in one sentence why that particular track is so awesome...
That tough. I would probably say Find Yourself because not only was it my first track but it was very personal and I've had many comments, especially after performing at Pride that it can really effect the younger gay generation. Help them through school and all the tough bits when growing up as a gay or trans* individual.
Join Dope Boy tonight Friday 25th July at Dirty Diana with Boris (Ostgut Ton) at Dalston Superstore from 9pm - 5am.
Photo credit: Dope Boy
post-template-default single single-post postid-7387 single-format-standard tribe-no-js loading
Dope Boy