Drawing Dalston
Drawing Dalston
30-10-12
This week sees our home translated into a series of illustrations by local artist Jane Smith. Her colourful work will be on display from 1st November all the way through to the 7th December in Dalston's The Jungle Cafe. We caught up with Miss Smith to discuss her upcoming exhibition and why she loves the area so much...
What is your favourite Dalston landmark?
Ridley Road Market. Full of character and characters. Good cheap fruit and vegetables. Full of life - always cheers me up.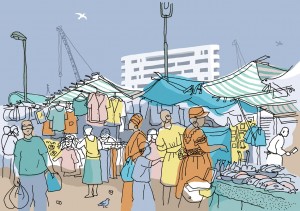 Why do you love Dalston?
I have loved Dalston since I moved here in 1994. I have always felt that it had something special going for it, even before it was cool. It has life - people from every part of the world and a real feeling of home. There is the buzz of the High Street, and also plenty of pretty, leafy quiet areas and lovely houses too.
Can you tell us a bit about your working process?
Creatively, I have two distinct styles or processes. Firstly there is my sketching/drawing style, and I do an original sketch then either manipulate it in Photoshop or use watercolour. My other distinct technique is printmaking, mainly linocut.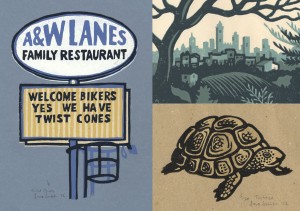 Both of these styles are used for artistic and commercial purposes, although commercially the imagery is often adapted to suit the client or brief.
You have a pretty prestigious list of clients- what's the most interesting commercial project you've worked on recently?
I have just finished a limited edition print for Ted Baker (Baker's Dozen) as part of a series of images done by 13 different illustrators representing British pastimes.
I depicted the car boot sale at Princess May School.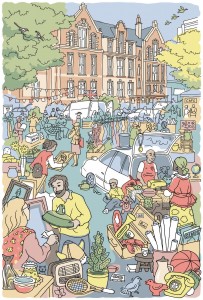 What impact do you think the Olympics has had on Hackney?
I think the Olympics had a positive impact on the area. It really seemed to bring people together and brought out their non-cynical sides. I was lucky enough to get a ticket and had a day at the Olympic Park, watching the diving and doing some sketching.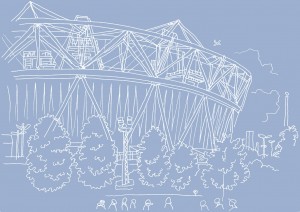 What do you wish the area had more of?
Trees. Mainly in the High Street, on Dalston Lane and Shacklewell Lane / Crossway.
Who are your biggest illustration inspirations?
Oh, lots - Edward Bawden, Eric Ravillious, John Piper, David Gentleman, Abram Games, David Weidman, Shepard Fairey, M.Sasek, Grayson Perry, Anni Axworthy, Olivier Kugler, Christopher Sydney Brown, Rob Ryan - many more besides.
What one thing couldn't you do your job without?
Photoshop.
See Jane Smith's exhibition "Drawing Dalston" from 1st November - 7th December, with a private view this Thursday 1st November from 7-10pm at The Jungle Cafe, Dalston.
post-template-default single single-post postid-2972 single-format-standard tribe-no-js loading
Drawing Dalston