Elles
Elles
26-10-12
Tonight sees Elles of Legendary Children fame join us in the top bar for a game of Truth Or Dare with host Miguel Dare! Normally known for bringing the H.O.U.S.E. she's more likely to be digging through her collection for records on the poppier side of things! We caught her alone for a more in-depth chat...
How would describe your role within Legendary Children?
Umm..  Legendary House Mother (see: Willi Ninja for definition)?… I would say I am the networker of the group: I love meeting people and socializing and casting the net a bit wider than maybe the two boys would do if they were a duo. My approach to music is perhaps more open too. I love pop as much as I get techno and house. Although you wont hear a huge amount of the former at our nights, sometimes I play things the boys might be unsure of but tends to work out in the end.
The three of us are very distinct personalities and each bring something unique to the table. Pac is the technology man while Neil and I are more creative, which is vital cos if we were all dreaming up things and staring out the window but had no clue how a mixing desk worked we'd be stuffed.  Lucky we do all know how to work a mixing desk so that's not a problem, but ultimately whatever it is that works between the three of us creates a pretty good balance.
You're also pretty tight with Thunder. Anything on the cards lined up with them?
Ah we love Thunder! We did a Vs. party with them last month which was ace. Their parties are so good. There is talk of repeating that at some stage and also whispers of doing some sort of New Years day party with those guys so keep it locked….
What can we expect from your set at Truth or Dare?
Not strictly a typical Legendary Children set! I've played for Miguel a few times before, the crowd are always really fun and up for whatever so there is a lot of freedom to be creative. Last time I played for him it was straight up hip hop and r'n'b all night which I loved as I don't tend to play much R.Kelly at LC. Haha. On Friday I'll probably go for something that is a bit of everything: Vogue-classics, house bumpers, party vibes. I love playing at Superstore and the upstairs bar is always so fun I'm really looking forward to it.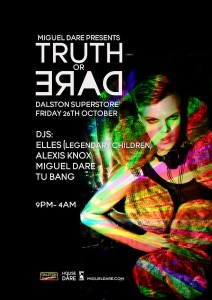 What's the most embarrassing secret you've ever spilled during an actual game of Truth Or Dare?
I'm a Dare girl. I tend to wear my embarrassing secrets on my sleeve so I'll go for Dare every time.
 And what's the most embarrassing "guilty pleasure" record in your collection?
Err the entire lot? Haha. I am a long-term Kylie fan and own most of her back catalogue but to be honest I'm not really embarrassed by that. There's probably a great deal in my collection that my peers wouldn't be seen dead with. More fool them. It ain't all Hinge Finger and Nu Groove you know. Well, it is that too but you get what I mean.
While we're on the subject of cringe records though, a friend of my mums did the classic 'oooh you like vinyl here are a load of LPs that have been in the garage for the past 40 years' and offloaded them on me. Unsurprisingly, it was a lot of Rod Stewart and things that probably made sense to people in 1972 in there. Most of it found its way swiftly to Scope on Peckham High Street, however I took a bunch of vinyl down to Music Exchange recently, mainly '00s house and drum & bass but slipped a few of the dodgy ones in there just for good measure- see who was paying attention, like. The guys behind the counter looked so sad and confused. They were like "Um we don't really sell much of this kind of thing". At least I made a valid contribution to their bargain basement. Although my record shop rep is now officially in tatters.
What do you hate about clubs?
In general? Ummm… Not enough clubs with free bars and taxis home? As a rule I tend to steer clear of clubs that I dislike with any passion. If pushed I would say I am deffo more a fan of smaller clubs although big rooms can also be amazing if done well. The recent DJ Harvey gig was testament to that. There are so many factors that create a great clubbing experience from the music to the crowd to whether or not you got out of bed the right side that day I couldn't say there was a rule of thumb for all clubs that defines greatness or hatefulness.
What are your favourite house records that aren't house records? 
Ooh I love a bit of house-not-house. Always down for slipping a pop or disco record in here and there. At Bestival I played Sylvester's 'Do You Wanna Funk' in a house set. Although he is as disco as they come there are also few artists more H.O.U.S.E than Sylvester. On a similar note Miles (Simpson of Thunder) and I warmed up for Robert Owens recently, my parting shot was Jellybean's Material Girl remix which I'm not entirely sure Mr. Owens 'got' but the crowd were on board with so there you go.. If it feels right (within reason), stick it on and see what happens innit.
What's the worst record request you've ever had whilst DJing?
The worst requests are not usually specific songs but when someone thinks they could do better or is just generally rude. We played in a well known Dalston basement, not a million mile away from DSS a couple of months ago and a girl came up and asked to plug in her iPod. When I said 'sorry, no' she skidded the needle across the record that was playing. Went down pretty well. Requests can be annoying but are not the end of the world. Being disrespectful of someone working is not ok though.
If your house was burning down what one thing would you save?
Any of my loved ones or anyone else still inside for that matter. Stuff is stuff.
What does 2013 hold for Legendary Children?
Before the year is out we are very excited to be playing the Shoom 25th Anniversary party in December. But 2013 is all about the production, we have a bunch of stuff due for release next year, including a forthcoming collaboration with the ineffably talented poet James Massiah which has been in the pipeline for ages and will hopefully see light soon!
Elles plays Truth Or Dare in the top bar tonight (Friday 26th October 2012) from 9pm - 3am.
post-template-default single single-post postid-2955 single-format-standard tribe-no-js loading
Elles