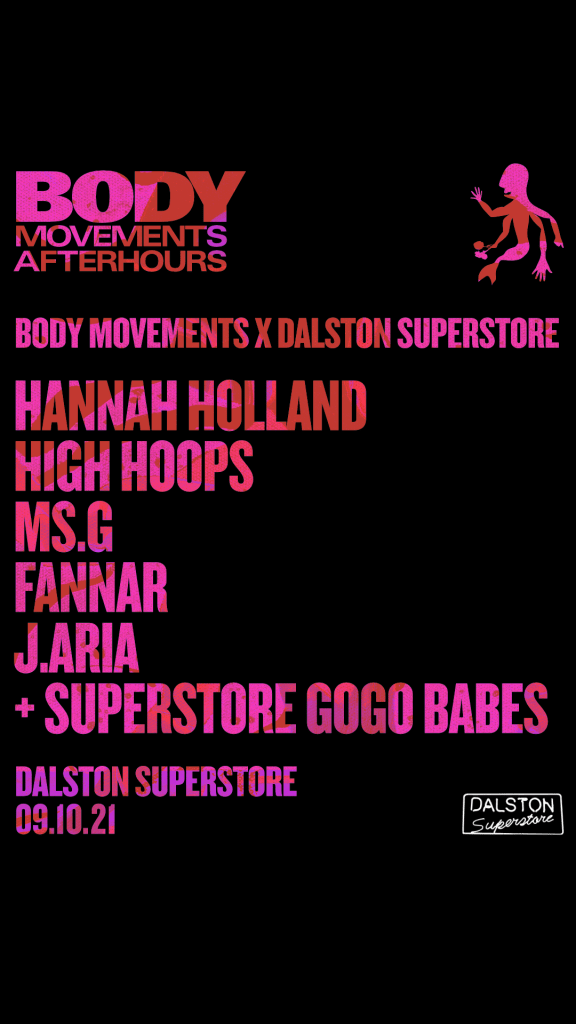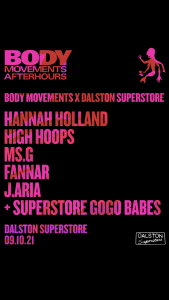 Body Movements Afterparty
Hannah Holland
High Hoops
Ms.G
J.Aria
Fannar
OK Norris
Darkwah
Dalston Superstore presents our official afterparty for Body Movements festival, celebrating queer bodies in electronic music and featuring some of the biggest names of the festival, plus Superstore resident DJs and hosts!
£7 before 10 / £10 after
COVID SAFETY
IN ORDER TO ENTER THE VENUE, YOU WILL REQUIRE: PROOF OF A NEGATIVE TEST FROM THE LAST 48 HOURS OR PROOF OF DOUBLE VACCINATION FROM AT LEAST 10 DAYS AGO 
Low/no income access
We reserve limited spaces for those who cannot afford the standard ticket price due to being on low or no income. Please email 

hello@dalstonsuperstore.com

 to enquire.
Body Movements Afterparty
tribe_events-template-default single single-tribe_events postid-27757 tribe-events-page-template tribe-no-js tribe-filter-live loading

Body Movements Afterparty

https://dalstonsuperstore.com

https://dalstonsuperstore.com/wp-content/themes/dalston-superstore