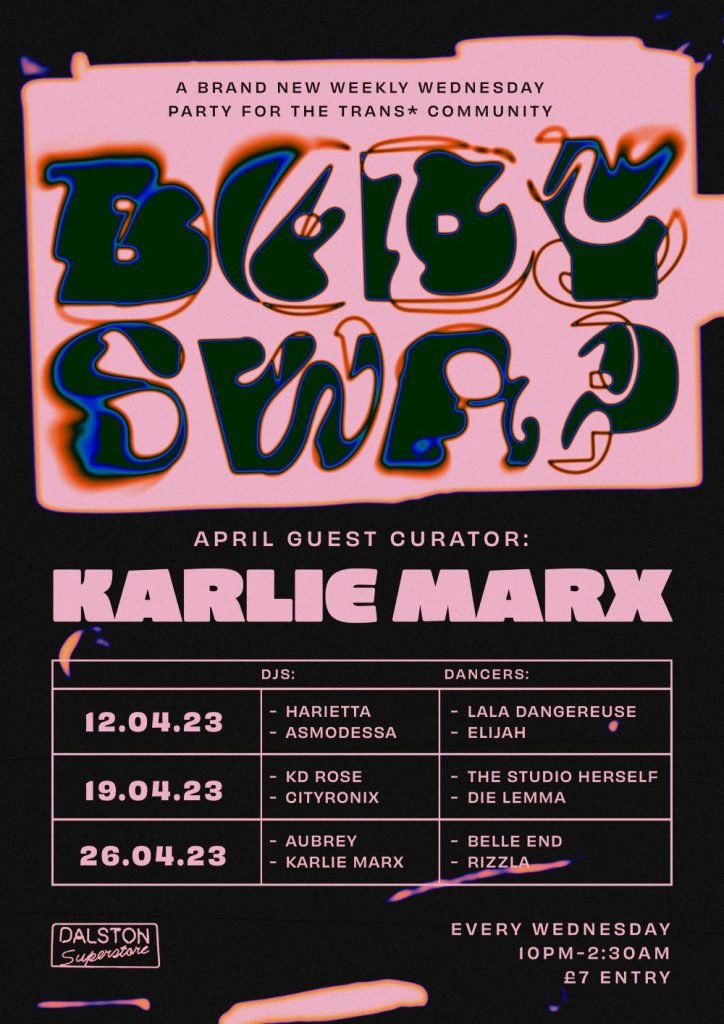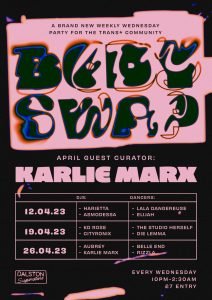 BodySwap
kd rose
citytronix
the studio herself
die lemma
Dalston Superstore's brand new party BodySwap invites a new trans* artist, promoter, or organisation to curate a month of Wednesday night parties at the venue.
This is a space for trans* power, rage, beauty, resilience, and joy. BodySwap celebrates and platforms trans* artists from diverse backgrounds, while raising crucial funds for organisations that support the community.
All door profits will be donated to a queer organisation or fundraiser of the guest curator's choosing.
+++
Our first guest curator is Karlie Marx (she / her), a trans-femme multi-genre DJ and half of the infamous @2girls1tuck.
She's a Superstore home grown golden girl, who made her professional debut here and became a regular face at Le Freak, Transvision and Celestial Bodies.
She believes that unity, inclusivity and trans queer talent builds the best community, and is honoured to share the incredible things that trans queer performers are doing in nightlife.
Her favourite song is Give Me Everything by Pitbull.
£7 ENTRY
BodySwap
tribe_events-template-default single single-tribe_events postid-30792 tribe-events-page-template tribe-no-js tribe-filter-live loading

BodySwap

https://dalstonsuperstore.com

https://dalstonsuperstore.com/wp-content/themes/dalston-superstore