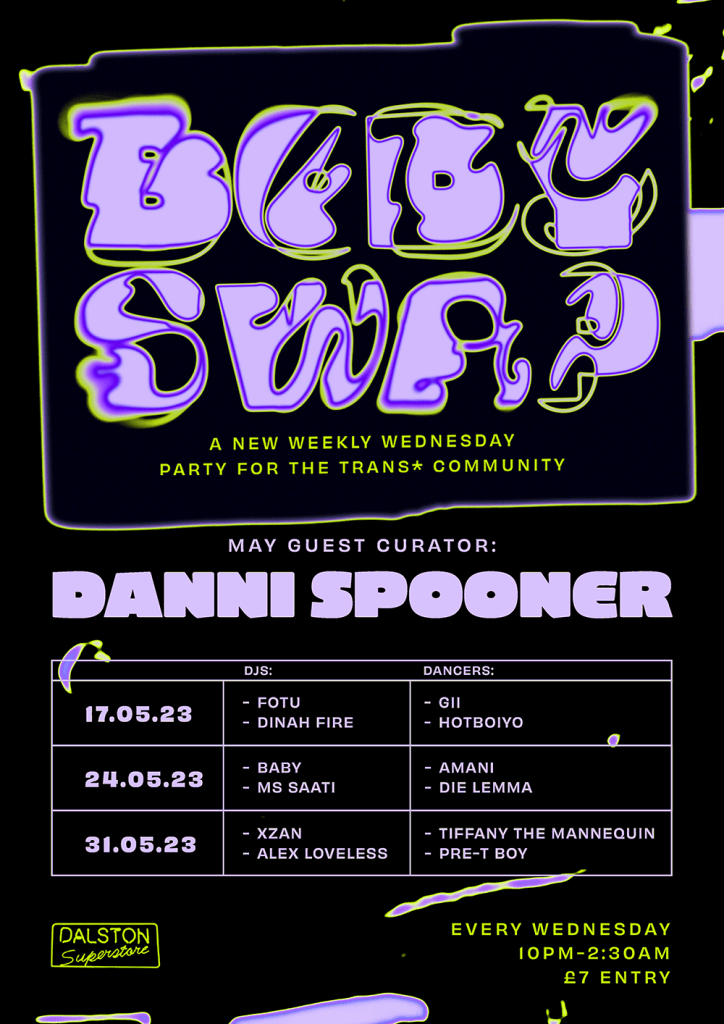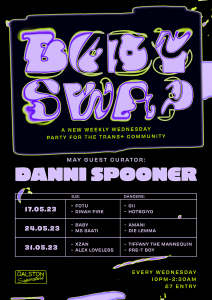 BodySwap
Dalston Superstore's new party BodySwap invites a new trans* artist, promoter, or organisation to curate a month of Wednesday night parties at the venue.
This is a space for trans* power, rage, beauty, resilience, and joy. BodySwap celebrates and platforms trans* artists from diverse backgrounds, while raising crucial funds for organisations that support the community.
Our May guest curator is Danni Spooner (they/them). Danni is an autistic, nonbinary go-go dancer, model and founder of trans+ magazine PlayThey.
They've been sexy and silly on Superstore bar many times for nights such as Fémmme Fraîche, Celestial Bodies, Fussy and are so excited to curate trans talent for BodySwap!
Community care and uplifting is deeply embedded within their life. They are overjoyed to be able to bring together trans angels for joy, silliness, support, expression, celebration and development at BodySwap this May.
All door profits will be donated to a queer organisation or fundraiser of the guest curator's choosing.
£7 ENTRY
Door Policy
Dalston Superstore is a queer space. We prioritise our LGBTQIA+ customers and will sometimes ask our straight & cis allies to support us by not taking up room in our venue. Please be conscious of who this space is intended for and be respectful. Never assume sexuality or gender identity. We will never ask personal questions on the door.
Low/no income access
We reserve limited spaces for those who cannot afford the standard ticket price due to being on low or no income. Please email 
hello@dalstonsuperstore.com
 to enquire.
Full venue access info is available 

here
BodySwap
tribe_events-template-default single single-tribe_events postid-10001247 tribe-events-page-template tribe-no-js tribe-filter-live loading

BodySwap

https://dalstonsuperstore.com

https://dalstonsuperstore.com/wp-content/themes/dalston-superstore