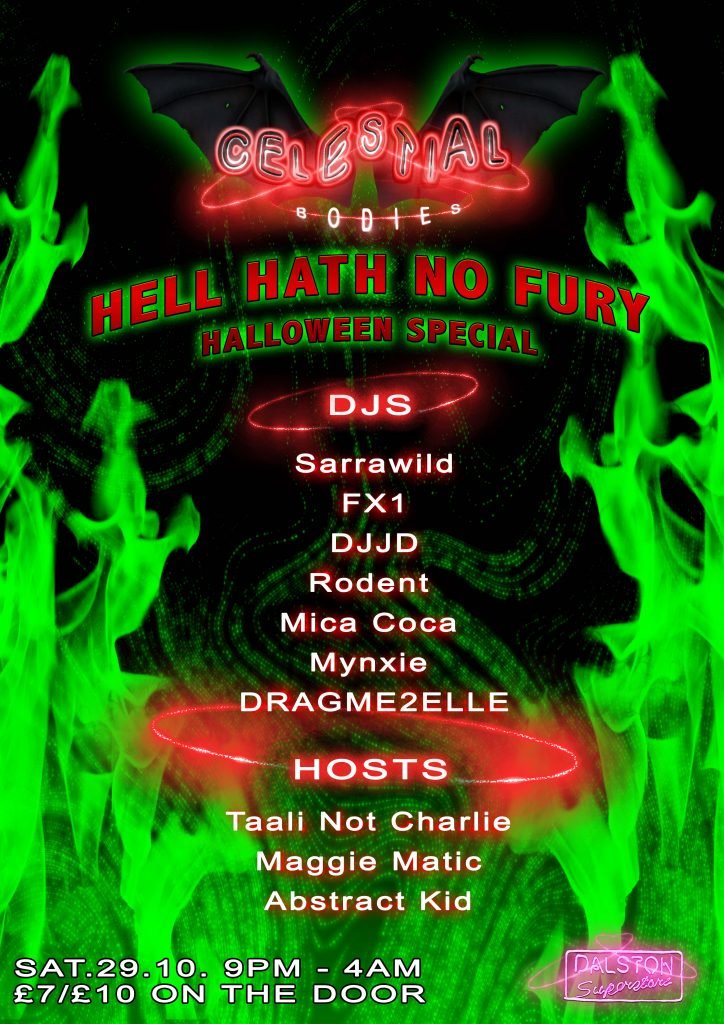 Celestial Bodies: Halloween Special – til 4am!
SarraWild
FX1
DJJD
RODENT
MICA COCA
MYNXIE
DRAGME2ELLE
TAALI NOT CHARLIE
MAGGIE MATIC
ABSTRACT KID
Hell hath no fury like a they/them scorned! Dalston Superstore is turning into the house of horrors this Halloween weekend! The Celestial Bodies crew are take a trip to the dark side with a devilish lineup of queer talent from the underworld and beyond.
Don your demonic best and dance among the cursed creatures! We want to see your best fallen angels, zombies, witches and demons…
In the depths of the lazerpit, special guest DJs Sarra Wild, DJJD and FX1 will be serving up an assault-course of drum n bass, breakbeat, house, techno and more. On the top deck, expect a mixed bag of emo, new-wave, rave and pop hits n misses from Rodent, Mica Coca, Mynxie and DRAGME2ELLE.
Haunting the bar top will be your gogo dancers Taali Not Charlie, Maggie Matic and Abstract Kid! PLUS we'll be raving all the way thru 'til 4am! Strap in babes, it's going to be a bumpy ride!
£7 before 11 / £10 after
Door Policy
Dalston Superstore is a queer space. We prioritise our LGBTQIA+ customers and will sometimes ask our straight & cis allies to support us by not taking up room in our venue. Please be conscious of who this space is intended for and be respectful. Never assume sexuality or gender identity. We will never ask personal questions on the door.
Low/no income access
We reserve limited spaces for those who cannot afford the standard ticket price due to being on low or no income. Please email 
hello@dalstonsuperstore.com
 to enquire.
Full venue access info is available 

here
Celestial Bodies: Halloween Special – til 4am!
tribe_events-template-default single single-tribe_events postid-29886 tribe-events-page-template tribe-no-js tribe-filter-live loading

Celestial Bodies: Halloween Special – til 4am!

https://dalstonsuperstore.com

https://dalstonsuperstore.com/wp-content/themes/dalston-superstore