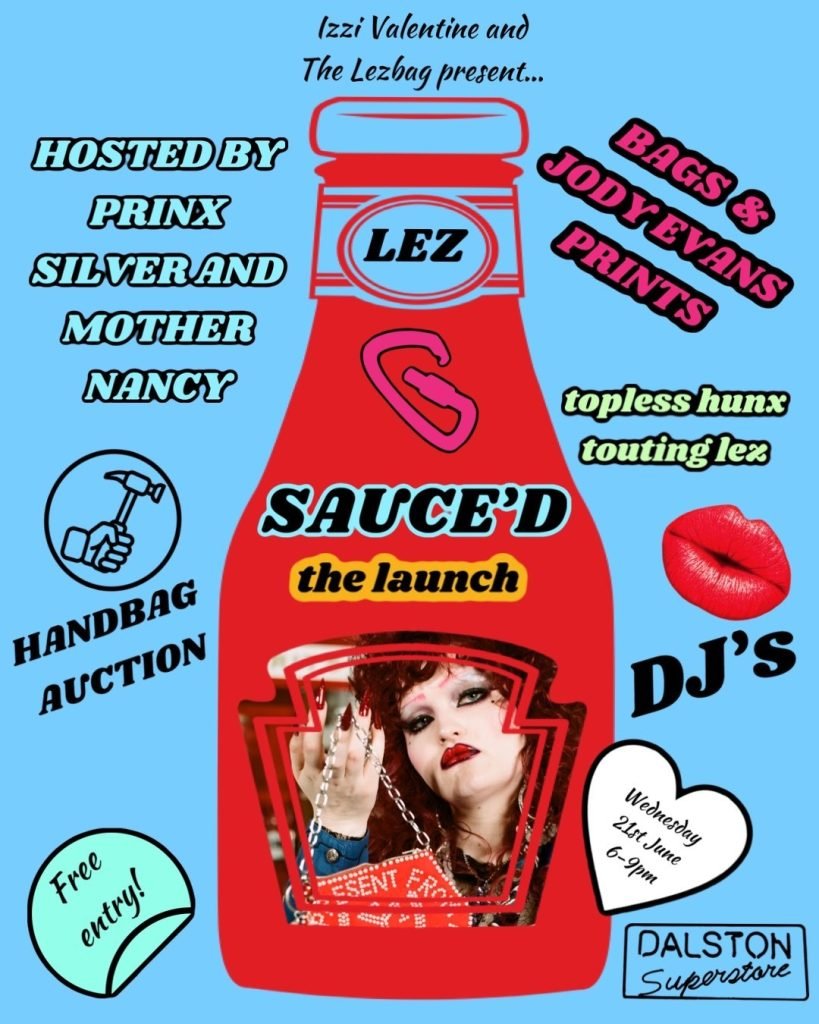 Lez Bags Sauce'd: The Launch
Izzi Valentine and Mr Lez believe that the handbag is a great work of art, and if it weren't for that dastardly patriarchy, it'd be treated like one. So we're holding a formal "unzipping" of our latest collaboration: LEZ SAUCE'D. Y'all invited. 6-9pm, 21st June at our favourite faggy dive bar, Dalston bloomin' Superstore.
Our knickers are in a massive twist because this is the first ever launch party in Lezbag's saucy
7-year history! You'd better be ready to get as wet as we are.
"But what is LEZ SAUCE'D?" we hear you ask.
A radical departure, Mama! This is Lez like you've never seen her before. Izzi and Mr Lez have
spent many a Tuesday evening trawling the bedroom floors of ancient queers, to gather the very best vintage and pre-loved materials. Then, burrowed away in the Lez studio, we re-assembled the parts to make a whole new load of Lezbags, just for you! Every single one is totally unique.
The collection reverberates with all the mish-mashery that makes London's dyke-fag fashion so fist-fuckin' good. The bags hold echoes of chelsea punks, soho new romantics and camden
town cyber freaks. And Jody Evans' stunning images capture all that rapture.
We'll also be celebrating the new STRATOSPHERE range, a limited edition of nine lezbags:
each featuring a different vintage guitar strap, attached to an iconic lez pouch (made from 90%
recycled plastic), with colourful aluminium carabiners, iconic enamelled eyelets and a plucky
plectrum zip pull.
PREPARE YOURSELF FOR:
? An exhibition of stunning prints from the epic JODY x IZZI x LEZ collaboration,
alongside a whole buffet of LEZ SAUCE'D and STRATOSPHERE bags. (all 4 sale if you
wanna take a lucky lez home!)
? DJ set's from London's hunk of Spanish s/punk Prinx Silver and DYKONIC yearncore
heartthrobs TROUBLE WANTED!
? Naughty Rascals serving LEZ
? The first auction in Superstore's history! Of three ICONIC bags. Hosted by the
DELECTABLE duo: Prinx Silver and Mother Nancy.
FREE ENTRY
Door Policy
Dalston Superstore is a queer space. We prioritise our LGBTQIA+ customers and will sometimes ask our straight & cis allies to support us by not taking up room in our venue. Please be conscious of who this space is intended for and be respectful. Never assume sexuality or gender identity. We will never ask personal questions on the door.
Low/no income access

We reserve limited spaces for those who cannot afford the standard ticket price due to being on low or no income. Please email 
hello@dalstonsuperstore.com
with at least 48 hours notice to enquire.

Full venue access info is available 

here
Lez Bags Sauce'd: The Launch