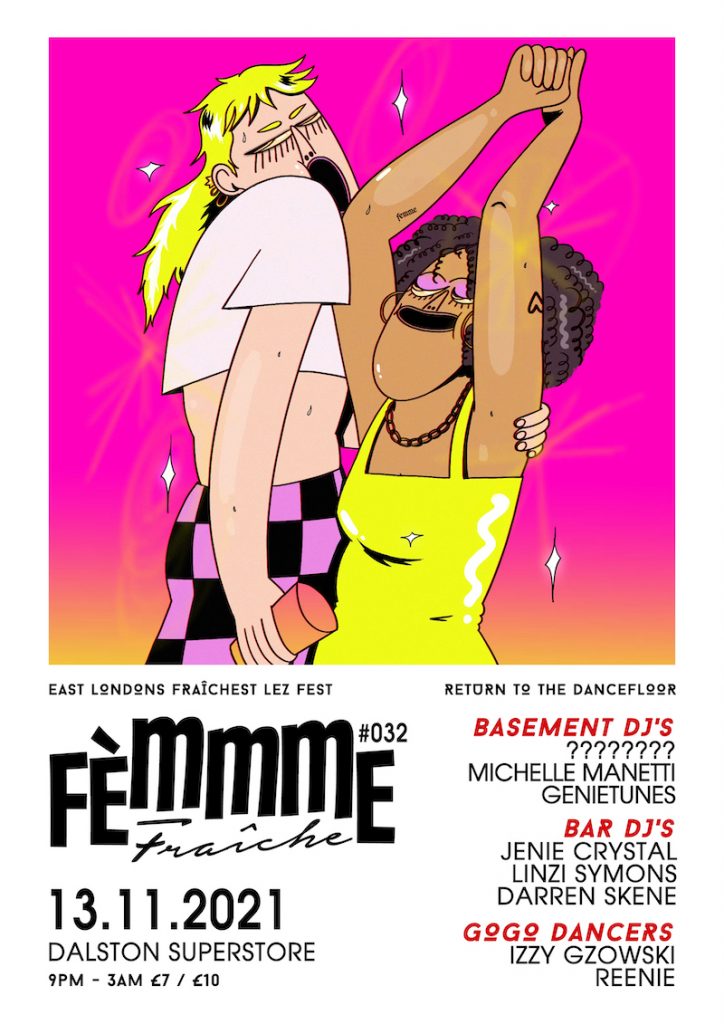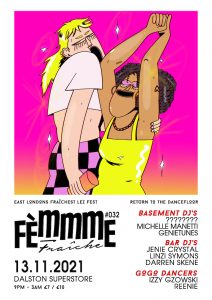 Fèmmme Fraîche
SECRET GUEST HEADLINER
Genitunes
Michelle Manetti
Darren Skene
Jeanie Crystal
Linzi Symons
Izzy Gzowski
Puch Maxi
It's been a whirlwind of a year… we're still processing 2020 tbf, But in 2021 we joined Wilderness, Body Movements and Little Gay Brother, curating stages and bringing vibes, we had 2 lockdown parties at the Mothership Dalston Superstore, 1 proper post-pandemic rave-up and we're squeezing in one final Stomp of 2021 on Nov 13th.
We have another VERY SPECIAL secret guest headliner joining us in the basement… our last secret guest was Peach so you KNOW we won't disappoint. Warming up the basement is local up-and-coming DJ GENIETUNES as well as our beloved resident & promoter Michelle Manetti for the ususal dutty bangers & basement beats.
Then up in the bar for your trash-tastic guilty pleasures, the Sass Kween & mother of Faboo TV Jeanie Crystal joins us again as our guest, followed by our duo of Fraîchness Linzi Symons and Darren Skene with Gogo hype gurls Reenie and Izzy Gzowski strutting their stuff.
*We operate a zero tolerance policy*
We try to keep our event as a safe space for queer wxmn, Trans, NB + allies who will have priority entry, although everyone is welcome providing they respect the space. ?
£7 before 10 / £10 after
COVID SAFETY
IN ORDER TO ENTER THE VENUE, YOU WILL REQUIRE: PROOF OF A NEGATIVE TEST FROM THE LAST 48 HOURS OR PROOF OF DOUBLE VACCINATION FROM AT LEAST 10 DAYS AGO
Low/no income access
We reserve limited spaces for those who cannot afford the standard ticket price due to being on low or no income. Please email hello@dalstonsuperstore.com to enquire.
Facebook Event
Fèmmme Fraîche