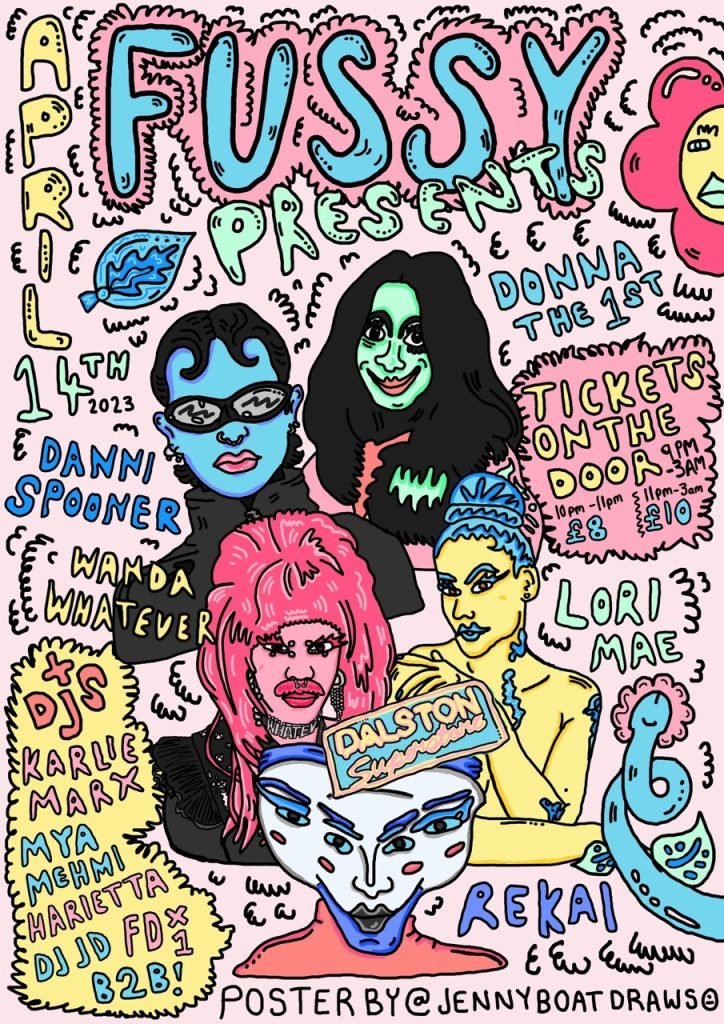 Fussy
Karlie Marx
Mya Mehmi
Harietta
DJ JD
FX1
Donna the First
Danni SPooner
Wanda Whatever
Lori Mae
Rekai
Wanda Whatever and Lori Mae's cult queer party with care and community at it's heart returns to the mothership for their first edition of 2023! FUSSY is a series of queer gatherings with the mission to celebrate joy, community, togetherness, and singularity. We centre and prioritise trans and gender nonconforming creatives and audiences. The Fussy crew invite their favourite local superstar DJs, dancers and performers the February for a night of uboundless queer joy.
Door Policy
Dalston Superstore is a queer space. We prioritise our LGBTQIA+ customers and will sometimes ask our straight & cis allies to support us by not taking up room in our venue. Please be conscious of who this space is intended for and be respectful. Never assume sexuality or gender identity. We will never ask personal questions on the door.
Low/no income access
We reserve limited spaces for those who cannot afford the standard ticket price due to being on low or no income. Please email hello@dalstonsuperstore.com to enquire.
Full venue access info is available here
Fussy
tribe_events-template-default single single-tribe_events postid-30726 tribe-events-page-template tribe-no-js tribe-filter-live loading

Fussy

https://dalstonsuperstore.com

https://dalstonsuperstore.com/wp-content/themes/dalston-superstore