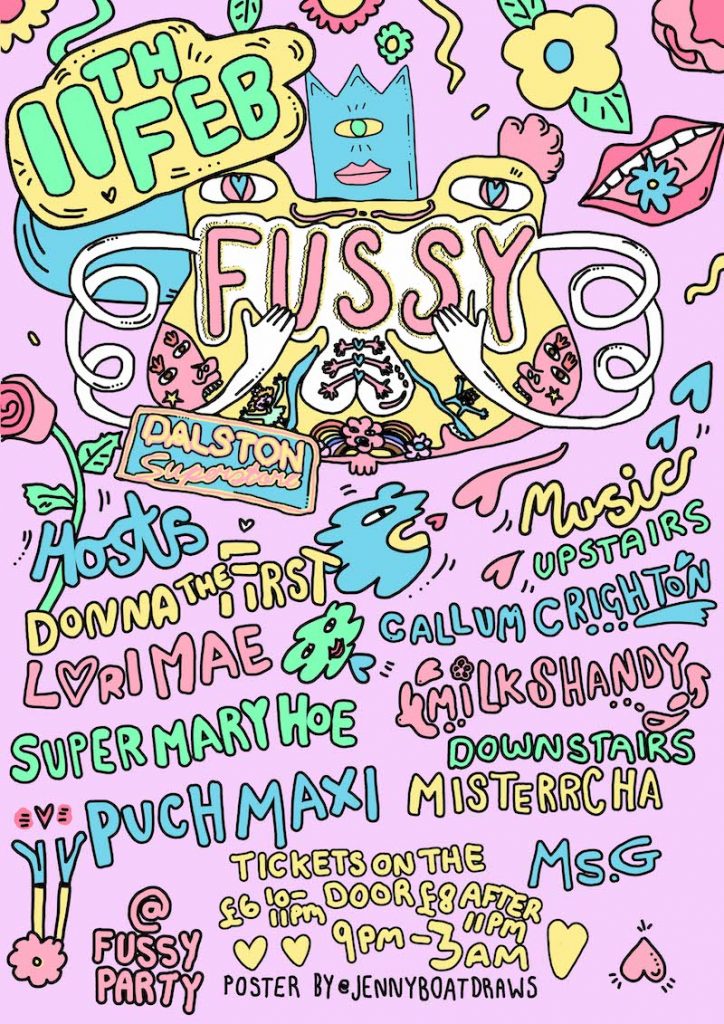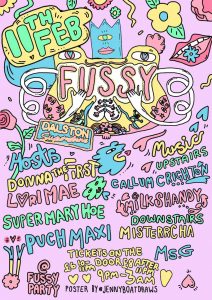 Fussy
Donna The First
Lori Mae
Puch Maxi
Super Mary Hoe
Callum Crighton
Milk Shandy
MisterrCha
Ms.G
Ah, February. Love is in the air, spring is just around the corner, and it's also a very special, very Lori Mae total takeover of FUSSY at Superstore on 11 February from 9pm – 3am!
We know it's been a long winter, darlings. Put your SAD lamps down, take your Vitamin D, moisturise thoroughly, and we'll see you down for our ninth gathering with some very special humans sharing some toasty queer magic all night long.
FUSSY is a series of queer gatherings with the mission to celebrate joy, community, togetherness, and singularity. We centre and prioritise trans and gender nonconforming creatives and audiences.
It is our goal to create queer spaces that feel less intimidating for those who might feel anxious in exploring what queer nightlife and community spaces have to offer. To that end, we invite anyone taking part in the night to seek out someone wearing a lavender wristband/high-vis gear if you are seeking advice, would like assistance, need additional accessibility support, or are feeling uncomfortable for any reason.
FUSSY operates on a 'come as you are' policy; the only thing that we ask is that you feel as absolutely stunning and liberated as you look. Please don't take yourself or others too seriously and leave your judgement of others at the door. We invite all of our guests to keep things light-hearted, respect one another, ask for consent, and have fun.
Whilst we understand no space can be 100% safe at all times, and there is always the assumption of risk, we do our best at FUSSY to make things as comfortable as possible for our communities. All bodies and forms of self-expression will be protected and encouraged, unless it is deemed in any way harmful or detrimental to the safety of others. We will not tolerate racism, homophobia, or transphobia in any form. If you are exhibiting a behaviour that event organisers deem harmful to others, you will be asked to leave without refund. Please report any instances of misconduct to staff members or organisers present wearing a lavender wristband.

Fussy