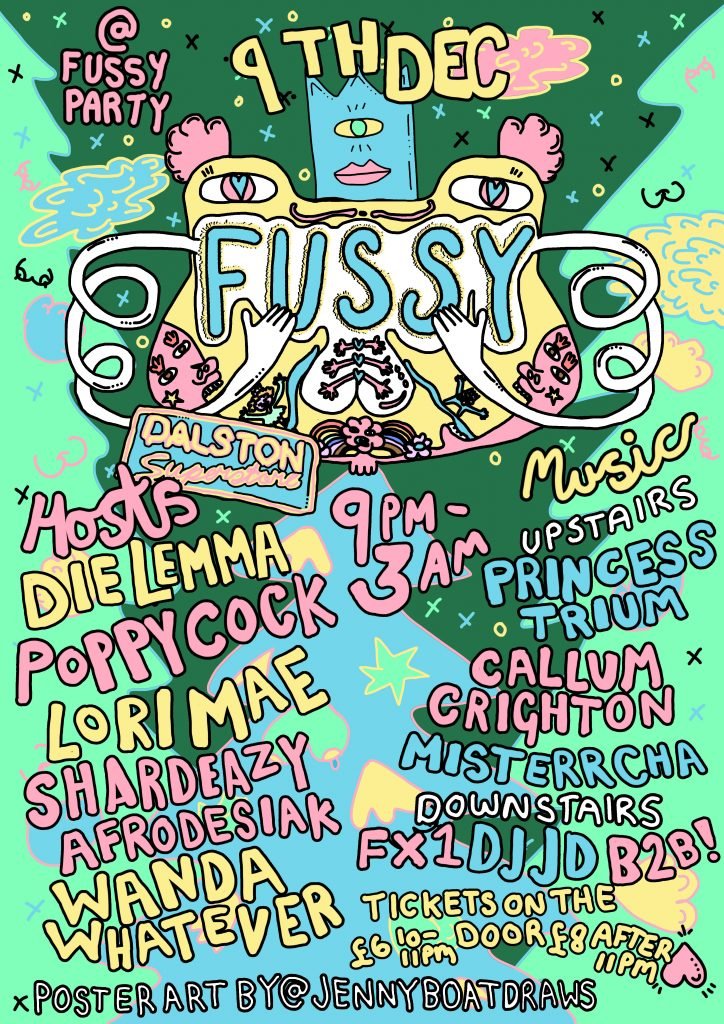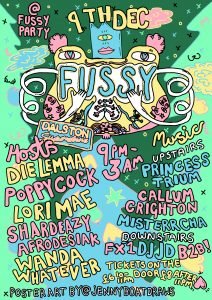 Fussy
Die Lemma
Poppy Cock
Lori Mae
Shardeazy Afrodesiak
Wanda Whatever
Princess Trium
Callum Crighton
Misterrcha
FX1 B2B DJJD
It's time once again for a tantalising array of toasty treats as collective FUSSY returns once again to the mothership for an evening of groovin' and movin' in our new cha cha heels. Make it nice around the tree, light your ninth fag, or whatever it is you like to do this time of year, just make sure you're not late for dinner! We've been spending the last two months making it real tasty for you. Expect a smorgasbord of gorgeous and joyous queers heating thing up for you all night long, on the bar, on the chaise longue, or absolutely any horizontal surface.
ABOUT FUSSY:
FUSSY is a series of queer gatherings with the mission to celebrate joy, community, togetherness, and singularity. We centre and prioritise trans and gender nonconforming creatives and audiences.
It is our goal to create queer spaces that feel less intimidating for those who might feel anxious in exploring what queer nightlife and community spaces have to offer. To that end, we invite anyone taking part in the night to seek out someone wearing a lavender wristband/high-vis gear if you are seeking advice, would like assistance, need additional accessibility support, or are feeling uncomfortable for any reason.
£6 before 11pm / £8 after 11pm
Door Policy
Dalston Superstore is a queer space. We prioritise our LGBTQIA+ customers and will sometimes ask our straight & cis allies to support us by not taking up room in our venue. Please be conscious of who this space is intended for and be respectful. Never assume sexuality or gender identity. We will never ask personal questions on the door.
Low/no income access
We reserve limited spaces for those who cannot afford the standard ticket price due to being on low or no income. Please email hello@dalstonsuperstore.com to enquire.
Full venue access info is available here
Fussy