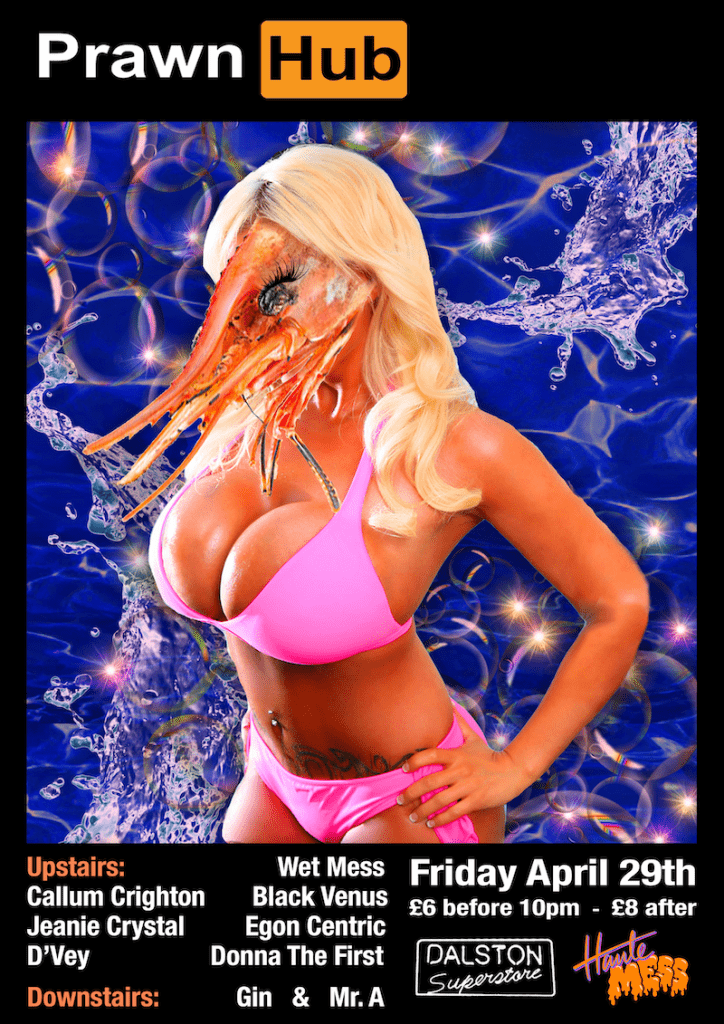 Haute Mess: Prawn Hub
Mr A
Gin
Donna The First
Egon Centric
Wet Mess
Black Venus
Callum Crighton
D'Vey
Jeanie Crystal
The messiest queer disco in town Haute Mess crash lands back at the mothership for another chaotic two floor meltdown! Join London's hautest DJs and and drag babies for a night of glamour and debauchery at the mothership this April.
Whale whale whale, if it ain't another HAUTE MESS! Time to swim on down to ou R-Rated Atlantis in your seXXXiest bikini bottoms – move over Only Clams, we're going on a wild ride to PRAWNHUB!!! Come out of your shell, put another shrimp on the barbiedoll and come shake your crab cakes at Superstore on FRIDAY 29th APRIL with our battalion of busty crustaceans.
Upstairs in the reef we'll be getting sweaty with the fruitiest of of fruit de mer — Wet Mess, Black Venus and Donna the First — who'll be the bar all night long.
Bottom feeders worry not, descend down east London's very own Mariana Trench down for sexy wet beats by Gin and our very special guest, all the way from the depth of Helsinki, Mr.A. Those octopussies are gonna get wet, and those pollocks are gonna get sucked. This sea of queers is gonna get SLUTTY.
HAUTE MESS IS A QUEER PARTY – FOR EVERYONE. Come serving your best looks, your best drag, or just FILTHY with (biodegradable) glitter.
Haute Mess has a zero tolerance policy for harassment, queerphobia, homophobia, transphobia, ableism, or any sort of shaming. Sorry not sorry. We reserve the right to deny entry following antisocial behaviour or excessing intoxication. AND DO NOT TOUCH THE PERFORMERS WITHOUT CONSENT! For accessibility and all other enquiries please email hautemessox@gmail.com.

£6 before 11 / £8 after
Haute Mess: Prawn Hub