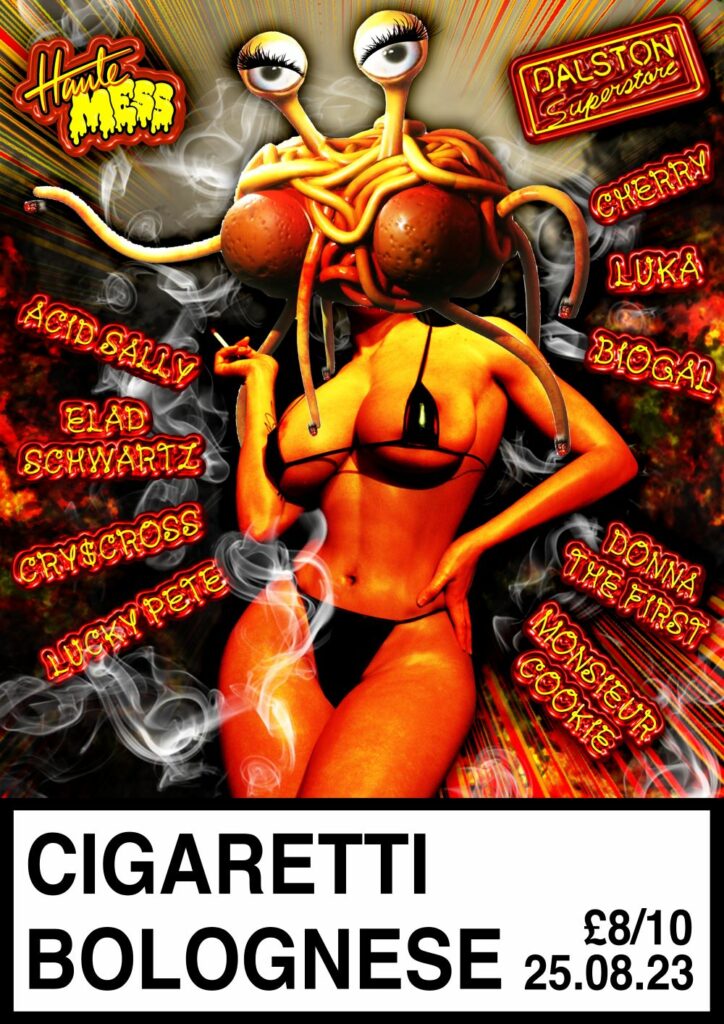 Haute Mess
acid sally
lucky pete
cry$cross
elan schwartz
luka
biogal
cherry
donna the first
monsieur cookie
The messiest queer disco in town Haute Mess crash lands back at the mothership for another chaotic two floor meltdown this summer! Join London's hautest DJs and and drag babies for a night of glamour and debauchery at the mothership.
You ready to get Marlboro BRED? Cos mamma Mia, Haute Mess are back celebrating everyone's favourite girl dinner: Cigaretti Bolognese. ??We'll be enjoying a ladle of nonna's MEAT SAUCE washed down with some Pall Mallgaritas. Don't like it? We'll also be serving some caccio e peepee and ravioliolioli OI OI OI!!1! all night long to sounds of some of the *worlds* greatest DJs — to celebrate this skank holiday we have an all-international DJ lineup, alongside some of London's most iconic gogos! Tie up your angel hair and let's get fusilly. Pasta la vista bébé!
PS: As per tradition, this Dollmio Day we're holding a dolls vs twinks cigarette race — apply via our linktree for your chance to win a massive bowl of cigaretti (just how mama used to make it xoxo).
PSS: No Vaping will be allowed in the venue >:((( LOST MARY GET LOST. If you are caught vaping on these premises you will be instructed to eat a plate of Mama Donna's spaghetti con carnage. non bueno.
£8 BEFORE 11 / £10 AFTER
Door Policy
Dalston Superstore is a queer space. We prioritise our LGBTQIA+ customers and will sometimes ask our straight & cis allies to support us by not taking up room in our venue. Please be conscious of who this space is intended for and be respectful. Never assume sexuality or gender identity. We will never ask personal questions on the door.
Low/no income access
We reserve limited spaces for those who cannot afford the standard ticket price due to being on low or no income. Please email hello@dalstonsuperstore.com with at least 48 hours notice to enquire.
Full venue access info is available here
Haute Mess