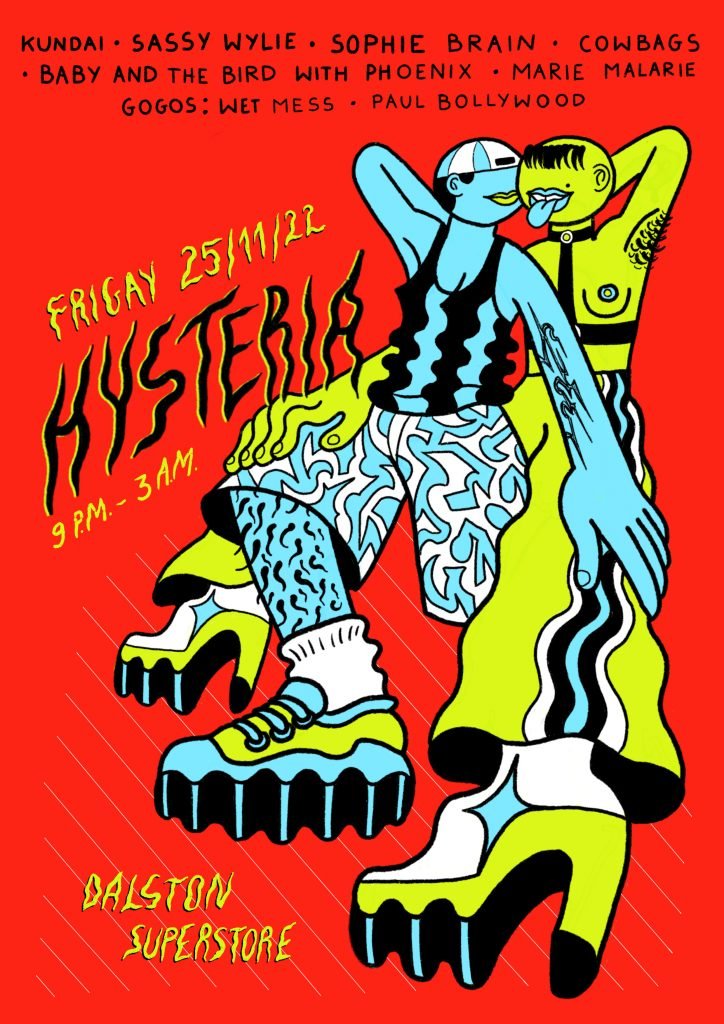 Hysteria
Kundai
Sassy Wylie
Sophie Brain
Cowbags
Baby And The Bird With Phoenix (live)
Marie Malarie
Wet Mess
Paul Bollywood
Welcum back for another Friday fantasy at the mothership! Your fav queer night 
Hysteria
 returns this month with a glistening array of DJ superstars and go-go gremlins poised and ready to lube up those limbs on the dancefloor. Join us on November 25th for 2 floors chock-full of the cream of club!
Hysteria
is a queer night-life fantasy presented by DJ Marie Malarie (Adonis, Happy Endings). A space for music-loving queer women, trans and non-binary folk to whip up a frenzy and get hysterical together. A gender-bending night of hedonism, escapism and dance music from some of the finest DJ's in London, Europe and beyond.
£6 before 11 / £8 after
Door Policy
Dalston Superstore is a queer space. We prioritise our LGBTQIA+ customers and will sometimes ask our straight & cis allies to support us by not taking up room in our venue. Please be conscious of who this space is intended for and be respectful. Never assume sexuality or gender identity. We will never ask personal questions on the door.
Low/no income access

We reserve limited spaces for those who cannot afford the standard ticket price due to being on low or no income. Please email 
hello@dalstonsuperstore.com
to enquire.

Full venue access info is available

here
Hysteria
tribe_events-template-default single single-tribe_events postid-30000 tribe-events-page-template tribe-no-js tribe-filter-live loading

Hysteria

https://dalstonsuperstore.com

https://dalstonsuperstore.com/wp-content/themes/dalston-superstore