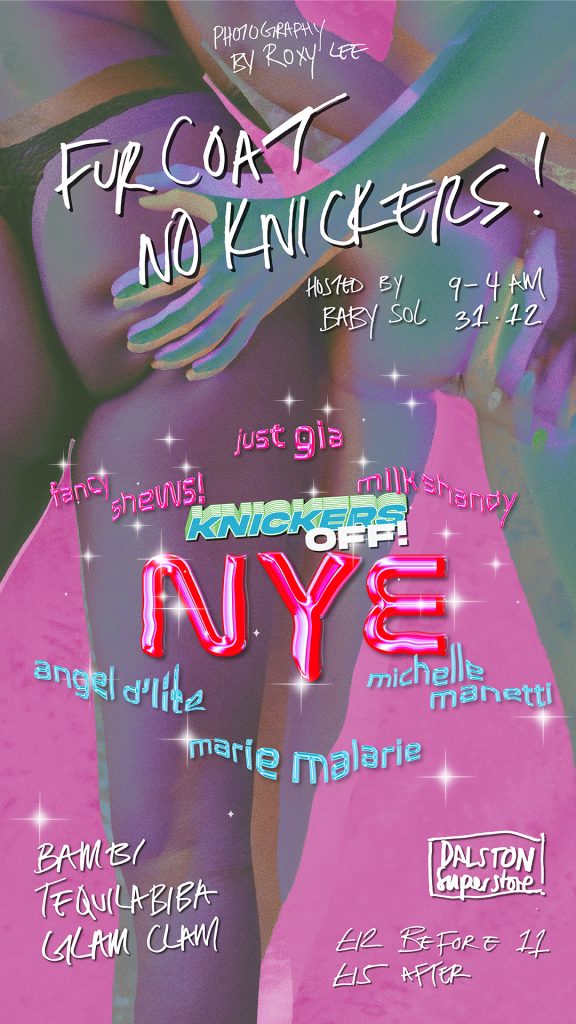 Knickers Off! New Years Eve
Angel D'Lite
Michelle Manetti
Milk Shandy
Marie Malarie
Georgie Bee
Gia Jenkins
Running into 2022 KNICKERS OFF! are bringing you another DYKONIC fashion frenzy at Dalston Superstore. It's effin baltic out there – arrive suitably dressed in your finest interpretation of * FUR COAT NO KNICKERS! *
We're talking big faux shaggy extravaganza, leopard lined and fluff to the floor. Sexy undies a must – obviously!
All the hottest women we know don the finest and luxuriest fluffy robes.. so we want you to embrace your loose morals and face the paparazzi with us.
£12 before 11 / £15 after
COVID SAFETY
IN ORDER TO ENTER THE VENUE, YOU WILL BE REQUIRED TO SHOW YOUR NHS COVID PASS TO PROVE EITHER DOUBLE VACCINATION ORA NEGATIVE PCR OR LATERAL FLOW FROM THE LAST 24 HOURS.
Knickers Off! New Years Eve