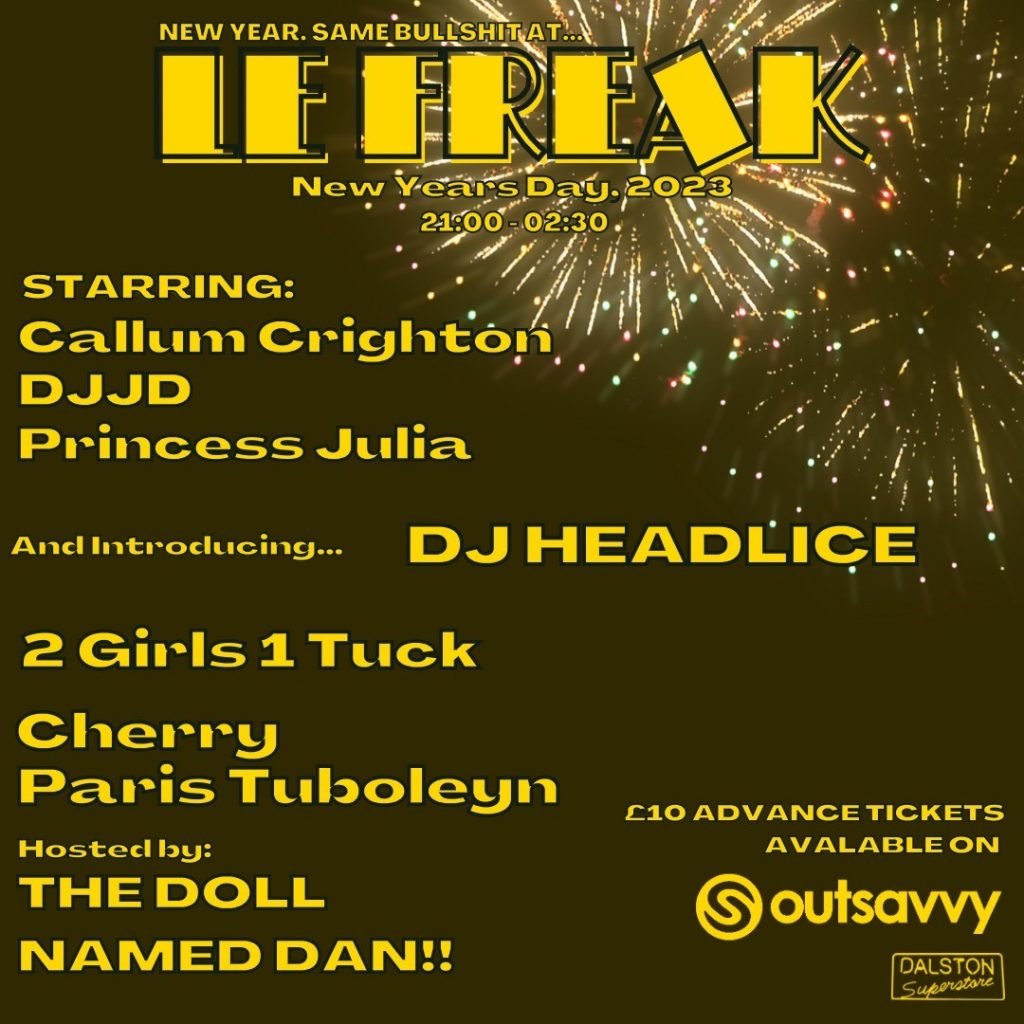 Le Freak: New Years Day
Callum Crighton
DJJD
Princess Julia
DJ Headlice
The Doll Named Dan
Cherry
Paris TuBoleyn
OH EM EFF GEE!!! ITS 2023!!! Ring in the New Year with the Freakiest Family around at Le Freak at Dalston Superstore!
Are you tired from the shenanigans of the night before?? Exhausted after a ten hour rager at Adonis?? TOUGH SHIT! The party continues!!
Alongside the Mother of the Haus of Freaks, The Doll Named Dan, we're bringing a bevvy of East London's biggest icons to the first Le Freak of the Brand New Year! Pumping the volume upstairs is Wendy Williams-ologist DJJD, Global Megastar Callum Crighton and the BLOODY ICONIC Princess Julia, as well as the debut of the Best DJ to ever walk on Planet Earth, DJ Headlice.
Downstairs, we have the finale of the Chaser Wet Dream World Tour as 2Girls1Tuck bring the heat in a 2.5 Hour Bonanza!
Atop the bar, we have the stylings of Cherry and Paris TuBoleyn, ready to entrance you with their moves!
£10 ENTRY
Door Policy
Dalston Superstore is a queer space. We prioritise our LGBTQIA+ customers and will sometimes ask our straight & cis allies to support us by not taking up room in our venue. Please be conscious of who this space is intended for and be respectful. Never assume sexuality or gender identity. We will never ask personal questions on the door.
Low/no income access
We reserve limited spaces for those who cannot afford the standard ticket price due to being on low or no income. Please email hello@dalstonsuperstore.com to enquire.
Full venue access info is available here
Tickets
Le Freak: New Years Day