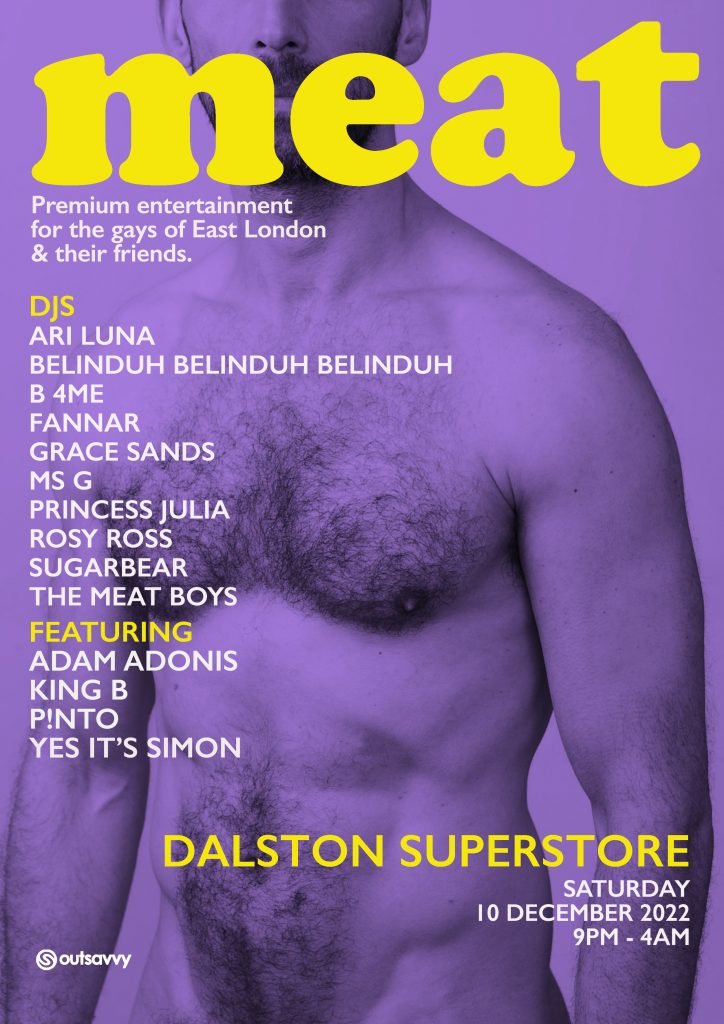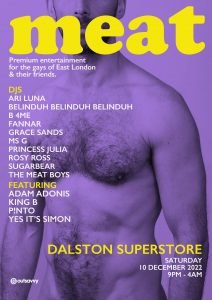 Meat
ari luna
belinduh belinduh belinduh
b 4me
fannar
grace sands
ms.g
princess julia
rosy ross
sugarbear
the meat boys
adam adonis
king b
p!nto
yes it's simon
Calling all bears of East London! Liven up your silly season with meat at Dalston Superstore! It's our last shout of 2022 at Dalston Superstore this 10th of December. After 35 parties and 7 years, we're saying goodbye…until next year 😛
To celebrate we have a major line-up of all our favourite DJs over both floors of Dalston Superstore. Oh, and we're going until 4am!!!!
Joining the meat boys in the bar are regulars of the queer club circuit Rosy Ross and Princess Julia and Sugarbear serving up a mixed bag of pop, disco, RnB and more. Downstairs in the lazerpit, we're going hard and fast all night with house, acid and techno from Ari Luna x Belinduh Belinduh Belinduh, Fannar, Grace Sands and B 4ME!
Upstairs on the bar, gogo bears P!nto, King B, Adam Adonis and Yes It's Simon with be gyrating the night away!
See you on the dancefloor!

£7 before 11 / £10 after
Door Policy
Dalston Superstore is a queer space. We prioritise our LGBTQIA+ customers and will sometimes ask our straight & cis allies to support us by not taking up room in our venue. Please be conscious of who this space is intended for and be respectful. Never assume sexuality or gender identity. We will never ask personal questions on the door.
Low/no income access
We reserve limited spaces for those who cannot afford the standard ticket price due to being on low or no income. Please email 
hello@dalstonsuperstore.com
 to enquire.
Full venue access info is available 

here
Meat