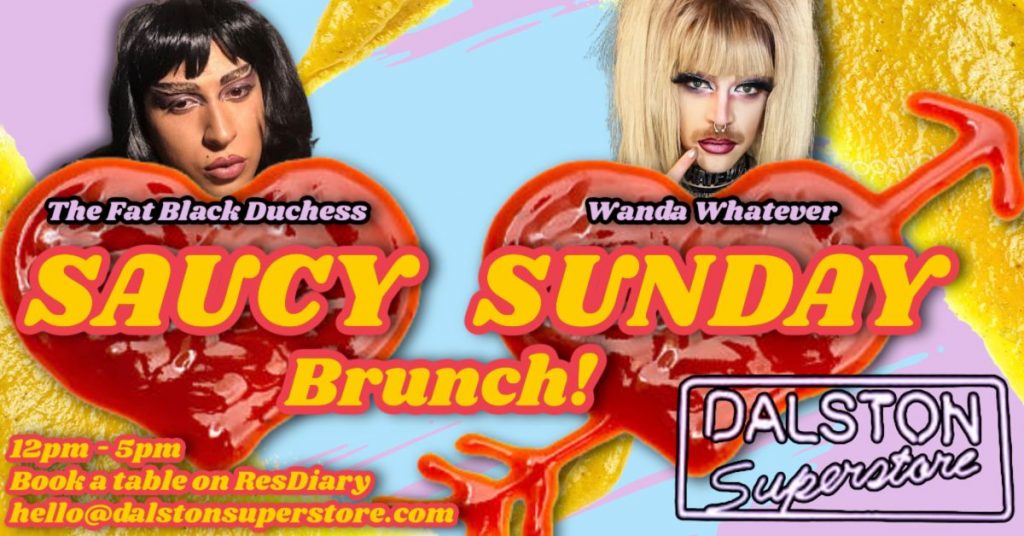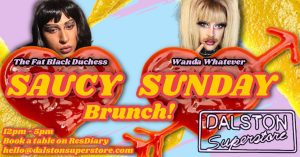 Saucy Sunday Brunch
Wanda Whatever
The Fat Black Duchess
East London's maddest and messiest alt-cabaret stars hit the mothership, dishing up a smorgasbord of games, quizzes, shows and prizes every Saturday and Sunday from 12-5pm.
Many things can be said about sauce, but one thing is for certain: you can have as much as you like, and possibly even more than you asked for, at SAUCY SUNDAY brunch!
Gather your gaggle of saucy geese for some wet afternoon fare, games, performances, and general easy breezy good time vibes with drag hosts THE FAT BLACK DUCHESS & WANDA WHATEVER at Dalston Superstore this coming Sunday, 7 November from 12pm – 5pm.
Book Now
Saucy Sunday Brunch
tribe_events-template-default single single-tribe_events postid-27976 tribe-events-page-template tribe-no-js tec-no-tickets-on-recurring tribe-filter-live tribe-theme-dalston-superstore loading

Saucy Sunday Brunch

https://dalstonsuperstore.com

https://dalstonsuperstore.com/wp-content/themes/dalston-superstore