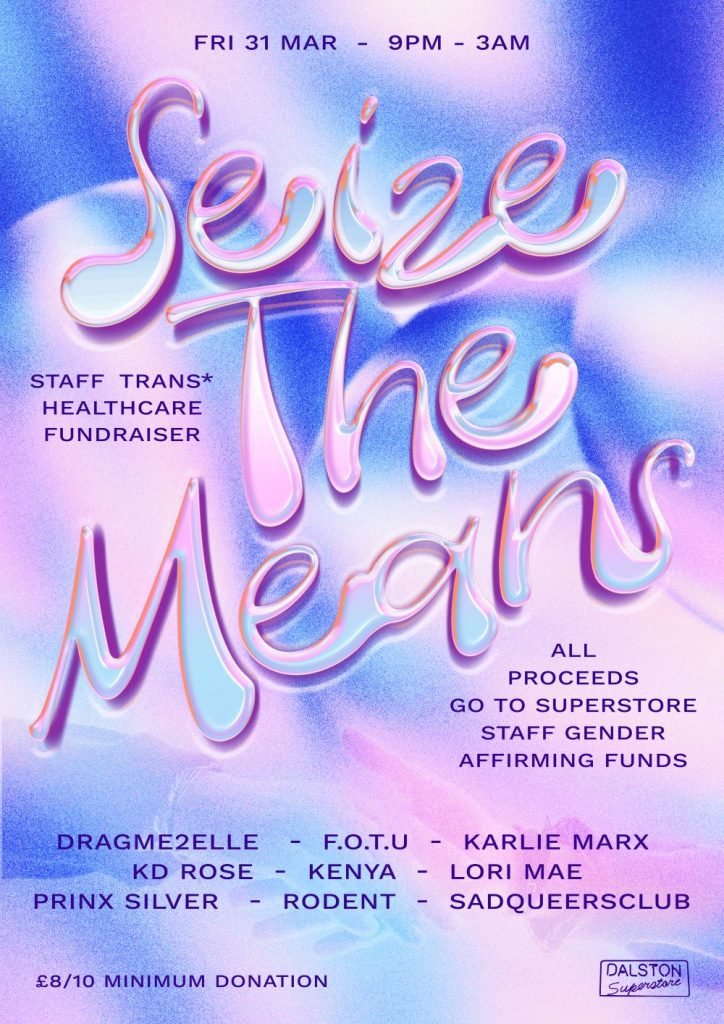 Seize the means: Staff Trans Healthcare fundraiser
dragme2elle
f.o.t.u
karlie marx
kd rose
kenya
lori mae
prinx silver
rodent
sadqueersclub
SEIZE THE MEANS OF MEDICAL TRANSITION!
Dalston Superstore presents our annual staff tran healthcare fundraiser the Trans Day of Visibility, with all proceeds going to Superstore staff gender affirming funds.
We need to relinquish the idea that visibility is positive in and of itself. The hyper visibility that trans* people have experienced in the past decade has left us increasingly vulnerable to violence from both the public and the government while continuously being neglected by social services, including the NHS.
The increased exposure of trans* people has not improved our access to gender affirming health care. Rather, we are left hanging with an expected waiting time of more than five years for an initial appointment at the Gender Identity Clinic.
Fundraisers and privatised health care should not replace the public healthcare system but for most trans* people, this is currently our only option. Thus, health care becomes a matter of proximity to privilege. We as trans* people should get to define for ourselves whether and how we choose to transition; medicially, legally and socially.
On this Trans Day of In/visibility, we encourage you to seize the means of medical transition; to redistribute resources, including but not limited to money, HRT, and knowledge. In an attempt to? do so, Dalston Superstore is throwing a fundraising party to support gender affirming health care for the staff of Dalston Superstore.
This party centres trans* people, medicalised and otherwise.
We present a night of wall-to-wall trans excellence in support of our trans* staff members. In the basement
@fotu.tv
@sadqueersclub
 and 
@dragmelle
 will be slinging house, breakbeat, electro and techno heaters, with 
@mascqueline
@karliemarx.wav
 and 
@_rodent__
 serving silly pop edits in the bar. ?
The fabulous @motherlorimae will be your host for the evening, with gogo action from T4T babes @abstractkid_ and @prinxsilver.
We'll be taking donations on the door and inside all night, come open your hearts and wallets in support of trans* healthcare.
Suggested donation £8 before 11 / £10 after
Door Policy
Dalston Superstore is a queer space. We prioritise our LGBTQIA+ customers and will sometimes ask our straight & cis allies to support us by not taking up room in our venue. Please be conscious of who this space is intended for and be respectful. Never assume sexuality or gender identity. We will never ask personal questions on the door.
Low/no income access

We reserve limited spaces for those who cannot afford the standard ticket price due to being on low or no income. Please email 
hello@dalstonsuperstore.com
to enquire.

Full venue access info is available

here
Seize the means: Staff Trans Healthcare fundraiser
tribe_events-template-default single single-tribe_events postid-30643 tribe-events-page-template tribe-no-js tec-no-tickets-on-recurring tribe-filter-live tribe-theme-dalston-superstore loading

Seize the means: Staff Trans Healthcare fundraiser

https://dalstonsuperstore.com

https://dalstonsuperstore.com/wp-content/themes/dalston-superstore