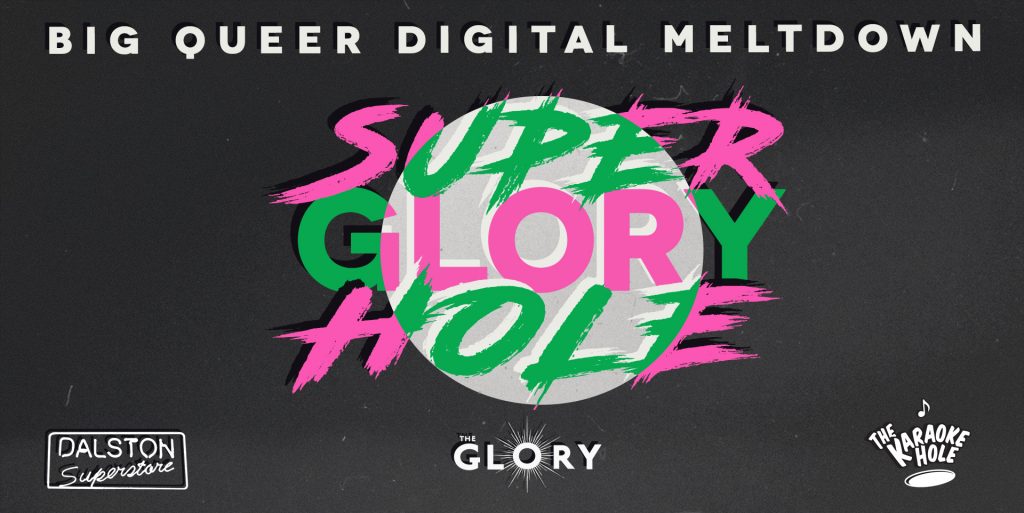 SUPERGLORYHOLE: Big Queer Digital Meltdown!
Midland
Hannah Holland
Dan Beaumont
GIN
Milk Shandy
ShayShay
Jane Norman
+ The Glory Starlets: John Sizzle, Princess Julia, A Man to Pet and more!
Lube up your sofas darlings, Dalston Superstore is going virtual for Lockdown 2.0, and this time we're inviting our friends The Glory and The Karaoke Hole along for a night of pixelated pandemonium!
This ain't just any old Zoom Room…this is a majestic palace of East London faggotry!
We'll be taking you on a virtual hot mess whistle stop tour of your favourite East London hotspots…
First up, we'll warm you up at The Karaoke Hole with some sumptuous cocktail action, then it's down to The Glory for gossip and intrigue with her majesty Princess Julia! She'll be inviting along some of her favourite stars of the East London cabaret scene for pop up shows and lols!
Then we'll all pile in an Uber and it's up to Dalston Superstore for queer chaos from some of our favourite DJs and drag demons… All from the comfort of your own front room!
Buy a ticket, or give what you can afford and support this extended royal family of queens, kings and things!
All Dalston Superstore members receive free entry, sign up today: https://www.patreon.com/dalstonsuperstore
Facebook Event
Tickets
SUPERGLORYHOLE: Big Queer Digital Meltdown!