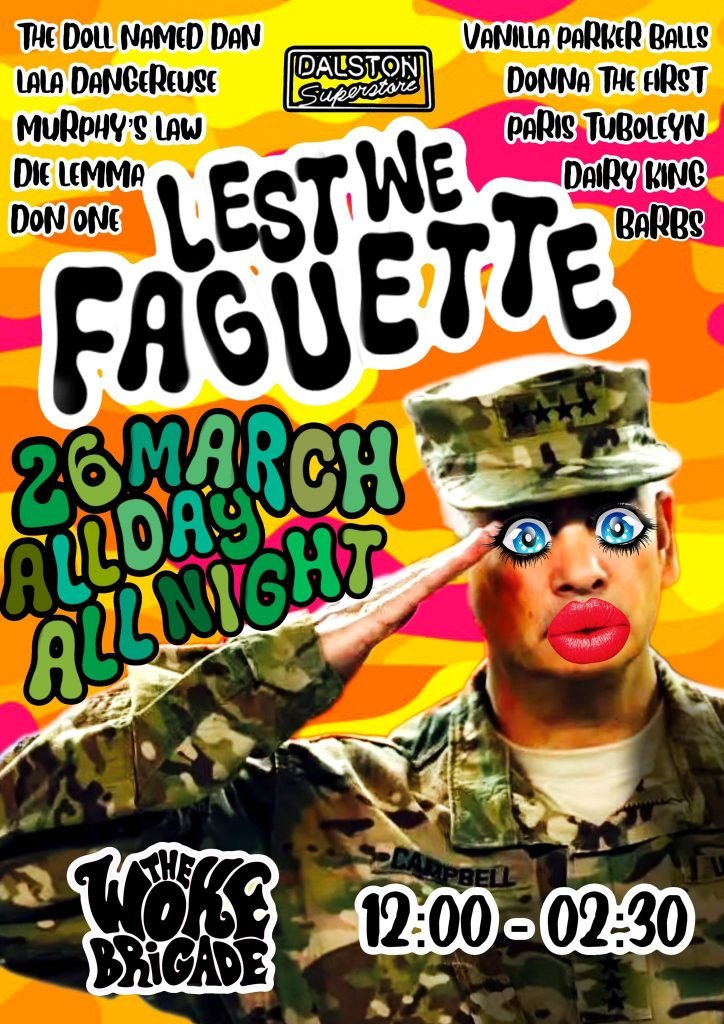 The Woke Brigade: Lest We Faguette All Day Party
The Doll Named Dan
Lola Dangereuse
Murphy's Law
Die Lemma
Don One
Vanilla Parker Balls
Donna the First
Paris TuBoleyn
Dairy King
Barbs
COO-EEE!! Cavalry calling!! To celebrate the launch of the Woke Brigade, the UK's most Anti-Drag Drag collective, we're bringing you a 14 hour party at Dalston Superstore. Yes, you read that right: FOURTEEN HOURS OF STINKING HOT NONSENSE ?
We start with a Fabulously Woke Brunch hosted by Commanders-In-Chief Vanilla Parker Balls and The Doll Named Dan from 12:00 until 17:00 (book here). Then, from 18:00 until 20:00, you'll be treated to a Cabaret Spectacular, featuring some top tier agenda-pushing performances from Don One, Donna the First, Dairy King, Die Lemma and Barbs (tickets available here). Finally, to seal the indoctrination deal, we'll be partying the night away from 09:00-02:30 at our Brigadier Conference Party!
With all this silly entertainment, you're sure to get your fill of lefty woke nonsense! Commanders-in-Chief Vanilla Parker Balls and The Doll Named Dan, and all of your favourite Woke Brigadiers will be there to forcibly… *ahem* we mean… peacefully integrate their Woke Agenda on you all.
The Woke Brigade: Lest We Faguette All Day Party
tribe_events-template-default single single-tribe_events postid-30631 tribe-events-page-template tribe-no-js tribe-filter-live loading

The Woke Brigade: Lest We Faguette All Day Party

https://dalstonsuperstore.com

https://dalstonsuperstore.com/wp-content/themes/dalston-superstore