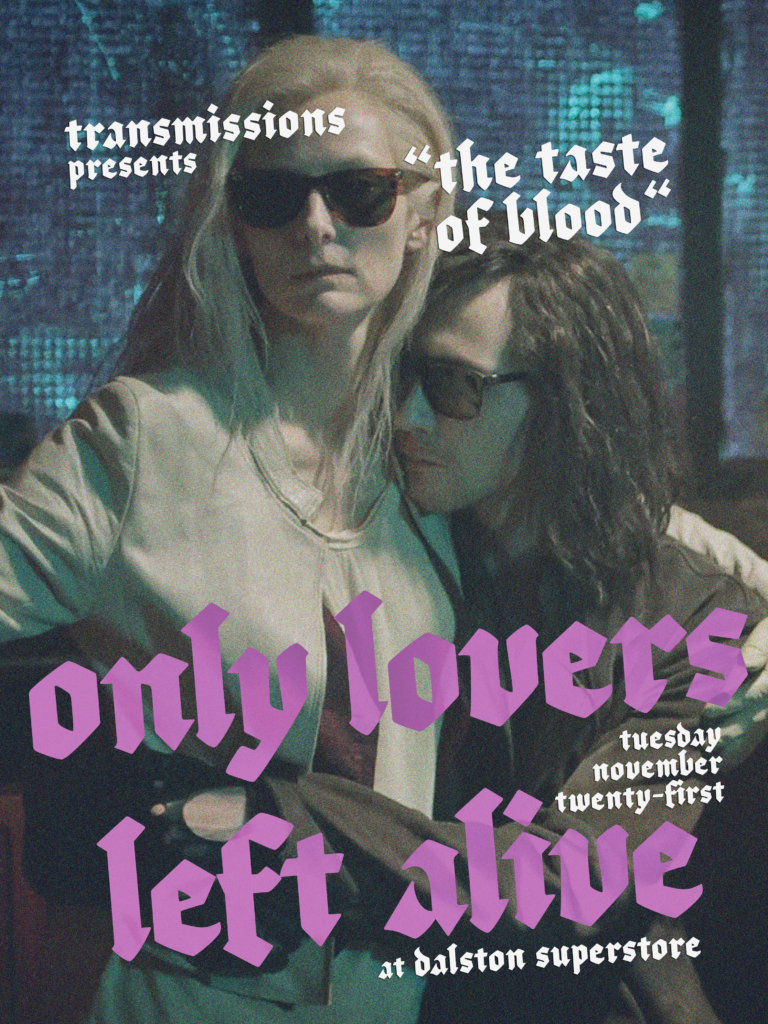 Transmissions presents Only Lovers Left Alive
Our season of the fanged and the damned, The Taste of Blood, continues with the film that gave us its name.
The legendary Jim Jarmusch's syrupy ballad of immortal ennui and impeccable taste Only Lovers Left Alive (2013) stars Tilda Swinton and Tom Hiddleston as Adam and Eve, the first among us and the oldest of vampires.
Married for centuries but now adrift and apart, Eve must depart Morocco and journey to a deserted Detroit to comfort Adam who's lost in despair as he spends his days collecting blood pouches from a crooked doctor, and hiding out from fans of his shoegazey underground music project.
John Hurt, Mia Wasikowska, and Jeffrey Wright co-star in a cinematic opium den that marries genre conventions with arthouse sensibilities in a richly enveloping mood piece about love, music, depression, and the weight of history.
Join us downstairs at Dalston Superstore for one of the very best films about those ever hungry creatures of the night, featuring a performance from Swinton so note perfect that you'd swear it's in her blood.
"How can you have lived for so long and still not get it?"
Tickets available via OutSavvy
Subtitles will be displayed throughout the film.
Seating is a mixture of benches, backed chairs, bar stools, and floor space, and is first come, first served.
Transmissions presents Only Lovers Left Alive