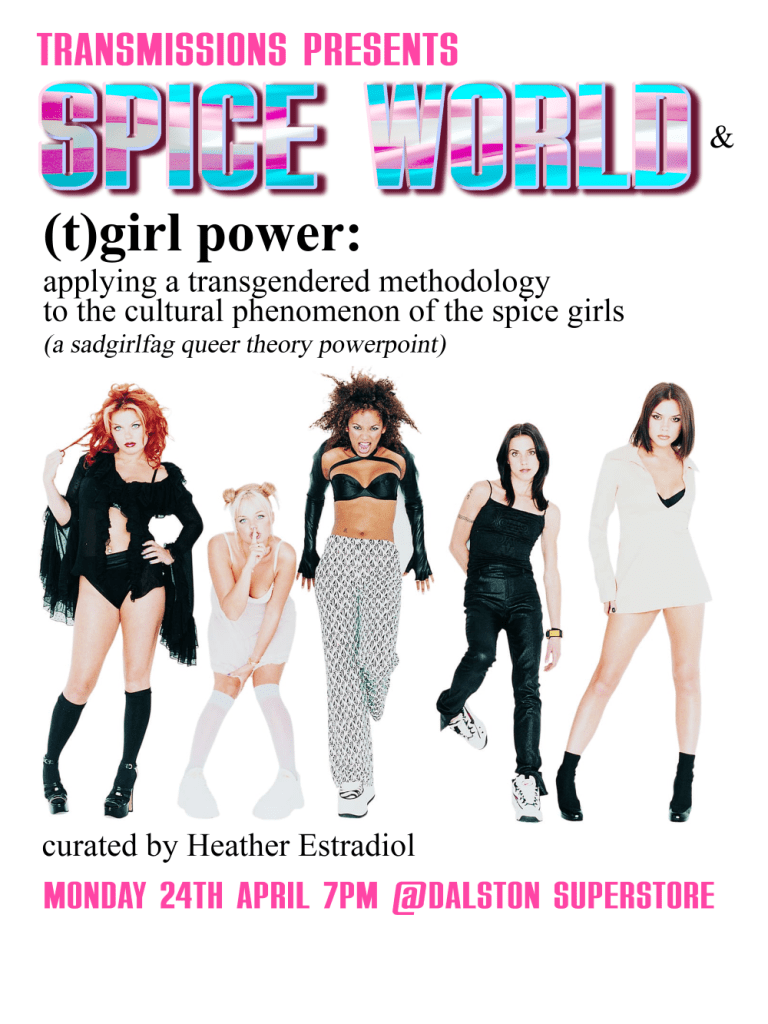 Transmissions presents SPICE WORLD (1997)
Ending this month with the biggest of bangs, Heather Estradiol of @sadgirlfag is bringing us right back to our roots with the very origin of feminism itself, Spice World (1997).
Posh, Scary, Sporty, Ginger, and Baby wreak stylish havoc in a luxury double decker bus in this feature film debut that needs no introduction.
Except, it will have an introduction.
Because it wouldn't be Transmissions without a frantic coagulation of the low brow and high brow, so expect a presentation that will encourage you all to reappraise the iconic spicy ladies through a transgender ~academic~ lens, or more to the point, decide which of the girls you most identify with, and collectively decide which one Heather is closest to….?
Find us in the basement at Dalston Superstore for a night that could only, and perhaps should only, happen once.
This week's film is brought to you by Geri Halliwell's firm denial of ever having had sexual relations with Mel B.
Subtitles will be displayed throughout.
Seating is a mixture of benches, backed chairs, bar stools and floor space, and is first come first served.
Transmissions presents SPICE WORLD (1997)