After their thunderous debut in April, this Friday sees Ni-Ku and J.Aria  return for an extravaganza of boundary pushing experimental club-music at the second instalment of MegaLast! Providing the heat in our lazerhole is none other than the queen of trance-like rhythms, ricocheting percussions and delirious energy, object blue!
Oh hello object blue! We are so excited to have you at MegaLast this Friday! What can we expect from your premier set at DSS?
Lots of harshness and intensity, but still will be making sure you dance all night. I really can't wait!
You dedicated your EP Do you Plan to End a Siege to 'all the women on the dancefloor' and you have been ON POINT in calling out the misogynist bullsh*t of the music industry. What has your experience in the music industry been like as a queer woman?
It's frustrating a lot of the time! Since I was a teen, male musicians have mistook my enthusiasm for music as an invite for flirting. I've had male musicians approach me and say "I love your music, let's work together," then disappearing once they learn I have a girlfriend. I still get hit on on the dancefloor after I finish a set and get offstage. Heteronormativity is real! I just want to be taken seriously as a musician, no matter whether I'm f*ckable or not.
There are some amazing femme collectives like Pxssy Palace, SIREN & Rhythm Sister paving the way for and creating safe club spaces for women and femmes on their own terms. How do you think it is best to support these collectives?
Go dance and bring a crowd! And if you're bringing straight people — tell them to behave or we'll punish them according to clause 433 of the Gay Agenda!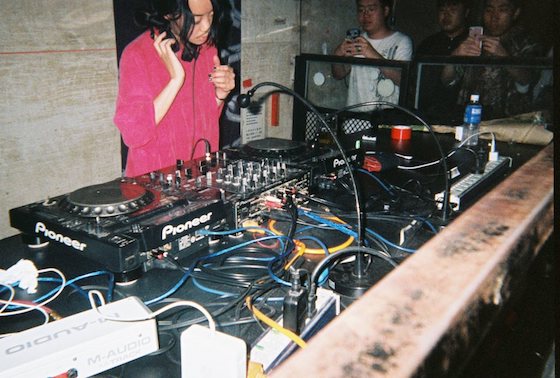 It's been well documented about the loss of LGBTQ+ spaces in London, but this change has been more abrupt for queer women. How has this effected what clubs you go to?
Yeah, there seems to be nowhere for lesbians to go. It has been impossible to find a lesbian club to hang out in — once I went to a lesbian bar that's defunct now, but it was empty with bad music. All the years I've been in London, I've given up on lesbian-only spaces and chosen good music instead, even if that means I have to be harassed by straight men all night. It's been traumatic, I've gotten badly groped several times. Nowadays I go to Superstore a lot with my girlfriend, and it's great that there are lots of women-focused events. I really want to go to Opulence, the queer techno party, but I haven't had the chance!
What LGBTQ+ musicians are inspiring you at the moment?
If you had unlimited budget and could book anyone, what would your perfect queer clubnight look like?
All of the above + Octo Octa, Yaeji, HAAi, Roza Terenzi, D. Tiffany. and I want all the DJs to play at least three hours each so it won't be a club night, it'll be a full weekend. I'll personally prepare food and serve it. Espresso machines for those of us who don't do uppers. Several rooms including some darkrooms (though my friends have set up darkrooms at their parties before and it became a Deep Chat Zone!). 
Read full article
Tags:
ani klang
,
Candy Darling
,
Dalston Superstore
,
dazed and confused
,
factmag
,
Friday
,
gay agenda
,
haai
,
j.aria
,
LGBTQ+
,
London
,
loraine james
,
megalast
,
minimal violence
,
object blue
,
Octo Octa
,
opulence
,
party
,
pxssy palace
,
queer
,
rhythm sister
,
rkss
,
siren
,
Sophie
,
violet
,
yaeji