Fringe!
Fringe!
20-03-12
The second annual Fringe! gay and lesbian film festival is almost upon us! We asked organiser and local hero Mr Alexander Karotsch to give us the lowdown…
Please explain what Fringe! is for the uninitiated
Fringe! is a DIY and community film and arts festival that takes place across various venues in East London over one long weekend in April.
Who is involved?
There are six of us in the core team, an increase of three from the first year. Liz is our producer extraordinaire, Anna heads up the First Love Project and works with me on press, Konstantinos is one of our curators and programmers along with Josefeen and Muffin. I work on publicity, programming and general organising (which sometimes results in me bossing around everyone, in the nicest possible way).
And then there's of course our myriad of collaborators without who the festival just wouldn't be possible. There are too many to list here so check out the programme on our website to see who we're working  with this year.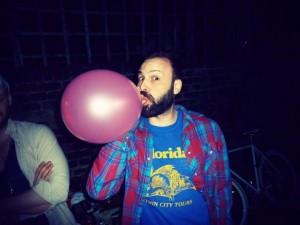 Why did you start it
We set up the festival in 2011 in response to the LLGFF being cut down from two to only one week. To make up for the missing weekend the three founding members (Liz, Anna and me) we decided to put on some films over the 'lost' weekend. It quickly ballooned from showing a few films into a full blown festival with loads of stuff from interactive events to talks and from performance art to parties happening. We had something on offer for everyone, from the thought provoking to the playful. We organised the whole festival in just two months. Putting together a weekend of events in such a short time was pretty mental but it really paid off and the first festival was a huge success. This year the LLGFF is thankfully back to an almost full run but we've decided that there's a space for us to do something that's maybe a little bit different and also reaches a different audience. Showing films is still at our very core but we've expanded the programme to also include more events, performance and art including our first commission Super 8 Cam, which will be showing in the DSS basement over the Fringe! weekend.
What makes East London unique?
There is an amazing creative spirit and community in East London who we are incredibly thankful for and indebted to, from filmmakers, artists, graphic and fashion designers to DJs, musicians, trannies and performers.
It's a bit like the village where I come from where everyone knows everyone just much better. No-one's going to run to tell my mum if I've done something wrong but the whole village might still find out.
It's also an incredibly international environment which makes it super easy to establish contact with likeminded people all over the world, whether in London itself or abroad.
What is the First Love Project?
The First Love Project is our community outreach programme which we are running for the first time this year. It is designed to get young gay people in East London, especially those from ethnic minority groups, involved in filmmaking. To start off the project we have set up a Vimeo site where anyone can upload a short video about their first love, whoever or whatever that might have been. A selection of the best videos will be screened at Rich Mix and after the screening there will be discussions and workshops for anyone who wants to learn more about TV, film and radio.
Who are the up-and-coming local film makers we should be on the lookout for?
Antonio da Silva is a friend of ours, originally from Portugal and now living in East London. We'll be showing his short Mates, about online flirting, random internet hookups, social media and pornography, before our opening film I Want Your Love, and he is also one of the filmmakers who is contributing to Super 8 Cam.
Another of our favourites is Campbell X who produces experimental films and shorts which combine both fiction and documentary elements. Her first feature Stud Life about a lesbian and her best gay friend is having its premiere at the LLGFF.
Look out for the Fringe! meets Hot Boy Dancing Spot party at Superstore on April 13th (after the In Bed With Madonna late-night screening at the Rio!)
Have a look at the Fringe website for more information on what's happening over the festival
Drinks will be sponsored by Briska Cider.
post-template-default single single-post postid-1193 single-format-standard tribe-no-js loading
Fringe!