Goldsnap!
Goldsnap!
22-03-16
Dalston Superstore is absolutely thrilled to announce new weekly gurlzzz party Goldsnap will be debuting on Thursday 31 March! The three-way lovechild of local female DJ collective Goldsnap, this is a party space for all with an emphasis on showcasing amazing local female talent. You can expect R&B, Hip Hop, House, Trap, Afrobeats, Garage, Dance, House and more from Mwen, DJ Dibs, VDubs & very special guests! We caught up with them to see what they're planning to unleash!

Hi guys! We are super excited about your new new Thursday night girls night at Dalton Superstore! Can you tell us a little bit about your vision for Goldsnap?

We feel it's time for something new to happen on the scene. A place where girls can go every Thursday to dance till they sweat, with other girls. It's pretty simple. That's all I've ever wanted from a girl's night - good music, good vibes and dancing.

Where did the inspiration for the name come from?

Goldsnap means a sudden climatic change that is golden.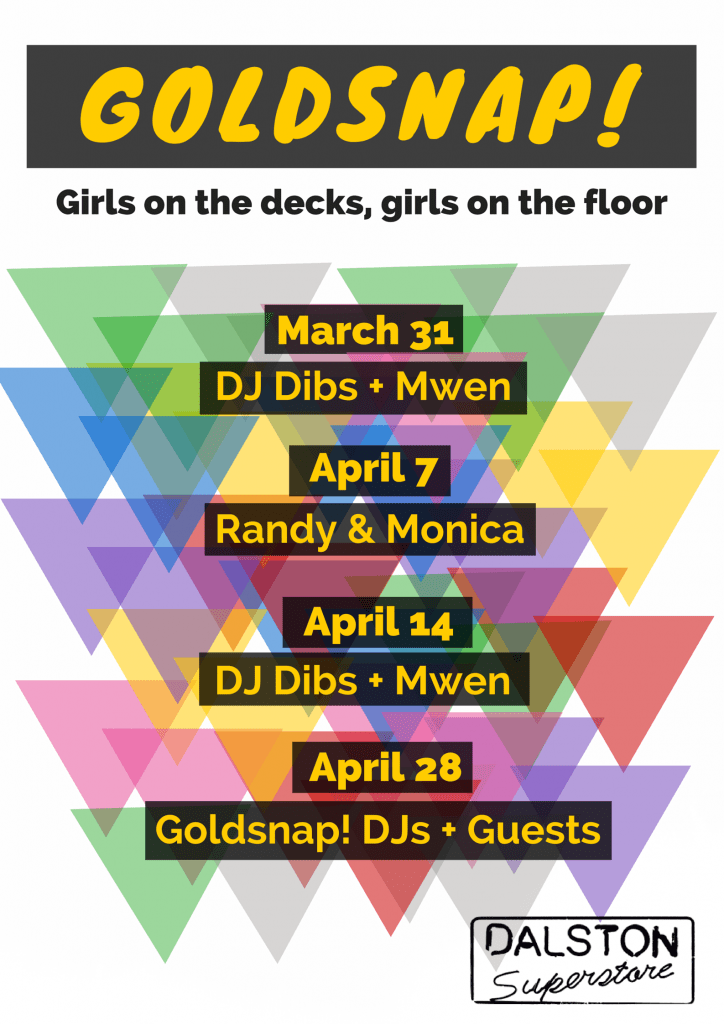 You guys have a bit of a history together as DJs. How did the three of you come together?

We all met through VDubz back in 2014. VDubz was bartending in a basement joint in Dalston and DJ Dibs played a set that basically blew her away. So VDubz fed her rum and coke until DJ Dibs was convinced to come over and do a jam session. VDubz brought Mwen along and it was so electric that VDubz's house burned down a couple weeks later. True story.
If you could change anything about queer nightlife in London, what would it be?

If anything, it would be more QTIBPOC (Queer, Trans*, Inter*, Black and People of Colour) spaces. We want a night which plays something for everyone, we're setting out to create a space where everything comes together, the music, the queer, the funk & the fun.
If you had a time machine and could do dancing anywhere/ anywhen, where would you go?

Dj Dibs: Definitely back to the 70s when no one gave a shit. Music was at its peak, everyone had to dance and hairy guys were in - lol.
Mwen: Any time a new scene emerged like hip-hop or jungle/drum 'n' bass. I remember when dubstep was emerging. Those early moments in a scene when a few artists are doing something really interesting and exciting I think are golden. Working outside the paradigm of popular music is such a hard thing to do and I think there is something magical when you witness it happening.
VDubz: Back to the Golden Age of hip hop: the nineties. The style was everything, the lyrics were on point - Fresh Prince, A Tribe Called Quest, VH1, MTV... I find it all terribly romantic.
What is your favourite track of the year so far?

Dibs: Am I Wrong by Anderson Paak. It's a party track but also soothing at the same time.


Mwen: Missy Elliot's WTF. I'll be playing that tune a lot I think...


VDubz: Beyonce's Formation. We slay!



And one track you can't wait to drop at Goldsnap?

Dibs: Afrikan Lady by Aina More



Mwen: I can't wait to drop a few garage classics...you'll have to wait and find out which ones though...
VDubz: Rewind by Kelela

---
Catch the Dibs, VDubz & Mwen at the premiere of Goldsnap on Thursday 31 March at Dalston Superstore from 9pm-2:30am!
post-template-default single single-post postid-9753 single-format-standard tribe-no-js loading
Goldsnap!