Grizzle
Grizzle
23-02-12
Grizzle is the the meeting of minds (and makeup) between drag performers John Sizzle and A Man To Pet. They've been entertaining us with their peerless combination of exquisite deejaing, insane bar-top cabaret and compulsory audience participation since we first opened our doors back in 2009! John and Mandy are part of the family round these parts - we caught up with them to find out their inspiration for the next performance...
You guys are notorious for your outrageous shows! What's the plan for the next one at Blonde + Grizzle?
John Sizzle: Those beautiful Blonde kids downstairs will be providing their own surprises this week… you'll have to nip downstairs to see what their getting up to.
We, on the other hand, are mounting the first ever never been seen before homage to the late great Alfred Hitchcock! God knows how many fabulous films he made but we're going to do a 3-minute transvestite mash-up of at least six of 'em….
A Man To Pet: Which ones? Let's just say feathers will fly!!!!!
John Sizzle: And the bitch gets it in the end…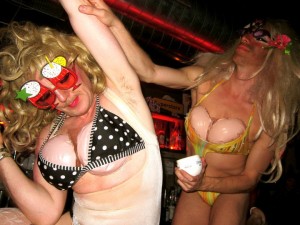 Who are your biggest inspirations, tranny or otherwise?
A Man To Pet: Do you think we need another inspiration apart from each other???? Stupid question.
John Sizzle: I'm inspired by nature…especially trees. And Prosecco.
How do you feel about the recent passing of Whitney Houston and are there any plans to incorporate her music into an act?
A Man To Pet: Houston great voice! Hot mess . We all ready done Huston u know we did recognize her talent even when she was alive! U can see my youtube Whitney tribute!
John Sizzle: I body-doubled for her in The Bodyguard you know…..but I was cut. Well, my arse was cut. Too bouncy.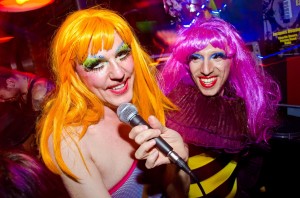 Your previous acts have included a blowup human centipede along the bar top. Can you explain a little bit about how that came about?
A Man To Pet: It was Sizzle's idea plus we love the connection even if that comes from your bottom of your heart or ass in that case.
John Sizzle: Oh my god, we became inseparable after that gig! Everyone has seen The Human Centipede, right? I was so repulsed I just had to incorporate it into a show. I was at the front, A N Other in the middle and Miss Pet was more than happy to be the main shit eater at the back. We crawled along the bar serenading each other to "Hopelessly Devoted to You" from Grease….
Can you tell us any ideas for acts that you've come up with that have been way too outrageous or simply logistically impossible to pull off?
A Man To Pet: Every time we have new ideas new stuff the only logistic thing we do is to don't fall from that bar, it's a death trap! Is amazing what we do on that bar, we always do deferent stuff but I think they always look the same cause we always end up having lesbian love on the bar….!
John Sizzle: There was that time that you set fire to me when I was Madonna on a crucifix during "Like a prayer'! And we even did 'Like a virgin' in a paddling pool on that bloody bar. At GRIZZLE we always have an encore up our sleeves!!! 
Blonde + Grizzle is next Friday 2nd March from 9pm to 3am. Blonde takes over the basement with Nova Dando and Feral Is Kinky as the upstairs mayhem is in the capable hands of two of our favourite trannies John Sizzle and A Man To Pet.
post-template-default single single-post postid-942 single-format-standard tribe-no-js loading
Grizzle