Grizzle's Tropical Beach Etiquette
Grizzle's Tropical Beach Etiquette
06-08-13
Friday night brings another two-floor Grizzle Extravaganza to Dalston Superstore! As it's summer Sizzle and A Man To Pet have opted for a Tropical Beach Party with which to wow and thrill you all. In the Babylon Beach Basement James Phillips of Sink The Pink fame and the legendary Jeffrey Hinton will be pulling out all the stops to present THE soundtrack to summer. 
Upstairs those leggy beach beauties Sizzle and Pet lay on their usual antics with a tropical twist! So with that in mind, we asked them to provide a guide to Dalston Superstore Tropical Beach Etiquette...
Top Tips and Handy Hints to ensure you are at your GRIZZLE! best!
1. Cover Up those lumps and bumps…. stylishly.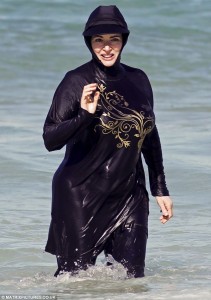 John Sizzle: Got a few unmentionable bruises on your nose or kneecaps? Take a tip from Nigella and bung on a burkini and save your blushes!
A Man To Pet: Is she a spy? Is she a she? I don't understand. What is happening here? Where are her tits?
2. Accessorize, accessorize, accessorize!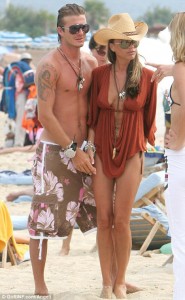 Sizzle: To accessorise is to be a truly evolved beach beauty.
Pet: Yes. Hat, sunglasses, shell jewellery.
Sizzle: Oversized comedy watch – waterproof.
Pet: Toe ring, sharks tooth pendant, high-heeled flip flops etc etc etc.
Sizzle: Wear it all. Wear it all at once! One should jingle as you mooch about the dunes.
3. A Concept Bikini is your friend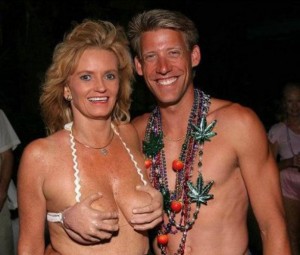 Pet: Janet Jackson has a lot to answer for.
Sizzle: I think they are real hands…. severed at the wrist.
Pet: How decadent!
Sizzle: Not suitable for vegetarians though.
Pet: Yes, if you are squeamish and keep food in your belly and not in the ocean wear only plastic. Good tits though and great tooths.
4. Always have a real man at hand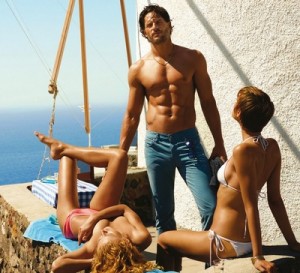 Sizzle: We met this guy from True Blood (it's Joe Manganiello – Ed.) when we were making our 2014 calendar in Cyprus. That's me passed out on the left.
Pet: That's me on the right with his denim between my legs.
Sizzle: Bootcut?
Pet: By Diesel.
Sizzle: Spesh. I missed that bit.
Pet: You were tanked on ouzo.
Sizzle: I must have been spiked.
Pet: We made love on the floor of that windmill
Sizzle: Did we?
4. Make a statement!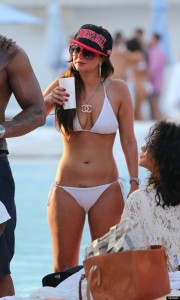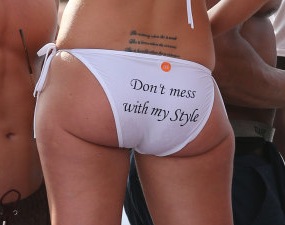 Pet: Tulisa! She is the queen on my people. Our Ambassador of Beach Style.
Sizzle: She's talking to me but what is she trying to say?
Pet: "Don't mess with my style"
Sizzle: And the front bum tattoo?
Pet: "Lucky you"
Sizzle: AY MAZING!
Pet: She says what is on her mind always. An icon.
Sizzle: A GRIZZLE GODDESS! 
5. Make your tan POP!
Sizzle: Wear white and gold… even when just having eggs and chips in Marbella.
Pet: Wow! I need sunglasses.
Sizzle: The Only Way is Persil Automatic.
Pet: Dazzling Whites.
Sizzle: By Etam.
6. Sunblock
Pet: It is boring but Factor 50 on your face, hands and inner thigh.
Sizzle: Or if you're a Russian gay, be protected from the sun by being tortured in jail!
Pet: Free Pussy Riot!
7. Bikini Ready Body
Pet: Don't be a lazy pig, grow a big arse like Kim.
Sizzle: So no one looks at your mush.
8. Be discreet
Pet: Take tips from the Queen of Reinvention herself. My godmother, Madonna.
Sizzle: She tried to adopt me from Ireland once.
Pet: You had a lucky escape. This picture was taken at her son's Bar Mitzvah on the beach in Israel.
Sizzle: Eh?
Pet: Five minutes earlier she was doing naked karaoke in front of his teenage friends.
Sizzle: What did she sing?
Pet: La Isla Bonita…
Sizzle: Magnificent.
Pet: A moving rendition. She used shells for percussion.
Sizzle: A Tropical Beach Party Classic.
Join Grizzle for their Tropical Beach Party Extravaganza this Friday 9th August from 9pm - 3am over both floors of Dalston Superstore.
post-template-default single single-post postid-5289 single-format-standard tribe-no-js loading
Grizzle's Tropical Beach Etiquette