Hannah Holland's Heroes of 2013
Hannah Holland's Heroes of 2013
31-12-13
10 things I've discovered - rediscovered, obsessed over and loved this year.. art and personal heroes of 2013!
Sister Rosetta Tharpe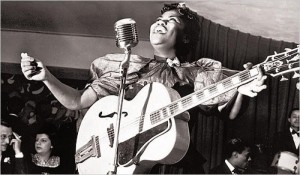 Fierce women from the '30s and '40s that influenced Elvis and Little Richard. Love this women, what a powerhouse. BBC4 did a great doco about her this year, which was great as she's rarely written about.
Xander Gaines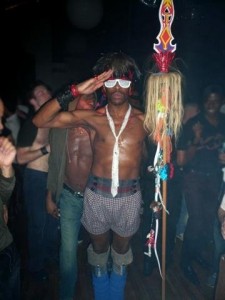 I met this magical person in New York, he is living breathing art and made me want to make a track inspired by how much I love New York!! Check out my Live It EP on Get Up from earlier this year!
Gay Bingo 
Jonny Woo, John Sizzle and Ma Butcher made the final 10 year shebang at Hackney Empire, a huge moment in East London herstory. Also I went on an Australian tour with them earlier in the year for Mardi Gras, which was a riot!
Connan Mockasin
The smooth tones of this album have been keeping me company whenever I need some delights upon the ear...
David Bowie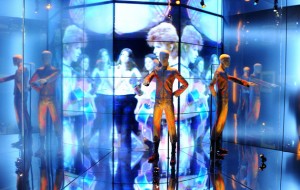 Always a constant obsession with Bowie, but his exhibition at the V & A was endless and incredible.
Alex Noble - Creatures From The Kaleidoscope 
My good friend and partner in Batty Bass, Alex Noble, had his first ever solo exhibition, which incorporated his talent into all the different mediums he works with, under the themes of death, spirituality and conscious awakening. The scope of work was beautiful and I'm dead proud!!!! 
Alex Noble's Creatures From The Kaleidoscope from Ryan Lanji on Vimeo.
Black Gold Buffalo 
Loving playing bass for exciting new band Black Gold Buffalo with my amazing girls Keziah and Anna Argiros. We played gigs all over London this year including Lovebox and Loco Disco festival... next year we'll be releasing some music, watch this space, we've been busy in the studio!  
Goldfrapp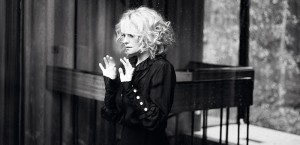 Wow the new album  Tales Of Us is totally sublime, classic sounding, I can't stop listening.
Laurie Anderson
I've always known about Laurie Anderson, but it took me 'til this year to become obsessed. Maybe the beautiful words she wrote about Lou Reed and his death drew me in, but I can't get enough of her brain power.
Savages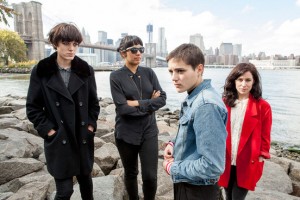 I haven't felt this much excitement for a band since I was about 14. The girls totally kick ass live and their album is killer, stripped back to its raw energy and the message - Silence Yourself. 
Yoko Ono 
What a woman! She curated this year's Meltdown Festival, and it was the best line up I think I've ever seen there!!! Iggy Pop, Savages, Kim Gordon, Bo Ningen, Peaches, Siouxsie Sioux etc and lots of Yoko's art throughout the South Bank centre. A great moment in London for 2013 especially women in music
Kim Gordon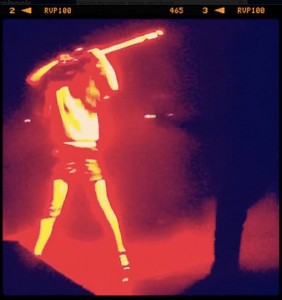 I love this pic I took of one of my teenage heroes Kim Gordon.
Check out Hannah's latest mix for more heroes...
And join her TONIGHT in the laser basement for Little Gay Brother Present Studio 54 NYE Tuesday 31st January at Dalston Superstore from 9pm - 4.30am.
post-template-default single single-post postid-6265 single-format-standard tribe-no-js tec-no-tickets-on-recurring tribe-theme-dalston-superstore loading
Hannah Holland's Heroes of 2013