Hot Boys Of Horror
Hot Boys Of Horror
24-10-13
By Hello Mozart
As we count down the hours until Saturday, when Hot Boy Dancing Spot heads to the freshly refurbished laser basement, with red balloons and plenty of face paint for an all out Clown House, Hello Mozart and Davey Sutton count down their Top 10 Horror Hot Boys. Horror films have been filled with homoerotic imagery and subtext since the dawn of cinema. The '80s were particularly camp, with A Nightmare On Elm Street 2 being possibly the most overtly gay straight horror film in history!
"Something is trying to get inside my body" 
"And you wanna sleep with me?"
10.Chad Michael Murray – House of Wax
House Of Wax is famous for, among other things, an outstanding, some might say Oscar-worthy performance and death scene by the one and only Paris Hilton. We we're more interested in Chad though, obviously.
9. Jey Crisfar – Otto; or, Up With The Dead
Bruce La Bruce's Zombie romantic comedy porn is not for the faint of heart, it's a precursor for his later, more graphic film LA Zombie with François Sagat, but for us, you can't beat Otto.
 8.Chris Hemsworth – Cabin in the Woods
Cabin In The Woods injected some much needed genre bending into the horror genre. And the mandatory topless shot of Chris. 
7. Gaspard Ulliel - Hannibal Rising
What's not to love about Gaspard? He starred in Gus Van Sant's love letter to Paris in Paris, Je T'aime, got bloody in Hannibel Rising and is soon to star in Saint Laurent, the Yves Saint Laurent biopic. HOT.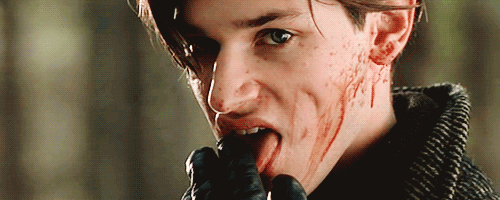 6. Christian Bale – American Psycho
Serial killers should never be this hot. Also a central dilemma in Stranger By The Lake, out next year.
5. Devon Sawa – Idle Hands
Idle Hands literally got me through my teenage years. I think I wore out the VHS, yes VHS pausing various scenes with Devon. And a cameo from Offspring, teenage dream.
4. James Duval – The Doom Generation 
James Duval was in a number of Gregg Araki films, not least Totally Fucked Up and Doom Generation. We're including him here as it's pretty impossible to make a Hot Boy list without some sort of Araki connection, and blood and 666 is good enough for us!
3. Skeet Ulrich – Scream
Anyone who can lick blood of their hands and make it look that erotic deserves a place on this list.
2. Evan Peters - American Horror Story (ok we're cheating, it's not a movie. But mega swoon.)
Where to start... He came onto our screens as Tate. Evolved into Kit. And now Kyle the frankenstein Frat Boy. How can it get better?
1. Johnny Depp – Nightmare on Elm Street
Although Nightmare On Elm Street 2 has to go down as the gayest non-gay horror film. Johnny Depp wins flat out on our Horror Hot Boy list .
Join Hello Mozart at Hot Boy Halloween Spot with Justin Robertson, The Lovely Jonjo, Jamie Bull and Lucy Locket this Saturday 26th October from 9pm - 4am.
Follow Hello Mozart on Twitter: @hellomozart 
post-template-default single single-post postid-5873 single-format-standard tribe-no-js tec-no-tickets-on-recurring tribe-theme-dalston-superstore loading
Hot Boys Of Horror