Imma/Mess
Imma/Mess
27-03-14
New York performance artist Imma/Mess joins us here at Superstore this Friday to make his London debut at, of course, Dirty Diana. We sat down with the enigmatic artist to find out more ahead of the party...
Who is Imma/Mess?
Imma/Mess is kinda like this mix-up of who I long to be and my childhood references and memories. I grew up around majority women… and when I say "grew up" I don't mean in physical presence. I was always listening to Tina Turner and watching '80s TV. So "women" in the broad sense of what a woman could be. Even down to my grandmother, just watching her cook, and things like that.
Imma/Mess is kinda like a combination of all those memories piled up into one and then me, now, the journey that I'm on. So I kinda use childhood memories to manipulate the present.
What can you tell us about your performance this Friday?
Since I'm new to London it needs to be about me introducing myself. A lot of performances are dependent on space, and so here at Superstore it'll be about having fun… a lot of body haha showing a lot of body… a lot of make-up… but other than that, just a good time.
You lived in NYC- are you from there originally or did you gravitate towards there because of the richness of the performance art scene and the avant-garde scene?
I grew up in Montgomery, Alabama but I have always been drawn to New York. Even as a child I would draw the city's skyline… then one day I was moving to Atlanta and my teacher was like "You should audition for Alvin Ailey."
Who is that?
It's an African-American dance troupe, artistically run by Robert Battle, and Judith Jamison was the director but now she's not.
So it was pretty crazy for my teacher to suggest that I audition there as my aunt had just taken me to a performance there a week before. And that's what took me to New York. 
Where has your art provoked the biggest reaction?
I will say that race comes up a lot. And racism comes up a lot, and all that. Because sometimes I will do blackface… but I don't want to call it "blackface". Sometimes I will use all black make-up or all-white make-up and people want to say "Oh my god why is there a black guy putting on black make-up?" and then they call it "blackface" or "Why is this black guy covering his whole body in white?" I think in the art world, sometimes, a sense of humour can be lost, or diluted down a bit…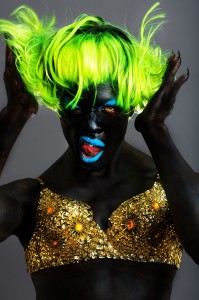 Or maybe they don't have the same drag references?
Right. I love performance art; it's allowed me to get to where I am now. But I feel like a lot of times when my art comes up it's always in reference to someone who is maybe not even medium-wise close to me…. But like the closest thing. So like Nick Cave because he's an African-American performance artist who does these amazing, beautiful Soundsuits. And a lot of people, just because I use dance, are like "Oh Nick Cave." And it's like "No. What about Leigh Bowery? And all these people that ARE my references?"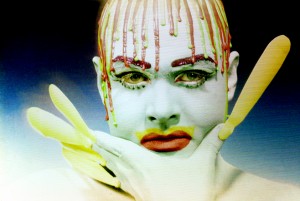 I guess the closest thing that is my reference is Grace Jones. That's it. Okay, yeah maybe you're right. Maybe they don't have the same book of references as me.
You mentioned studying at Alvin Ailey- have you always studied dance?
My training background? I originally began studying gymnastics. Then my gymnastic teacher TRICKED me into doing dance because she used to do dance competitions and I was the only boy- actually it was me and her brother. He was four years older than me. She got both of us to do a duet- Mortal Kombat- Oh my god, and she was like "It's gonna be the coolest duet! If you guys do it you will win the trophy." And all I cared about was the trophy…
Did you?
And we did! It was called I Love Dance and we went, and I was so into it! I was so into it because I was thinking Trophy Trophy Trophy… And I got the trophy. Anyway, that's where I started. And then I went onto a performing arts high school in Atlanta. Then it was onto Alvin Ailey, then I went to a Conservatory in Connecticut- in the middle of nowhere- some of the best years of my training life. Then after that I went to Holland and then I was offered a training position with Atlanta ballet so I went back and I grew up in the ranks pretty quickly. The director was so amazing. After the third year there I wanted to quit. I didn't want to dance anymore. I wanted to do more with my voice. So I applied to school in secret and went to Parsons where I graduated with honours. I just recently applied to CSM (Central Saint Martins) so I'm going there for my MA in fine arts.
Besides Leigh Bowrey who you already mentioned, which artists- of any medium or method- inspire you?
I am drawn to people who I feel I can take something away from. I love Cindy Sherman. I love Nick Cave. George Condo. All art-wise. I'm kinda conflicted with Grace Jones, between performer or artist… for me I feel like she's an artist, so she's one of my biggest references. I LOVE John Waters. And from that I love Divine. And all his movies. So that's where I'm at reference-wise.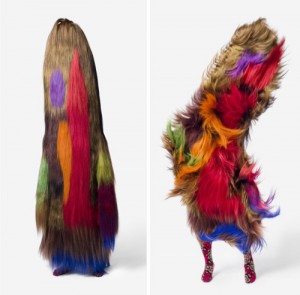 I love beauty but I love… beautifying the grotesque. I LOVE grotesque. The nastiness. Like how Divine is. It's so amazingly ugly. It's like wearing Prada: it's so ugly it's good. It's like who puts those colours together and that crazy fucking goat fur and when you see it all together you're kinda like bleurghh, but then a little bit down the road you're like huh, this is not so bad.
Can you talk us through your style a bit… how would you describe it, do you make your own costumes, who are your favourite designers to wear?
In my normal life I wear all black. I wish I could afford Comme des Garçons. I'd wear Comme des Garçons every day. The avant-garde pieces. The womenswear. Rick Owens I would love to wear. Gareth Pugh… oh my god I LOVE. But right now, what I can afford is Y3 and pieces I find in vintage markets.
In my normal style I like a little bit of the crazy, but since I wear all black it's easier for me to put it together. I can focus more on the texture, shape and form and all that. But, as Imma/Mess… I love glitter. Oh my god. I LOVE glitter oh my god. I wanna paint my nails glitter, my face glitter… I've yet to get a glitter bodysuit… I need to meet Manish Arora or Ashish. I need to meet one of them because they just do glitter and sequins haha and I like it. But I need it slutty. Y'know, less is more. As Imma/Mess I just glitter and fake eyelashes. I always end up losing my lashes by the end of the night and then I go to take off my bra and they're both in there! Oh! There you are!
What has drawn you to London?
I feel that here I am able to be myself, and I don't mean to just do whatever, I just feel that London is so open to opportunity, compared to New York, where opportunity is there- don't get me wrong- but it's such a dreadful journey to even just find the door of opportunity, let alone getting inside. And then once you are inside, there are so many subdivisions of opportunity but I feel like in London, opportunity is so readily available. The community here is always on the search for something new. Just London in general, just walking down the street, people are curious… and not to make fun of you, but are interested in you as a person. In coming to London I am finding out more about myself through engaging with the people that are here.
Who would you most like to collaborate on your art with- from contemporaries to up-and-comers you've got your eye on?
Boychild, I also love FKA Twigs, Zebra Katz, Angel Haze, and this new girl, a rapper called Dominque Jones Unqiue… but, I just wish I knew more people in the nightlife here.
Come get to know Imma/Mess at Dirty Diana this Friday 28th March at Dalston Superstore from 9pm - 4.30am.
Photo Credits: Lee Morgan Photo / Tyler Dean King / Imma/Mess
post-template-default single single-post postid-6737 single-format-standard tribe-no-js loading
Imma/Mess