Jess Farley (Rhythm Sister)
Jess Farley (Rhythm Sister)
05-04-18
For the second instalment of heauxmeauxsexy disco
Mints
for 2018, the all-nonsense party crew invite the
Rhythm Sister
Collective to take over the laser hole for start to finish! The all female / non binary DJ collective have also programmed an open decks session before the party kicks off called
The Floor Is Yours
, in order to give any new DJs amongst us the chance to play out. Known for delectably eclectic selections spanning world sounds, house, disco, techno, breaks and beyond, we can't wait to see what they unleash at Mints! We caught up with founder 
Jess Farley
 to chat the changing climate of equality in dance music, favourite female selectors and Albanian summer festivals!
Hey Jess! We are so excited to have you join us for Mints! Can you tell us a little bit about yourself for those who might not know you?
Hello! I'm Jess Farley. I'm a DJ and the founder of Rhythm Sister. I've moved back to Bristol after being in London for six years, I have two cats and I also run my own business in marketing & social media for creative brands such as artists, labels and events.
What inspired you to start the Rhythm Sister Platform?

From my personal experience of learning to DJ, and also from speaking to a lot of other women who were going through the same. I found there was a common feeling of nervousness and a lack of self confidence in the process and feeling like music and the 'scene' was out of reach and not accessible to them. I think this is a combination of a lack of role models, socialisation of women from a young age, plus the male domination in the scene. So Rhythm Sister was about creating a community and space for women to feel comfortable to learn more about music and DJing from others, and for it to feel in reach for them. Alongside serving as a platform to help shine a light on more talented women and non binary artists, it exists to inspire others and help increase the amount of role models there are. And hopefully it's doing that :)
Music is obviously a huge part of your life. What is your earliest musical memory, and what has really shaped your love for dance music in particular?

I don't remember this first hand but my Mum said when I was like one or two my favourite song was Technotronic - Pump Up The Jam and I used to go mental dancing in my nappy every time it came on haha! I think what's shaped my love for dance music in particular has to be growing up in Glastonbury and going to the festival since I was young, drinking pear cider and roaming around all the tents by myself, it was pretty eye opening! There was also a big drum and bass scene when I was a teenager so I was listening to that and raving in fields since I was like 14! I guess my love for house, techno and dance music in general developed over the years from this.
You have done some incredible work to level the playing field for female and non binary DJs – we really admire your work! Have you experienced much of a shift in people's attitudes since you first started? 

Aw thanks :) A huge credit goes to all the Rhythm Sister crew and extended crew who've helped and supported along the way. Yes 100% I think attitudes have shifted and are shifting. There's still a way to go but the conversation of equality seems to be at the forefront in music at the moment. There are more women and non binary artists on line ups, more and more are finding the confidence to DJ and produce, and more initiatives, collectives and nights run by women are popping up! I think there is way less stigma, although it definitely still exists, but I think over the years all the work we're putting in now will hopefully come to fruition and the scene will continue to unearth all the talented people that have been hiding or have gone unnoticed. 
Do you find it really different to play to a queer or female dominated audience compared to the typical straight cis-male electronic music crowd?
There is definitely some type of magic and feeling in the air that exists in queer / female dominated spaces that you can't really explain. It's not really the absence of straight cis-males, it's more an energy that's created when people are truly feeling free and safe to be themselves, to dance and have fun, not being nervous and contained, which I think happens more in straight cis-male crowds. The openness and freedom is inspiring - we need it more! I think this is also achievable in mixed crowds, it's like a mutual respect for everyone you share the space with. 
Ever since we started our workshops we have really wanted to set up a night for attendees to be able to perform in a club environment. It's the next step from practising at home, to help them develop flow, read the crowd and be able to invite their friends to see them play out. It can do wonders for confidence and really help cement the nice and empowering feeling that DJing gives you, and hopefully it can be the stepping stone for future gigs! We'll have four x 45 minute sets that run from 7pm - 10pm before Mints kicks off, and we're announcing the line up soon! 
Who are some of your favourite female and non binary B DJs who are really killing it at the moment? 
Ah soooo many. London-based up and coming artists: Peach who's just released on Midland's label Intergraded is smashing it, Kiara Scuro, Jaye Ward, Anu, Rachael who works for Rye Wax and Five Miles is a wicked selector and is putting on some great parties and doing lots of good things for the scene, all of the artists involved in Siren are putting out great music and mixes. In Bristol: the BWiM artists Em Williams, Daisy Moon and Danielle are amazing and my friend Kiia is going to go on to great things. Further afield: Gwenan, rRoxymore, Margarat Dygas, Helena Hauff, Nina Kraviz of course. On the more jazzy, selector vibes: Donna Leake, Mafalda (just listened to her Dekmantel mix), Lauren Hansom from Australia. I literally could go on and on!!!
Who are some of the guests you have invited to join you for the basement takeover?

Jaye Ward has the best selection I've heard in a while, have heard many of her radio shows and a few mixes, literally can't wait to finally meet her and hear her play in the club!! Souvenir are also two very talented DJ and selectors who played one of the best warm up sets I've seen at our party at Rye Wax for Peckham Rye Festival last year. Plus can't wait to combine forces with Mints, should be a cracking one!!
Do you have any exciting plans in the pipeline that you can let us in on?

Ooo… we have a few exciting gigs coming up this summer! Most looking forward to playing at Kala in Albania - it looks so stunning. Plus there's a new mix series and we're soon to be rolling out a new mentorship scheme!
And finally, in five words or less, what are you planning to unleash on the Superstore basement?
Drums, breaks, ALL THE FUN!
---
Catch Jess Farley and Rhythm Sister at
Mints
 this Friday 6 April from 9pm-3am at Dalston Superstore!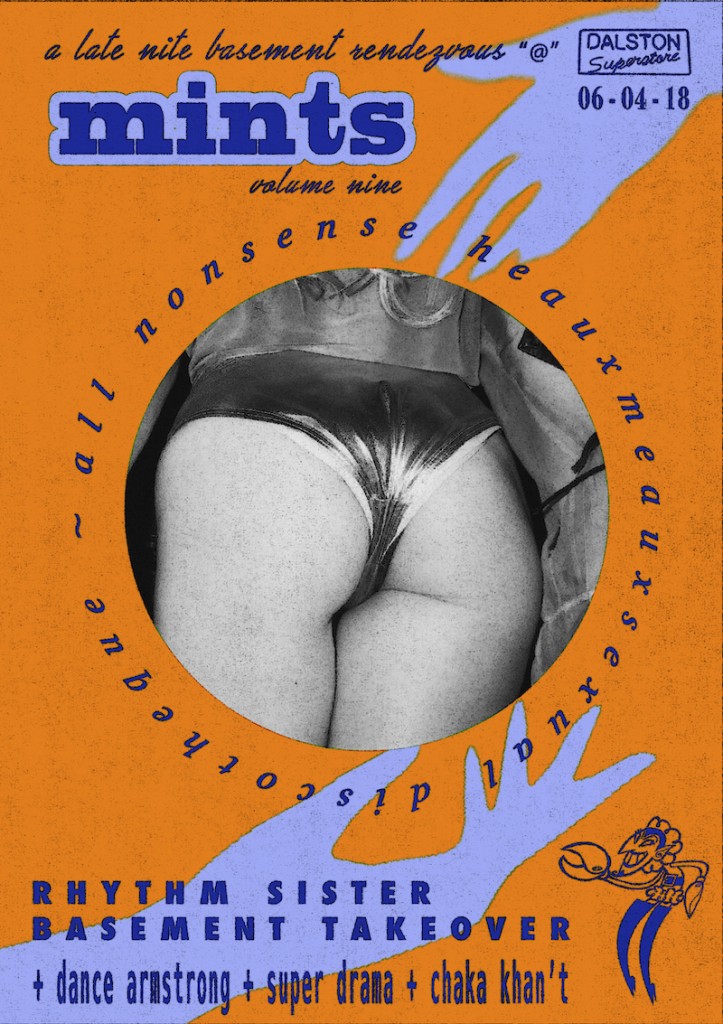 post-template-default single single-post postid-14409 single-format-standard tribe-no-js tec-no-tickets-on-recurring tribe-theme-dalston-superstore loading
Jess Farley (Rhythm Sister)