John Renaud
John Renaud
06-11-12
Texan born, now Berlin based, John Renaud is a multi-media artist, fashion designer and DJ. Working closely with controversial electronic musician Peaches, he's also designed for Cazwell, Cyndi Lauper, Amanda Lepore and Margaret Cho amongst others, meaning you've probably seen his work before. As a DJ, he's known for employing a plethora of genres to get the crowd going, be it disco, electro, hip-hop, deep-house, dance-punk or indie-pop. We caught up with the young artist ahead of his set this Friday right here at Dalston Superstore for Club Lesley...
Your musical tastes span pop, deep-house, electro, tech-house and more. Can we expect a thematic set from you at Club Lesley or will you just go all out "trans-genre"?
You know, I have been playing a lot of house lately, but I still am a big fan of playing a varied mix and I always will mix in some nu-disco or indie dance pop. When you go to those mega clubs where they have "house only" DJs or "electro only" DJs, that's great, but I always see my friends and other club goers get tired after the third hour or so of the same beat (even if they are on a bunch of ecstasy). I think it's a real skill if you can mix some disco into some deep house into an electro "punch-you-in-the-face" track, all the while keeping the crowd moving. I've watched some really inspiring DJs who believe in the trans-genre approach play recently and it is one of my favorite types of sets to watch.
Who is your favorite recent dance music discovery?
He's not new by any means, but I was really late to jump on the Boy 8-Bit bandwagon, but thank god I did. Seriously, his music and his remixes are beyond. He did a Florence and the Machine remix of Drumming Song that is so sick. He is one of those rare geniuses who can serve the music geeks with his skills and technical knowledge while at the same time making the general club crowd go insane on the dance floor. I really respect him so much.
We hear your parents met in a '70s cover band? We NEED to know more about this! What band were they a tribute to? What did they wear? Are there pictures? 
Haha, yes there are pictures. I think there is a poster in my parents' house in Austin. My parents were semi dirty hippie flower children. They were a cover band called the Tulanians at Tulane University in New Orleans. It was a group of students that covered the hits of the late '60s and early '70s, like Van Morison and Janis Joplin. That type of stuff. They did a USO tour too. They continued in a similar style band with their friends in Texas called the Pulsations, all while my brother and I were growing up. It was really embarrassing during adolescence but now that they aren't together any more it's kind of sad.
What influence does your Texan roots have on your work?
In my designs, I love western style yokes on shirts and making big statements. Haha. I'd say in DJing I love trying to squeeze in some country with Dolly Parton every now and then, but she can sort of kill the BPM so its only good at the end of a night or if you are playing for the gays. The gays love Dolly. Dolly loves the gays.
Why did you chose to settle in Berlin over any other major European city?
My friends were here. It's affordable. I am actually getting to work on writing music and making art for the first time in my adult life, which was something there just was no time for in NYC. I had to work so many design jobs just to scrape by.
What ethos do you live your life by?
Try everything twice, maybe three times. I literally try and always give everyone and everything a second or third chance. There are foods I would have never liked had I just gone by the first experience, there is music I would have never learned to like, and I guess the same goes for some relationships. People are very selfish today in our generation. We forget life is about compromise with the environment, people, animals, things, etc. Facebook has made us all so narcissistic, and I am so guilty of it. I can't believe what I write sometimes. You are not the most important thing on the planet. Give everyone and everything a second or third chance.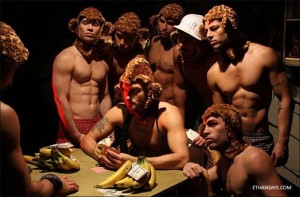 What are you currently reading/listening to/watching?
Reading? German Level one. Haha. Listening to a ton of missed episodes of "Wait Wait … Don't Tell Me" (an NPR quiz show from the states) and several episodes of Radiolab. I am watching 30 Rock and Breaking Bad if I watch anything, I don't own a TV so it's internet streams for me.
You have a pretty illustrious list of people who've worn your clothes- who was the biggest dream come true?
Well there wasn't one in particular; they all have been dreams I'd say. Margaret Cho was probably one of the nicest and easiest clients I have ever had. She was very gracious and trusted me. Super sweet. Cyndi Lauper was a total freak out moment, and she is great. Peaches has become one of my dearest closest friends since I started working with her so any time we work together it is an ideal situation. It's one of the only real interactions I get to have because she can be blunt and I can be blunt. It's like a mix of Cunty and Blunty when we discuss or fit. We can get pretty heated about the way something is supposed to hang or fit, and then ten minutes later be laughing and smoking a joint together. It's really nice because I don't have to hold back, and she doesn't either.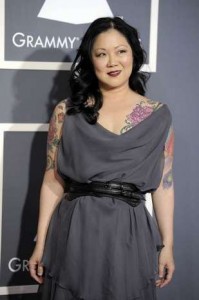 And who would you love to design for that you haven't already?
Oh man. Grace Jones. You are in England, Right?  * COUGH * TOP SHOP! * COUGH * TOP SHOP * COUGH * CAPSULE COLLECTION * COUGH *
Your womenswear especially seems to have a strong futuristic, almost sci-fi element to it- what's been your biggest inspirations?
Oh my inspirations are always so un-sexy. Emotion, but not in the pretty way. The messy 13 year old emo girl kind of snotty nosed first break up emotions. I always end up thinking about movies like Mars Attacks, Mad Max, The Birds, and Barbarella and while I don't pull direct silhouettes from there the feelings of vintage future/elegant/form seem to shine through.
Who would you say has had the biggest impact on your career?
Peaches for sure. She has really been a big JR advocate in all my doings. She has pushed my fashion work. She encouraged me to DJ. Recently she has been a big pusher for me to start writing music just to see what happens. She is a really positive force in my life and she only seems to push me to do things that there is some potential in doing. She's the really creative positive Jewish rebel sister I never had.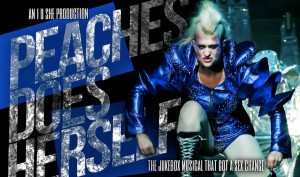 And finally what is your favourite end-of-the-night track?
Too Insistent (Trentemøller Remix) by The Dø. I think it's such a sweet song and, like my design work, I always like to make my DJ sets a little moody (but danceable).  I think it's great when you need to let people know its time to go home and if they didn't find the love of their life, us loners can have a good dance and cry together. Haha. And think about the one that we just can't get out of our heads. Something like that. I am not sure what the song was written about, but that's what I interpret it as. There is nothing wrong with ending the night on a somber note, as long as you do it with style.
 John Renaud joins us us for Club Lesley on Friday 16th November from 9pm - 3am with Bisoux, Maxx DMX and MDMX.
post-template-default single single-post postid-3014 single-format-standard tribe-no-js loading
John Renaud