Josh Cheon
Josh Cheon
27-08-14
Next week we welcome a very special guest from San Francisco for a Wednesday dark disco session... Known for being part of the Honey Soundsystem collective, Josh Cheon has also garnered critical acclaim for his record label Dark Entries. Named after a Bauhaus track, the label has been releasing hard-to-track-down coldwave, synth, Italo and beyond as both original releases and coveted reissues from the likes of Patrick Cowley, Jeff & Jane Hudson and Severed Heads.
Ahead of his DJ set here at Dalston Superstore we had an indepth chat with Josh about glitter vinyl, zines, tracking down artists behind limited releases and so much more...
You spent your formative years dancing every Friday and Saturday night at famed NYC goth club The Bank… what are your memories of that time?
I was actually recently DJing on a boat with Jason Kendig [also of Honey Soundsystem] and Ivan Smagghe and I was playing lots of '80s songs and there was this moment with just the right amount of fog… and I totally had this moment of déjà vu and recalled this memory of me being at The Bank. The fog had the same consistency and so it triggered all these memories of my dancing '80s past or whatever. Things that I had forgotten about- I remember queuing at the door and there was always a long line, just stepping one foot in the door, feeling the fog on my face and hearing Depeche Mode's Behind The Wheel… and just feeling like I AM HOME, THIS IS WHERE I BELONG, THERE ARE NO WORRIES IN THE WORLD. And just dancing, for hours, until they kicked us out. 
I also read that there was a ghost in the basement! That there was all these rumours floating round at the time that there was actually a ghost in the basement of The Bank… Did you ever hear anything along those lines??
[laughs] I mean I only really caught the tail end of The Bank because it shut down in 1999. I only started going in '97 so I'm sure people that had been going longer had heard that! I wasn't even old enough to drink then, I was just going to dance, and there were NO substances involved! It was just this very pure obsession with this '80s music!
They were also playing really contemporary bands; I don't want to pigeonhole it. They were playing modern synthpop stuff too that I was really into. It was a mixture for sure.
For your label Dark Entries you have a really strong artwork aesthetic. I read about your designer Eloise Leigh that you work with- how does your relationship work in terms of coming up with the ideas?
It really is on a project-to-project basis. For the straight-up replicas then usually I'll scan in the artwork, or the band scans in the artwork and then we just recreate the artwork with my logo on the back. Other times it's totally from scratch where I'll say "Go ahead, whatever you feel the music brings you," or we'll ask the band whether they have any references they want to include… so it really is kind of a freeform thing. We email back and forth every day discussing details so it can be quite collaborative.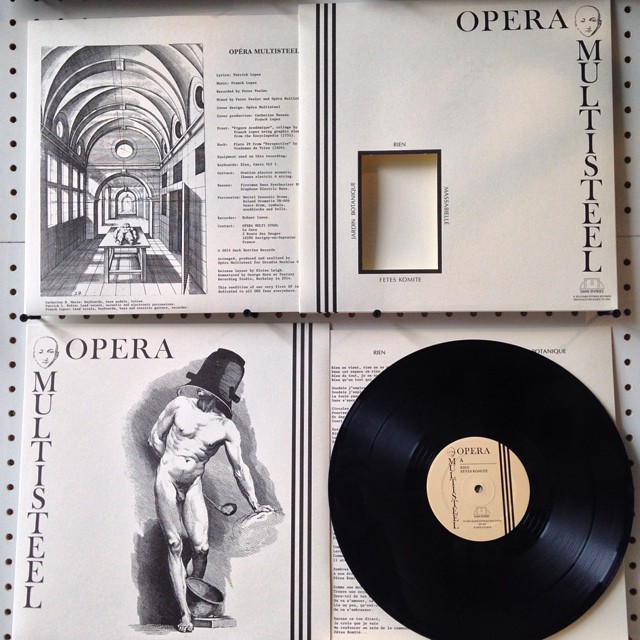 The label aesthetic also seems to match the ethos… what for you represents that sweet spot where the artwork so perfectly matches the music, either on Dark Entries or just a record that you really love?
…….
I'm thinking.
I'm sitting in a record shop that's attached to my office staring at a row of Dark Entries records on display and I'm thinking about what's going on here!
I mean I guess some of my favourite projects are the ones where there isn't a straight replica, where we do have to be more creative and come up with this kind of collage or y'know, new art for old music…
 I really liked the BART compilation one actually.
Yeah! BART and Neon Judgement. Umm, I'm looking right now at Lives Of Angels… these are all ones that we had bits and pieces for- say, they came from a cassette but we didn't want to replicate the cassette straight forward so we added textures, new fonts or collage elements…. I also really like Parade Ground… There are so many great ones where there's classic artwork where we just re-used it, as it's so iconic, like the Jeff & Jane Hudson one, or the two Dark Day albums.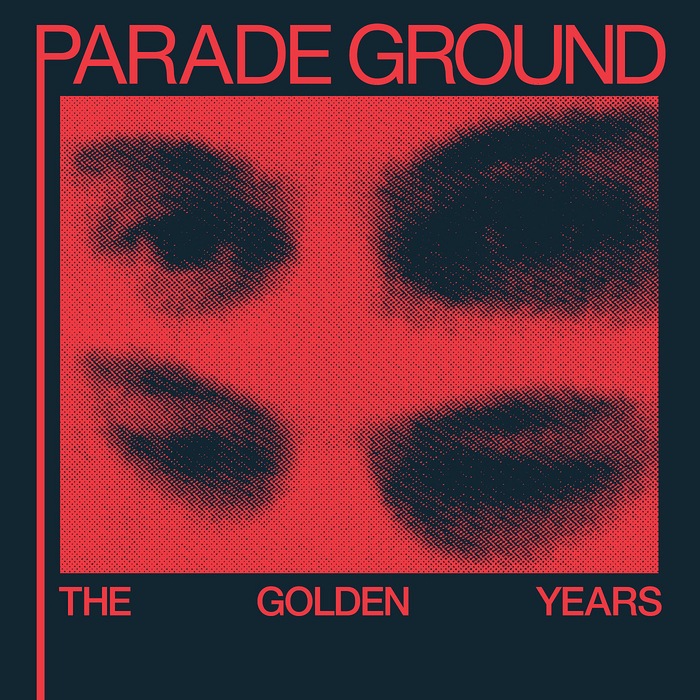 A lot of the reissues seem to elicit a really great response, both from the fans and the artists themselves. Have you managed to coax anyone out of retirement to record new material for Dark Entries?
I have not coaxed anyone; they have been driven to do this on their own.
I just mean that I can see people getting so excited by the reissue that they go "Right! We need to do new stuff!"
Yes, that does happen. A pretty nice percent of the time, the artists might say "Hey, I still have those synthesizers" or "I still have those drum machines, I'm gonna go programme some stuff." A lot of them have started touring again or do one-off shows or reunite for a special show. I really do enjoy that, but I haven't released any new compositions by any of the bands that I've reissued. It isn't out of the question, but I don't ask them to send me demos or record me stuff. It all kind of just happens spontaneously. 
Is there anyone that has started re-recording that you would want to feature?
Umm… I'm a huge fan…. Well I guess I can say this… I'm putting out a compilation by a band called Hypnobeat. And they're still performing and making music. I really love what they're doing. They play at Berghain, and they're actually playing at Half Baked in London the same week I am. I've seen YouTubes videos of them, and they're fantastic. They have three 808s and they're just going for it. It's all instrumental techno and it's really straightforward and beautiful. 
Who else do I love? Oh! Tom Ellard from Severed Heads is still making music that I really identify with, and support. I also really like Robin Crutchfield from Dark Day. He still occasionally puts out an album and it's more medieval… more acoustic instruments than electronic. It's done in a way that's really cyclical and repetitive. It has the same kinda weight to it, as his earlier recordings from 30 years ago, so even though it doesn't seem like a Dark Entries type of thing, I do really enjoy it.
If you had a time machine and could go back to any dancefloor anywhere/anywhen where would you want to go?
Oh lord. There's too many.
I mean oh god, this is really sad, there's too many.
Well…… I would love to experience the Paradise Garage.
That is the most common answer to this question!
Is it?? Oh my god! I know I was like "Here I go!" Oh haha! Well I would love to go to the Batcave in London and see Alien Sex Fiend, I would love to go to the Cosmic Club in Italy and see Beppe Loda… Gosh, there's just so many.
And Boccaccio, the new beat club they had in Belgium. So that one and of course the Paradise Garage.
Is there anything that's proved too impossible or too obscure to rerelease?
Too obscure?! Is there anything that's TOO obscure? I mean, yeah, there are bands that I cannot track down that are just beyond simple Google search or beyond the network of cassette traders from the '80s that are able to find people for me…
Well, what's one that you tried really hard to find but were not able to?
Well… this one is not really mine, but I'm trying to help my friend find a band so it's more that he's searching but I am helping. But no one can find this band. Maybe if I give you the name of them, it will put it out there and make it happen! So the band is called Tuning Circuits and they're from The Netherlands, and they put out two cassettes and no one has been able to find them. We've gone through so many channels. Well, this isn't going to be MY reissue so maybe this isn't a fair example. But this is an example where a lot of people have been looking for years and no one has been able to find them.
Every time I think I can't find someone… it just comes together. Out of the list I have in front of me, I think I pretty much found everyone. Which is pretty…
...amazing.
It did take me a long time to find a Japanese artist. Many many years. But I found him! Through his photographer who gave me the artist's real name. Because that's the problem- a lot of times there were no names.
But that is amazing to spend years tracking someone down.
Oh yeah, definitely. But with the advent of Facebook… I mean when I started the label, I wasn't on there and neither were a lot of the artists… but now, especially with the White Pages being online for all countries, it really is a lot easier to find people these days.
The story of how you tracked down [Patrick Cowley's] School Daze is really good. Like, finding an address on the back of a porno is pretty great.
Oh yeah, I bought the DVD, looked on the back and it had this address and I googled the address and it happened to be a men's clothing shop. So I talked to the owners and they were like "oh yeah, that's the landlord!" So they gave me his phone number, which he was not happy about. Eventually after a year he spoke to me. It literally took me a year before he warmed up to me, and trusted me to have a conversation. So it turned out really well.  Now we talk at least once a month, and I go down and visit him and we hang out.
With the answer to this question you've really downplayed it all, but it does sound like it's such a labour of love and you're playing the long game.
No, it is! Like, I'm on Skype, calling people in Italy, talking to their wives, begging them to let me talk to their husbands, or finding a relative, like a nephew or niece on Youtube and asking them to talk to their uncle or aunt. It's not always writing an email to say, "Hey, I wanna put out your stuff." There's a lot of hard work to it. Then there are other hurdles like a label claiming they still own the music 25 years later, and they want all the money. That's always a bit of a disappointment. It's a little heartbreaking when the band signed a contract when they were 18, and they label still claims they own all the rights, event though the band probably made no money back then. And now I'm offering an advance and the label wants it all and the band see nothing, again. That's a little sad, I guess.
You've spoken in the past about not wanting to fetishize vinyl as a physical product… but you also release a lot of vinyl. Can you explain what many might see as a contradictory ethos?
Oh, well, I'm just not concerned with only releasing on coloured vinyl, and numbering all of my music, because I don't want it to be this limited collectable thing, because then it becomes less about the music and more about the product. That's more about how I feel about labels that go "Oh, let's press on sparkle vinyl for the first 500 copies!" That's definitely a gimmicky thing that a lot of buyers grew up knowing, these gimmicky, coloured special things and it becomes a more fetishized thing than what the actual music is.
The goal that I get from the music isn't about having heavy-weight, limited, numbered thing. I definitely value the design, and inserts and ephemera that I include so I don't want to discount all that work that we do, but I'm more at odds with labels that do the coloured thing. Which I think is a more eBay-driven, collectable market.
I do get some flack for this from people that I know that run labels. Because sometimes they can't afford to press up a huge amount and then it does sell out and become a collectable thing a few months later because there's a demand for it.
So in terms of Dark Entries, including zines and whatnot, is a better way to differentiate the records than using coloured vinyl?
Do you think zines are gimmicky?? I'm not including them to increase sales. I'm including them to tell a story. I want to give the artist a voice, for people who aren't familiar with the back-story, and don't talk to these artists every week like I do. It's a forum for them to present memories and lyrics, little thoughts about the songs. So that's why I try to include them. Even if it's just a double-sided sheet of paper with notes or anything. Like with the impLOG record, Don Christiansen wrote this really beautiful essay, and we included some photos, so it was a very simple to add to tell people about the recording that was definitely not included with the original release.
But it does seem like zines are something that is very much part of that '80s scene and especially part of the type of music you're putting out, included with the records…
Well some of them were. But a lot of them couldn't afford to print an extra piece of paper. A lot of them couldn't even afford to get a vinyl out so they were just cassette runs. But yeah, some of them included ephemera, but a lot of them; they only had a certain amount of money.
But the ephemera, I don't know where it comes from with me. I loved zines when I was in college I guess. But who doesn't get excited when you open a record and there's an extra poster or something. I mean I like that! I tend to shy away from stickers and badges though. It's not wrong to include them, but I'd rather have an essay or original photos or flyers or something from that time.
What was the last thing that moved you to tears?
Umm. You know what? It happens quite a lot. I'm a really super emotional person….
When I saw the artwork for the new BART compilation…. These are the things that move me to emotional tears! I think I got teary and so appreciative of it. It sounds cheesy I guess.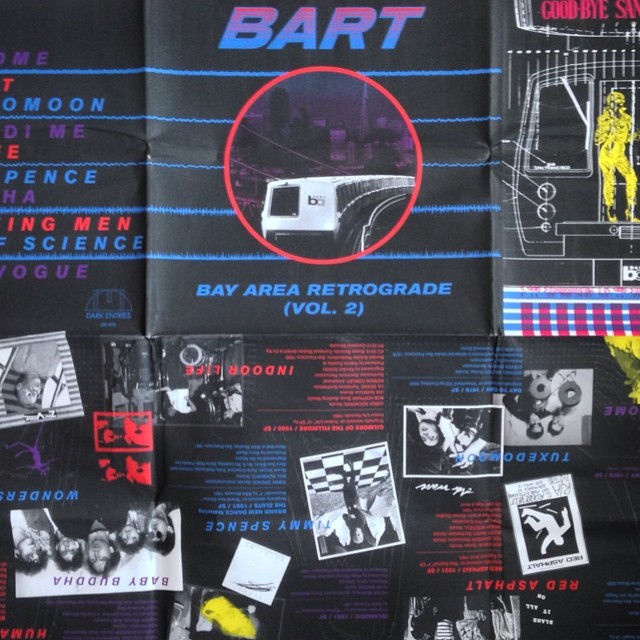 I did just got a record in the mail from Italy and it's to do with 12" that I'm reissuing that never had artwork originally. So for some reason only the 7" had artwork, but the 12" just came in a regular disco sleeve. It's an Italo track from 1983, but because only the 7" had artwork I ordered that and got it in the mail and was like "oh my god!! It's here!!" I just get really emotional over this kind of stuff.
Wait, what was the record?
Charlie – Spacer Woman. It's a great record. And it's shocking it hasn't been rereleased. And so many people have commented on my post about it, "Oh, I played that at a wedding last weekend." Or "That's my wedding song." It's become such a staple.
What, in your opinion, is the most unusual record on Dark Entries? For example, the S.P.O.C.K. record, the Swedish band singing about Star Trek, that's pretty out there…
Ohh okay, so I actually distribute records too, more than 150 titles, so that's actually one I distribute, I did not release that. But S.P.O.C.K. was one of those bands I was talking about before- the modern synthpop bands I was dancing to in the '90s.
In terms of Dark Entries releases, I guess The Product is the most unusual record. They're from Denmark. They only released one limited cassette. People don't even really know how many- the band thinks they only made 30 copies. Some of the songs are upbeat but most of it is REALLY bleak, totally electronic music from 1983. It's probably the nichest thing I've done. No one heard the cassette. It wasn't ripped to a blog or mp3s. There was ONE YouTube video floating around and everyone was like "What? Who is this?" So I contacted the uploader, who was very protective. But he put me in touch with the artist and we kinda went from there. The artist was shocked that anyone had found it, because who thought it would ever make it out of Denmark!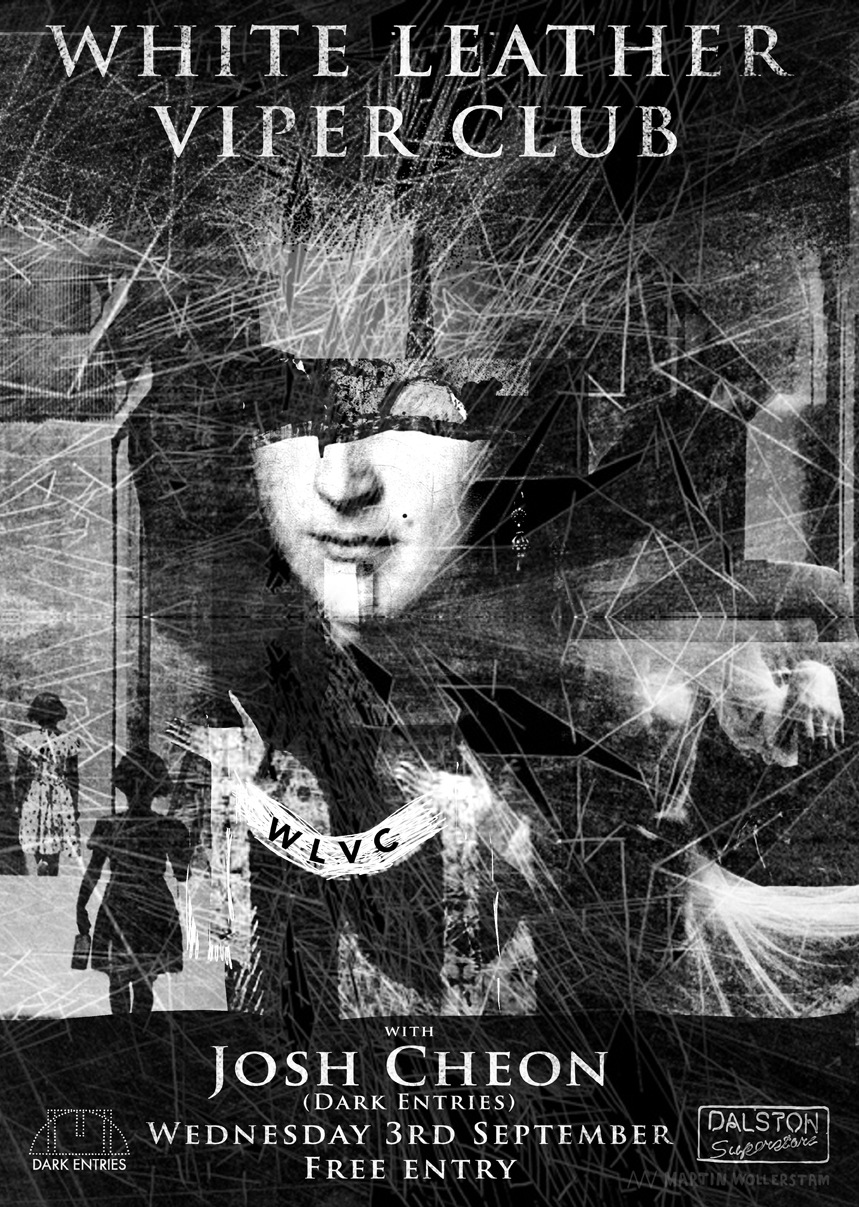 Join Josh Cheon on Wednesday 3rd September at White Leather Viper Club from 9pm - 2.30am at Dalston Superstore.
post-template-default single single-post postid-7499 single-format-standard tribe-no-js tec-no-tickets-on-recurring tribe-theme-dalston-superstore loading
Josh Cheon