Jungle Kitty
Jungle Kitty
17-10-19
Anthony Gilét from Cocktails & Cocktalk recently caught up with Promoter & DJ Mark-Ashley Dupé to discuss his event Jungle Kitty that's been running at Dalston Superstore since March and his plans for Halloween & 2020.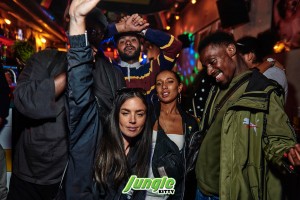 Hi Mark! So for those who don't know about Jungle Kitty, tell us about the concept of Jungle Kitty (where did the name come from and what is the club night's ethos)?
Well Jungle Kitty started as a one off 'End of Summer' Day Party last year. It had been a great summer and I wanted everyone to have a cute blowout and a good old dance in the sun to some Afrobeats, Dancehall & Reggaeton. Hardly anybody came, but the people who did had an amazing time. I knew that Jungle Kitty had the potential to be successful and felt it needed to be something that ran regularly in a club, so I approached Dalston Superstore and it launched there earlier this year.
The name "Jungle Kitty" was inspired by one of my absolute favourites, Bebe Zehara from Rupaul's Drag Race who had released a song with that name and I really resonated with it. I am a Jungle Kitty and wanted to the event to join all my fellow Jungle Kitties together.
Jungle Kitty is aimed at the QPOC community, a safe space where we can be our authentic selves. The event puts music from our community and culture at the forefront instead of it being the "Room 2" of an event where sometimes we get ignored or have DJs who don't know how to vibe with the music they are playing properly. Jungle Kitty is the main room, Room 2 and all the other rooms available.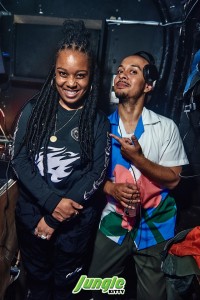 What can a newbie expect from a typical night at Jungle Kitty?
You can expect music heavily from the music of Black Origin, so African, West Indian & the Latino community. You hear everything from Afrobeats & Afroswing, to Dancehall, Reggaeton, Kuduro, Baille Funk, UK Funky & Garage, but also Hip Hop and R&B and lil bit of House.
But mainly expect to have a good night, Jungle Kitty LOVES to dance, all the DJs have been carefully hand picked & constantly discovering new talent with the ability to get you shaking your booty, throwing all the shapes you've got whilst sweating, singing and generally living your best life. You're definitely guaranteed to leave having had a good night... PERIODT.
Why do you think club nights are important for us as queer people, people of colour and other marginalised bodies?
Well it's hugely important for us to have safe spaces where we can express ourselves freely and authentically without fear of Judgement or have to water ourselves down. Like I said earlier especially for Queer People of Colour, we're often put in smaller rooms even within Queer Spaces, but usually the most packed with the best energy and vibe, so why not make us the main focus. I noticed there was a gap in East London and in the Dalston Area, there aren't many nights ran by Queer black promoters for QPOC that play and book DJs from the community, so when I approached Dalston Superstore with the concept I was glad they were so keen to have Jungle Kitty.
Music on both floors are unapologetically Black and so far has been received well by everyone who attends.
Give us five tracks that define Jungle Kitty's vibe...
Jungle Kitty loves Big Batty Riddims to bruck her back to & get her claws into so
Anything from the Queen of Bashment "Spice"
So you're throwing Jungle Kitty: The Monster Ball for Halloween on Friday 1st November, what should we wear?!
I've thrown a few "Monster Balls" over the years with other nights and everyone always goes full out. So if you're coming, and you don't wanna look boring and underdressed, I'd say get to the drawing board and start planning a fierce Halloween look... JUNGLE KITTY STYLE.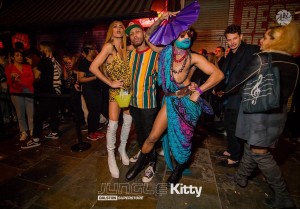 What can we expect from Jungle Kitty in 2020?
I'm really looking forward to seeing how the brand develops next year, it's already been booked for Birmingham Pride and few other festivals, we have "Jungle Kitty Radio" launching and we are already the hosts of the VIP Room for Urban World Pride at Scala.
Plus we'll be kicking off the New Year as of Friday 3rd January 2020, at Dalston Superstore. So keep your eyes peeled as there is loads coming!
Find the event for Jungle Kitty's Monster Ball (01/11/19) HERE.
post-template-default single single-post postid-21502 single-format-standard tribe-no-js loading
Jungle Kitty