Kostis Fokas
Kostis Fokas
14-11-14
Tonight sees The Queer Archive present the first UK solo exhibition from Greek photographer Kostis Fokas. I Am Not Malfunctioning, You Are, explores the human body in a provocative manner, using faux-eroticism as a window to the artist's surreal alternate universe. Ahead of tonight's private view party with DJs A Man To Pet, 2Dads'Boy, Nic Fisher, Jacqui Potato and Miss Lexi Shu, we caught up with photographer Kostis to find out more behind the images themselves... 
What is your favourite body part to photograph and why?
What made the creation of this project so enjoyable was the intimate look of the human body through my lens - either mine or other models' bodies (basically those of my friends). I became familiar with it and loved it even more! In this particular project I worked with human genitalia and came very close to it. I had so much fun, eventhough I sometimes felt quite awkward. I would definitely do it again!
Do you carefully plan out your composition in advance or do you work more spontaneously? 
Despite the spontaneity that seems to exist behind those images, many of them were already captured inside my mind for quite a longtime even before embarking upon the actual shoot.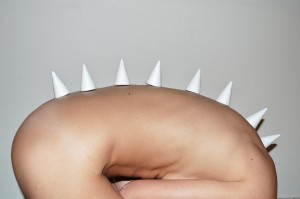 Do you find your own images erotic- as opposed to finding eroticism within the images?
The images of the I'm Not Malfunctioning, You Are, are not meant to be erotic photographs. Although I must admit that there are sexual messages which I want to pass through this series of images. The naked bodies serve as a metaphor for how we feel when we get undressed, the uncomfortable feeling of exposing ourselves. So with these I felt myself to be exposed.
What influence does your upbringing in Crete have on your work? 
Crete for me works as my refuge. It was the place where I found myself and the place where I am able concentrate on the things that are important to me. A place away from cities which distracted from the things that I want to do. What I managed was to find myself again and discover the true goals I want to achieve.
It was like the right place at the right time.
What's the meaning behind the name, I Am Not Malfunctioning, You Are? 
I created the title of the project when I came across 'glitch art", and I was trying to find its deeper meaning. When something doesn't work properly, then the malfunction gives meaning to the artwork. That's my inspiration and that's how I developed the whole project. It is something very personal - how it feels to be the malfunctioning one, when society wants you to be absolutely perfect. How it feels to push to be someone else, someone completely different from who you are. Through my work I try to accept myself... and to be real!
Who are your art heroes (of any medium)? 
I'm more into great pictures than great photographers or artists.
Anonymity is recurrent in your photos- can you explain why your subjects are always faceless and concealed and yet naked? 
The main idea behind this project is to give to those bodies the opportunity to talk about my story. It is almost as if you let the body explore itself, speak for itself on what is carrying in it.
For me these bodies are not faceless. They are perfect, and no facial expression would make them more complete.
What's your personal favourite image from the full series, and how did it come into being? 
That's a good question... I think that the picture where I'm in my boyfriend's shorts is my favourite. That's the reason why I used this image for the exhibition poster, as well as why it is the most representative of the project. It is the most personal photograph, with the most personal message for me. I am looking straight into the camera but you can't see my eyes - I am hiding, but at the same time I am so exposed to peoples eyes.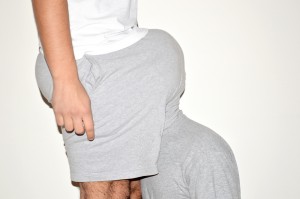 Describe the alternate universe we can see through the frame of your photos... 
For me it is not easy to live and concentrate in this world. There are so many things that I can't accept, so I always try to find ways to escape. Even being a normal guy is sometimes difficult for me. This is exactly how I felt at the time I created these images. The alternate universe is my surreal world, where everything is under my conditions and my own rules. My work is the place where I feel totally safe.
Join Kostis tonight for the private view of I'm Not Malfunctioning, You Are at Dalston Superstore from 9pm - 3am.
post-template-default single single-post postid-7861 single-format-standard tribe-no-js loading
Kostis Fokas