Kris Di Angelis: Dear Diary…
Kris Di Angelis: Dear Diary…
06-09-12
London's hardest working DJ Kris Di Angelis shares a page from his diary from last weekend with us ahead of Tramp on Saturday night...
How am I supposed to write up this weekend just gone? Most of the good stuff is unprintable, surely the sign of a good one though eh? I managed to create a weekend diary of five DJ gigs over 32 hours in London via Brighton, plus my club night WAR was talking place at the Summer Rites Festival without me able to be there. This was always going to be a heavy one, so in a sense I knew the gloves were off before it began….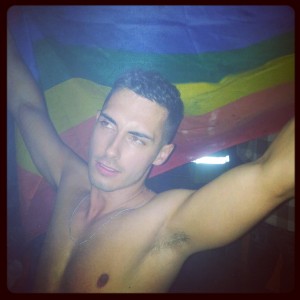 I started my Saturday night by playing a private party in Kettners for a doctor celebrating his 60th birthday. I wouldn't normally write about a private party except for the fact that this was quite possibly the campest entrance of any 60 year old professional I've ever seen. Carried in on a stretcher by half the cast of Priscilla, when his head popped out to lip-sync it was clear 'He' was more of a 'She' tonight. Turns out the next 15 minutes were choreographed, rehearsed and performed to a Gloria Estefan dance megamix from the very early '90s (how now!), even with a bit of classic 'Quick-Change' action thrown in. Speechless I was!
On the midnight train to Brighton I got my head together, popped open a bottle of bubbles, mixed it with Red Bull, and got told to "For God's sake, relax!". I always get a bit edgy when I play somewhere new. I get unavoidably pensive. Which wasn't massively helped by the state of post-Pride Brighton. As far as I could see Brighton had lost its shoes, was covered in bruises/sick, and I was in the hands of stewards completely unable to speak English, never mind direct me to the club I was playing in. I asked a landlord in a pub for directions to the Honey Club and got told by a disgruntled bar fly that "I know where the station is… where you can fuck off on a train back to where you came from cunt". He looked like someone who sort of used to be good looking, so I just kind of smiled, said "Good luck with that" and paid for his pint. Having first discovered there are both Oceana and Hed Kandi clubs in Brighton too (very Brighton Uncovered, as in, I actually saw a girl lick the pavement) I eventually located Wildfruit. And look, it has half of London there! Greeted at the door by Jonny Woo and Chrissy Darling, and hanging inside with Sam DMS, Munroe Bergdorf and Johnny M made it all feel instantly familiar. Wildfruit appears to be the big after party for Pride there so it's heaving and sweaty (I love this) and everything you'd expect from a big gay super club. VERY different from playing in East London, but that's the point. I managed to play much cooler records there than I thought I'd get away with too, always a pleasant surprise!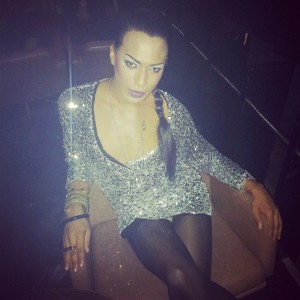 The next day I decided at the last minute that it might be better to get to London on time for Summer Rites, so I skipped playing Audio and got myself back to Shoreditch as the trains were looking seriously delayed. During the journey I started receiving messages from people in the park as word was starting to spread about my WAR gogo boys. "Bitch, have you really booked dwarf gogo boys?" "There's a disabled dwarf in the park, please tell me you didn't…." Well I didn't go as far as that, but I DID manage to find two handsome dwarves to serve as soldier gogo's for the WAR slot in the East Bloc tent. THEY WERE AMAZING! I've never wanted to get to a park so fast as when I got sent pictures of them half naked throwing themselves around our stage! To top that off I had a whole load of my mates playing together on the stage for the entire set, including Bryony Masters, James Pople, Adam Turner, Joshyou Are and Ariel. No bad can come from a group of DJs having a hilarious time playing together, so it's safe to say WAR delivered everything I wanted it to. I sped over to finish up the Room Service tent, caught a bit of Boy George's set (HE SANG VIDEO GAMES!!!), got carried around on somebody's shoulders, dealt with a million ex's (why are festivals always like that?) and hurried home to get ready for the Room Service Vs WAR after party.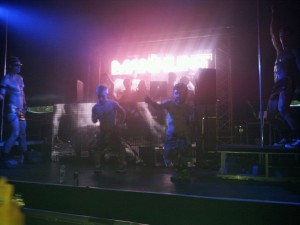 This is when my laptop died.
As you may know, I am a laptop DJ. However, having just recently received my entire CD collection out of storage, I decided now was the time to give this archaic medium a run for its money. I packed a case full of music and made my way nervously over to Bar Music Hall. Kim Ann Foxman was playing an absolutely blinding set, I really don't know if it gets much cooler than her. She's got excellent taste, so when some gay tapped me on the shoulder and said "Can I ask her to play some proper dance music like Rihanna?" I replied, "If you even think about it, I will kill you". He then seemingly ignored me and was already prodding her for attention. By the time she turned round though the gravity of what I'd said sunk in, he smiled at her and said "I think you're amazing", winked at me and danced his way to the bar. Smoooooth! I then began to play my first ever set on CD, and was struck by how easy it is. A bloody kid could do it! It's so dumbfoundingly easy to mix on CD's that I really don't know where some DJs get their arrogance from. The years I've spent getting grief from moronic dinosaurs about being on a laptop! If anything I just found it a bit limiting, but put it this way, I'm SO playing on CDs this Saturday at Tramp! Once the party was FINALLY over I made my way home to have a giggle with the Harsh and a few others. As is always the way when you get that many gays working together, there was a lot of hardcore gossip generated on the day that we had to process. Seemed like everyone went back to Amanda Le Pore's hotel suite for an after party, but my bed was definitely more attractive than even the world's No. 1 transsexual.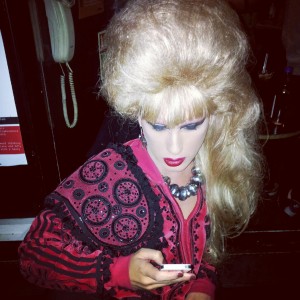 All in all it was great, Brighton was great, Summer Rites was great, the after party was great, and having my bag carried for some of the journey was awesome. The only question I have, is that if Severino really was playing absolutely everywhere, how the bloody hell did I miss him?!
Kris Di Angelis plays at his night Tramp this Saturday 8th September with super secret special legendary guests from 9pm - 3am here at Dalston Superstore.
post-template-default single single-post postid-2573 single-format-standard tribe-no-js loading
Kris Di Angelis: Dear Diary…