Louise Riley
Louise Riley
09-08-13
We spoke to local artist and embroiderer Louise Riley about her current Dalston Superstore solo show, Breathe In. Breathe Out, and about the sci-fi influences on her work, including the "teleportation tunnel" performance art she featured at the private view...
Who are your artistic influences?
I came to the realisation the other day that I think most of my work has been based on the impact of She-Ra on my 5 year-old self...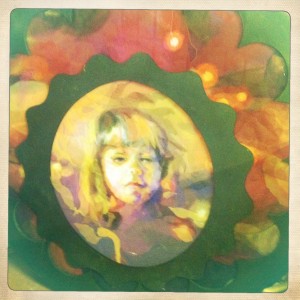 What was the last thing you saw/heard/read that truly moved you?
I guess a few days ago, I was moved by this little boy at my daughter's party, making giant bubbles with a kit. He really got it, the technical choreography of it all, his gentle steps and slight turn and flick. I marvelled how incredibly beautiful and graceful it is to see people doing things they are just born to do, the sense that it is almost without thought, or so minimal, because it just comes so naturally. 
The moment glowed and made me feel bittersweet that in our lives, we are pushed and pulled into things that are at best mundane and basically an inefficient use of resources.
How long on average do your embroidery pieces take?
Anywhere from a week to a month, It often takes more than it should to summon up the gusto to begin, stalled by fear and risk. But once I do, I am quite fast and I can't think or do much else. The washing piles up like something out of a Dr Suess book… the dishes and takeaway boxes start multiplying; I am literally unable to do much else. I have never managed to find any work life balance in the scale of the day to day. Maybe over a year it evens out. 
But that obsessive force is powerful stuff and has allowed me to do very big things in very short spaces of time. The work for this show took me four weeks to make. On the private view, I had a mouth full of ulcers. Focus can be violent, selfish and reclusive, but it sure can squeeze the blood out of a day.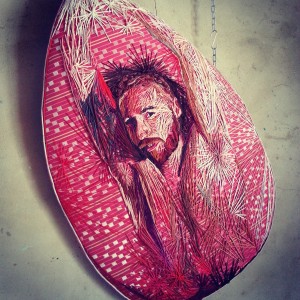 You manage to really capture a depth of humanity in the faces that you embroider- do you have still-life models or is it easier to work from a photo or image? 
Both, I don't have one way of working, I have the urge to mix it up and it will generally be based on the moment it was created. Sometimes I need to do something fast and that kind of eradicates the  possibility of any fannying around with drawings and everything is just quite immediate and exciting, no room for inertia. If I have the time, the drawings often take the work in another direction than I expected and I always appreciate the journey, even if it has been a difficult one. I usually know the people I sew very well and so there is a kind of memory bank that I draw on regardless.
I guess the most unusual and probably most efficient way of working was this...
You are self-taught- did you find there was a steep learning curve?
No, I would say it was pretty steady, and then a big step because of a sudden revelation that changes everything. I think my graph would look more like the side of a mountain than a curve.
Tell us about the Teleportation Tunnel...
I have been carrying around this idea for a long time and it was always morphing. I always have a bit of a fantasy project going on in my mind, as though it is some safe garden for my thoughts to wander through and explore and push at the walls, in a fantasy project. Ideas can be as giant or as small as you want them, it is only when they are born into reality that they are limited and squashed and poked by the constraints of money, space, time. 
For me, the Teleportation Tunnel is a ceremonial tribute to birth and death in every scale from our actual birth and death down to the tiny everyday rebirths and little deaths. It is about the journey of transformation encapsulated in one moment.
The performance in the basement was almost like a maquette. It was sweet and simple and a far cry from the 10 meter long arial performance with spooky orchestra, choir and haunty dancers that I have been envisaging, but none-the-less I am pleased to have made it happen and excited that now it may continue to evolve outside of my body.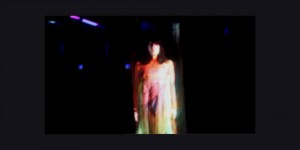 And with that, who are your sci-fi influences?
I guess that brings me back to She-Ra...
What place does embroidery have in the future, or indeed our electronic-device filled present?
I don't think one threatens the other at all and I am not sure I really care about these things. My relationship with embroidery is completely personal and intimate and unconnected to history, context or feminism. I like how it looks and feels and how it is so generously present, I like to see the imperfect line and marvel about how that seems to harness masculinity and femininity within one stroke. If technology killed embroidery, I am not sure I would notice.
Catch Louise Riley's solo exhibition, Breathe In. Breathe Out, here at Dalston Superstore until Thursday 22nd August.
Visit Louise's official website: louiseriley.co.uk
post-template-default single single-post postid-5337 single-format-standard tribe-no-js loading
Louise Riley