Paul & Shay's Top EVER DSS Moments
Paul & Shay's Top EVER DSS Moments
30-08-13
Ahead of their impending move to that far-flung Chinese metropolis, Hong Kong, we asked long-time Superstore regulars and promoters Shay Malt and Paul Dragoni to pick their ultimate DSS moments from the last few years. They had a rummage through their hazy memories and embarrassing photo albums and gave us a countdown of their fave ever Superstore LOLZ just in time for their goodbye party tonight...
5. GRIZZLE (Snake Charmers)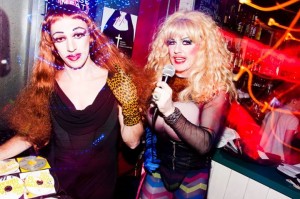 Grizzle is always our favourite. Anything with A Man Da Pet and John Sizzle is guaranteed LOLZ. Pet was a slutty snake charmer whilst Sizzle came out of a £1 laundry bag as an inflatable snake. On the bar... with poppers!
4. LOVEBOX AFTERPARTIES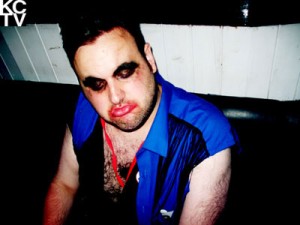 Every year! There are too many good memories to list here. Each year is more hilarious. How someone hasn't fallen off the bar and broken their neck is beyond us.
3 PARIS' ACID BALL (we think)
Shay: Me and Josh Caffe both wearing Nic Fisher's stilletos and armed with water guns trying to master pussy dramatics in the basement whilst Hannah was playing. I hurt my back and could hardly walk for a week after that.
2 WET N WILD NEW YEARS DAY 2013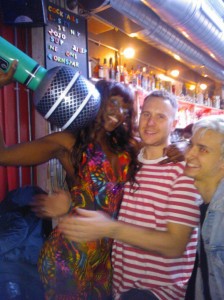 The after Shed-after Dolphin-after everything-afterparty. Carnage! The cleaners hadn't turned up to clear away the mess from New Years Eve so everyone was cleaning whilst Shay played Tina Turner and Madonna records.
1 TRANNY TRASH EASTER 2011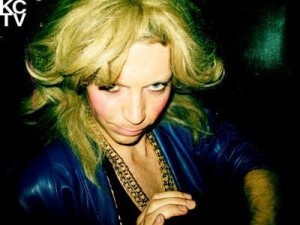 Everyone was a tranny! Per QX looked like Kim from Eastenders, Mikki Most looked like a cross between Farah Fawcett and the dog from The Never Ending Story! And Josh was a young hoochy Whitney Houston.
Come and say goodbye to Shay and Paul TONIGHT Friday 30th August from 9pm - 3am at Dalston Superstore.
Photo credit: Kenny Cambpell, Shay Malt
post-template-default single single-post postid-5468 single-format-standard tribe-no-js loading
Paul & Shay's Top EVER DSS Moments