Meet Thursty's Featured Artists
Meet Thursty's Featured Artists
11-10-22

By Marvin Maddix
On the 15th of October at Dalston Superstore a THURSTY queer club night will take place as a celebration of Black History Month: A musically-guided experience provided by eight both emerging and already established POC and queer DJs. Lexii, Golden Lady, Asmodessa, Tristan, Donnie Sunshine, Kayodaine, Fat-Lip and Secret Luvvr each have a particularly authentic point of view and style which you can read about below in the conversation we've had the pleasure of having with them.
First and foremost, please introduce yourself to us.
Lexii: I'm Lexii, I'm a DJ and model originally from the Midlands and currently living in London. I originally came to London to study dance professionally as I've always loved the idea of creating something with my body and movement. Whilst studying I was scouted for modelling which soon became my career. I soon wanted to challenge myself creatively and, as I've always been in awe of DJs, selectors and loved the craft and nightlife, it led to me exploring DJing. DJing is personal to me and allows me to be in control of my work, my sound, my blends and my ideas – music is my passion. I've been enjoying the way it's gently snowballing .
Golden Lady: I'm Golden Lady, a DJ, producer, and overall vibe and mix master born in South Africa, currently living in London.
Asmodessa: Hi, my stage name is Asmodessa but my friends call me Dessa. I produce and DJ. I've been living in London for around seven years and have had a bunch of really fun adventures in that time. Right now, I'm about to start working with the amazing people over at University of the Underground to put together and release my debut EP in December.
Tristan: My name is Tristan Tyom and I'm a DJ from South East London. Being immersed into the city's nightlife inspired me to begin my journey as a DJ. I draw inspiration from the energy of femme rap, electronica and my affinity for old-school R&B to create high-octane mixes with the intent to empower fellow Black femme and queer people.
Donnie Sunshine: My name is Donnie Sunshine, I'm an East London based content creator, photographer, DJ and overall creative. I'm extremely pro Black, pro queer and pro equality, individuality and liberation.
Kayodaine: Hi, I'm Kayodeine (she/ they). I'm an artist, sound designer and DJ. I'm Nigerian, Camberwell-born and yeah, I'm in love with the dance floor.
Fat-Lip: Hi, my name is Sav I'm a multi disciplinary musician of Jamacian and Grenadian descent. I am also a saxophonist and pianist. I'm inspired my global blackness, the black individual identity and radical thought.
Secret Luvvr: My name is Secret Luvvr and I started DJing in 2020 to express myself creatively. Now I have a radio show on foundation.fm every last Wednesday of the month at 9pm.
How has your cultural heritage and the environment you grew up in influenced you as a creative, and inspired what you put out into the world?
Lexii: I grew up in a Caribbean black British household, so there was always those influences around me. Reggae, Lovers Rock, Motown and Soul with a blend of 90's and 00's UK pop music. Ive always appreciated the laid back Caribbean style of fashion and music, yet the refinery and sleekness of the Motown era.
I try to incorporate these vibes in how I present creatively today. One of my favourite things about black culture Is that it always seems so effortless and natural – sometimes even lazy – I love that, nonchalant but refined. I always aimed to emulate and carry it with me in what I do creatively.
Specifically my aunts and female cousins, who I'd stay with from time to time, would have all the RnB and hip hop 00's albums of the time. Divas and femcee's, that I would borrow/steal and listen to repeatedly. I'm in awe of the fashions and cover art too. I definitely owe my love for the RnB aesthetic and culture to the black ladies in my family. US rnb to UK Garage, the imagery, I like to give a nod to that in how dress and present any art I'm a part of.
Golden Lady: I'm from the Zulu tribe in Kwa Zulu Natal who's cultural traditions are strongly influenced by drums, chants, claps and dance. From a young age 'til today my spirit with music selection has been inspired by those sounds I heard back then.
I find that there is a sense of shared joy and community when on the dancefloor that like home, similar to what I feel when doing traditional dances in Zululand. My fashion style is also very tribal: African Goddess sense which I adapted to highlight and embrace my cultural identity.
Asmodessa: I was actually born in Estonia but grew up moving around a bunch of places before settling in a working class area of Bristol for most of my childhood and adolescence. I'm not going to do up 'she's biracial' when talking about my mixed racial heritage because I find that incredibly corny. I treat my Yoruba ancestry with the respect it deserves and acknowledge my lighter skinned privilege coming from being of European descent.
While I was in Bristol, I made a lot of wonderful friendships and got involved with a bunch of people in the local community radio scene and played in a few church bands.I think the way I was brought up gave me flexibility and willingness to reinvent and unlearn things while also being respectful of the people who came before me.
While I was studying music I often got a lot of positive feedback on my use of polyrhythms and dark textures in my productions and thought of that as an ancestral memory filtered through from my African heritage and the residual influence of 90's trip hop.
Later on I read a brilliant essay on the invention of 'African rhythm' by Kofi Agawu and this made me completely change my outlook on things as a lot of the stuff that I thought was my musical heritage was actually curated and filtered down to me by white anthropologists and record labels. That was totally an anime fishlens closeup shot event horizon moment.
I'm glad I had the willingness to learn from the ground up after that. Sometimes you read something that gives you a hard reset and even if you are creating you still need to be malleable to new thoughts.
Tristan: Growing up in London as a kid with dual heritage, I was exposed to an eclectic mix of sounds especially within my household. Digging through my parents' extensive record collection really informed my taste and sensibilities. Everything ranging from 2000s Neptunes productions, high-octane pop from Britney, to the sensual musical stylings of Janet and Ciara; the energy from that golden-age of music is something I always wanna carry forward and encapsulate in my sets.
Donnie Sunshine: I was born and raised in Hackney, which is a completely different place now to how it was, however the essence is the same. It's always been a creative hub and a multicultural place which offered me a rich and deep connection to my Caribbean heritage as well as exposing me to so many other cultures and ethnicities. I actually didn't realise I was a part of a minority group until I went to University outside of London, because before that my whole life I had been surrounded by people of colour.
I believe this has had a huge impact on what I put out in the world, and as a DJ I believe my sets are very eclectic which is a direct reflection of my upbringing and experience of being surrounded by so many cultures and different types of people.
Kayodaine: My mum's car would always be the more fun car to go to school/church/her old restaurant with, and there would be a lot of Yinka Ayefele, maybe Shina Peters, Fuji and Afro-juju artists respectively, and the drums would ring differently. There was a lot of gospel, which even though I'm more of a witch now still hits the soul, I can't ever forget how praise and worship used to make me feel.
As I got older the CDs got even more gospelly (Redeemed Choir anyone?) but my mum had this random Afrobeats compilation with the likes of Don Jazzy, Olu Maintain etc on it so she kept up to date with it. My first CD was Michael Jackson's Invincible which I played over and over again. My dad, a preacher (and an ex-fed lol) also got me a Casio keyboard from a car boot sale, which I wasn't very good at but playing the drums on that was really fun.
I also spent a lot of time with the neighbours when mum was at the restaurant or dad was… being a fed, and they put me on to UK Garage, R&B then eventually grime. The nerd in me would explore all these musical legacies in intense detail.
So, to tie all that together, I almost try to relive the hall parties I no longer attend due to separation from my community, playing fast paced bangers which are undeniable and raw. I've actually sampled Ayefele on a Baile edit, and tried to make digital fuji. Can't tell Nigerians shit about drums! I also explore spirituality/religion in my music. I appreciate community and hold the people who hold it together dearly. It's special. Dance is also important to me – sometimes I can lose myself on the dance floor stone cold sober because the music itself is ecstasy.
Fat-Lip: Growing up West Indian in Britain a lot of people even in our own community are not aware of the sacrifices and struggles the Caribbean population went through when they were generationally gaslight to migrate from the islands to the UK. The Caribbean is essentially a melting pot of the formerly oppressed who were taken and placed on the islands for the benefit of colonial countries who still profit of these islands to this day. People/families from West Africa and South and East Asia however thrived and created the basis of many musical genres we know today, not just dancehall and soca.
Growing up in the UK without seeing any recognition or acknowledgment of European nations' hands in oppression can be frustrating but in West Indian culture we are taught from young that we are integral and can overcome everything. This rebellion sits at the core of our music, whether reggae, soca, dancehall, ska, rocksteady, mento and many more. It even found its way into what we call modern day rap through sound system culture brought to the western world from Caribbean migrants.
I channel this through my sound by championing self-discovery through healing, which to me is music made by and for Black people globally (the diaspora and the locals) that all forms of house, jazz, R&B dancehall, Afrotechno, UKG, jungle and amapiano stem from.
Secret Luvvr: My family are Nigerian and I love Afrobeats. I play a lot of different styes of music but Afrobeats have a special place in my heart. I will usually drop an old school Afro throwback or classic during a set.
Growing up in London with access to the Internet meant I was always exposed to so much music from all over the world. My taste is wide and my sets definitely reflect that.
What is missing in today's DJ industry? What kind of things need more visibility?
Lexii: I don't necessarily think that this is missing, as there are amazing people in London and in the scene all doing amazing work. However, I would say more integration of different people, spaces, styles and genres for creatives to continue to blur the lines of the norm so that we can all be influenced and grow from each other. The full mix to create something new. That's fun.
Golden Lady: The industry still needs to recognise that a person's technical skill is not limited to gender or looks. There are still massive old stereotypes in the scene that need to be done away with. There's absolutely no room for old ways in the creative space. I now huff at lineups that are not gender-neutral. We need more diverse sounds and more spaces for diverse creatives.
Asmodessa: What's missing? That's a really good question. I think the biggest thing would be a heightened amount of solidarity with wider nightlife sector workers who are essential to a good night out, such as bar staff, security, and door/cloakroom workers. I think what the staff at Superstore have been doing with unionising with Unite is really something to be respected and a great example for more venues to follow. Often these workers get the short end of the stick in the wider nightlife economy despite being essential to the smooth running of it. DJs in general should be less worried to use their platforms to advocate for positive change on the scene.
Also legislation wise, Licenses are kind of killing the nightlife scene in London and making it harder and harder for new venues to open and forcing more and more venues to close due to noise complaints. Policy change is needed urgently in this respect.
Tristan: Representation for more Black and Brown DJs is something I will always champion. Having spaces to express ourselves freely, and share our talents without compromise is so integral. Those visible representations of different types of black queer people in the arts has been affirming for me in my journey and for so many of us.
Donnie Sunshine: I think intersectionality and sub-sub-cultures need more spaces. As someone who is Black and queer, I can't just got to any Black space or queer space and have a good time, or even feel comfortable in some cases. It's understanding that as well as being connected by our ethnicity and gender/sexual identities, our interests also play a big part in the spaces we want to be in. So more spaces that allow you to feel safe as well as feeling seen. Also I think more spaces that are music centred but not specifically a party vibe. Places where you can listen to mid-tempo R&B/HipHop and just chill and vibe.
Kayodaine: Black trans people are missing and need more visibility. There should be constant reminders of the very often queer Black people that expanded the horizon for dance music, whether it's Detroit, New York, Baltimore, Chicago, London, Sheffield, South Africa, NIGGAS (nb), GAY NIGGAS, TRANS NIGGAS are central to the scene. And moving beyond visibility, let's talk about who profits because (white, but not always) cis straight ppl stay eating while we often have to wait till death to receive our flowers. That's dead.
Fat-Lip: Not gonna lie I think so many people are killing it! I am honoured to be living through the age of a resurgence of Black cultural and ancestral pride, and so many other DJs are reflecting it in their work and continue to push the message . However we can always do more. I would love to see more dark skinned girls being pushed to the very front, black trans representation, recognition of the deep cultural history of the Caribbean influenced by indigenous Caribbean people and the South Asian community and always lesser known black artists worldwide.
Secret Luvvr: 1. Transparency about payment, fees, budgets, money etc. Maybe we need a union.
2. I'd personally love more parties that focus on playing music by women in rap.
3. We always need more black DJs – especially Black women and queer people. If you're considering it, definitely give it a go. It's never too late and there aren't too many people doing it.
As a person and as a DJ/creative, what reflections have you drawn from the year 2022?
Lexii: I've been enjoying the process of finding new shades of myself this year. Pushing myself to grow creatively every time I feel comfortable, in my craft and even in my aesthetic. I'm proud of the work I've been creating this year and appreciate the recognition I've received. It's been fab.
Golden Lady: This year has been an eye-opener to how big the world really is, from an African migrant perspective. The endless opportunities that exist all over the world have highlighted to me to seize the moment, be passionate and dream even bigger, to not give up chasing the life I desire. Anything is possible!
Asmodessa: 2022 is really the year of transitions and finishing things! Also, catboy stocks are going down.
Tristan: 2022 has been such an exciting year for me as a DJ and creative. Playing more gigs this year and sharing stages alongside fellow queer Black DJs and artists who I admire has fuelled me even more to continue pushing my creativity and taking my craft to new heights. My aim as a DJ has always been to impact club spaces while empowering fellow Black femmes and queer people through sound.
Donnie Sunshine: 2022 has taught me the importance of being intentional with everything that I do. I've seen the power and rewards firsthand. As a full-time creative it can be hard turning down opportunities as you may not know when the next one will come. But I've learnt that everything that's offered to you isn't always meant for you.
Also it's important to put as much energy in your own personal projects as you do paid opportunities, cause all of that energy is ciphered out of you to help build someone else's dream or bank account.
Kayodaine: Whey chillay. Ur gut never lies. There'll be many smiles and a lot of enjoyment but it's good to use discernment and remember to speak up where necessary, it could go a long way. Your voice is powerful, both in care and in conflict. I'm finding it important to confront the difficult things with intention, directness and care. At the end of the day, the community is what matters and maintenance of the safety and wellbeing of the collectives and space is important and foundational.
Fat-Lip: The biggest thing I have taken from 2022 is the age of new beginnings and reinvention. Time is a construct so do what you wanna do when and how is good for you, and disconnect from any western societal ideologies of how we should live.
Secret Luvvr: 1. It's still important to be self directed and inspired, even when you're performing or playing for other people (as a DJ, for example). There were times where I played a "great set" and got lots of compliments from the crowd but the music I played didn't reflect where I was creatively at the time. I'm still working on striking the balance between playing to the floor whilst staying true to myself
2. You don't have to take every opportunity because you think you're supposed to. Saying no to what doesn't feel right is an act of faith/trust that will always benefit you in the long run. It's not worth compromising your integrity. Trust yourself!
3. Supporting others won't take away my shine. I've had to work through a lot of feelings of jealousy, comparison and competitiveness
4. Mistakes and imperfections are inevitable – my biggest lessons and a lot of growth have come from making mistakes.
Catch Thursty this Saturday 15 October from 9pm-3am at Dalston Superstore.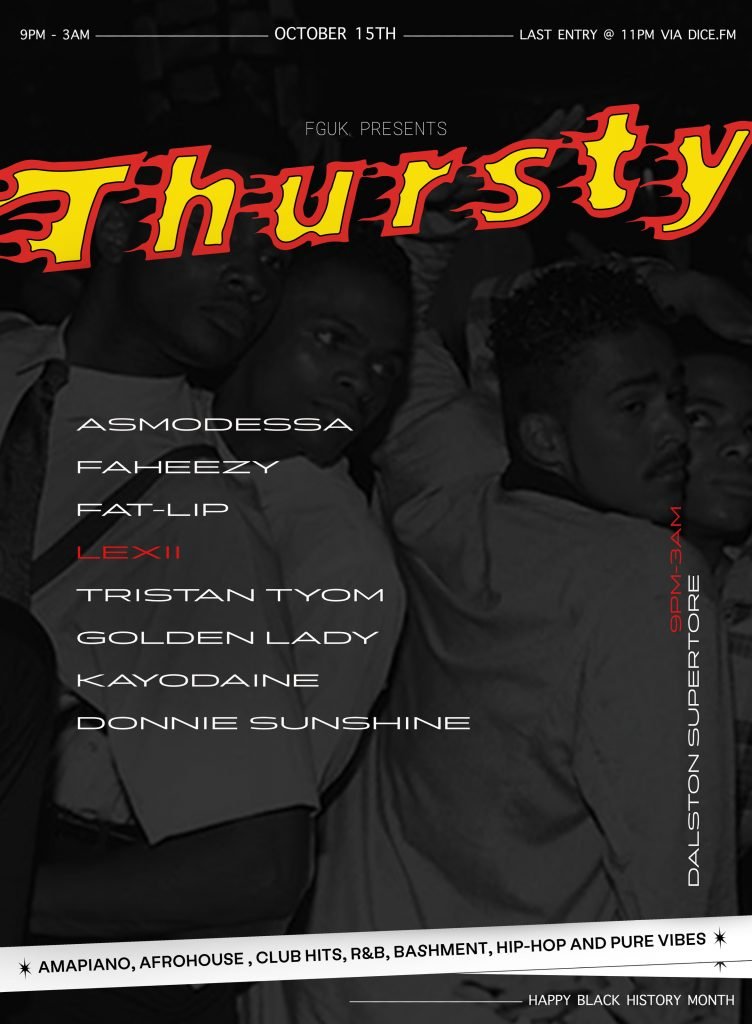 post-template-default single single-post postid-29917 single-format-standard tribe-no-js loading
Meet Thursty's Featured Artists