Neville Watson talks
Neville Watson talks
16-04-15
This Saturday the inimitable Neville Watson joins us once again in the laser basement alongside Bastards residents Wes db and Lucious Flajore! A regular on the Creme Organisation imprint and equally famed for his own productions as he is for his fruitful partnership with Bulgarian producer KiNK, Neville has worn many hats within dance music, including running his own record store, and holding a long-time residency at the sadly now defunct Reading based night Checkpoint Charlie. Ahead of Saturday's party we posed a few questions to Neville to find out more about what we can expect!
It's Record Store this Saturday…! Do you think you could ever do it again and open Mighty Atom Mk II?
No, being behind a counter all day is not for me I'm afraid. I had a great time running our little shop and I have the greatest respect, obviously, for record shop proprietors but I wouldn't want to do it a second time around. Plus it's too easy to get high on your own supply.
We imagine it probably helps that you can refer to all the amazing photos your brother, renowned photographer Gavin Watson shot to remind you of parties long since past. Is there a specific shot of his that takes you right back to that moment when you look at it?
The photo of the Flackwell Heath party, with all the speakers hanging from the trees. It captures the spirit perfectly.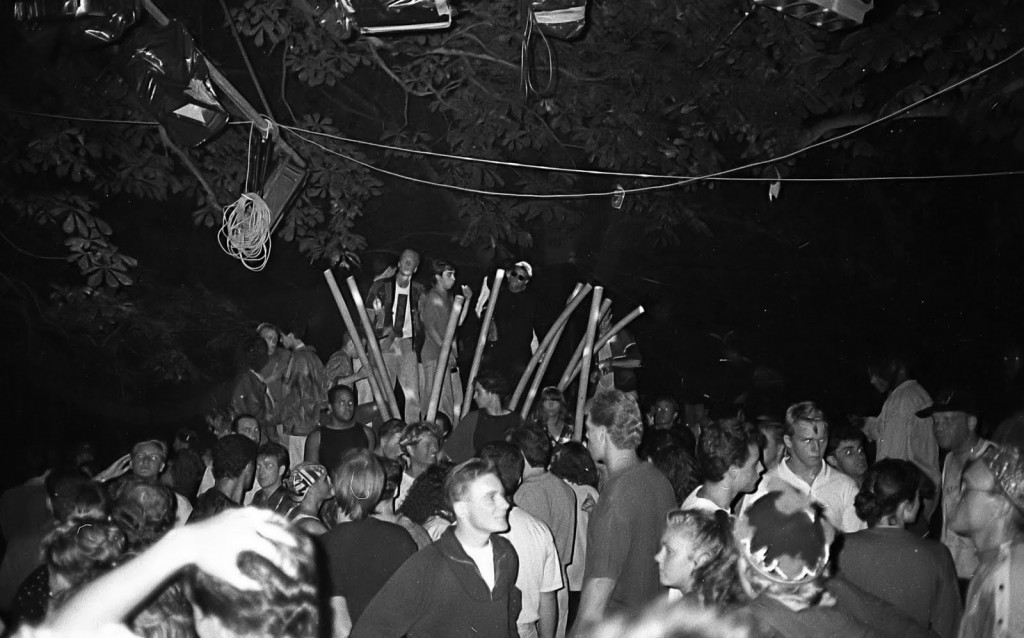 You're also known for your live partnership with the equally amazing KiNK- which other artist, if any (if it's not too much like cheating!!), do you think you would work as well with in a live set-up?
Working together on stage with no drama, dealing with tech issues and travelling together takes a particular type of relationship, and we were just lucky that we got on and didn't get on each other's tits. Having experienced working well I'm not sure I'd want to risk trying it with someone else.
If you had a time machine and could visit any dance floor anywhere/anywhen, where would you want to go dancing?
High Wycombe Royal British Legion disco 1973.
You've played at a wide variety of parties, cities, venues over the years. Drawing from this breadth of experience, if you could design the ideal DJ booth, what would it look like and what tech would you equip it with?
You have to go a long way to beat the booth in Room 1 at Fabric, the choice of two mixers and enough CDJs and 1200s to keep you busy. Plus it maintains a healthy relationship between the dancers and the DJ - separate enough for the DJ to do his job but not completely cut off from the dancefloor. All this facing the DJ bollocks is rather dull. 
What's the one track that NEVER fails to ignite the dance floor?
DJ Spen - Craze At Midnight
You have a pretty strong associate with Crème Organisation… what is that you think makes this relationship so special?
That I can always tell a weirdo when I see one.
Outside of DJs and promoters, the power of the resident is pretty under-appreciated. Having been a long-time resident at Checkpoint Charlie, what club or club night would you ever want to be resident at?
I really can't think of any to be honest, all the obvious places like Panorama Bar, Fabric and The Rex all have such great residents. I would love to get in at the development stage of a smaller club so I could tailor it how I saw it.
What's your starting point for making music? What do you need before you can start?
I don't need a great deal actually, I often start things on the laptop at home and then transfer them if I need to when I get in the studio. My wife said to me the other night that she found it strange how I could just dip in and out of work when I get a spare minute, but if an idea comes to me I want to get it down straight away. That's the beauty of the laptop.
Having said that when I'm in the studio proper I don't want any distractions and if I'm working with someone else I expect zero fucking around.
Join Neville Watson this Saturday 18th April for
Bastards
at Dalston Superstore from 9pm - 3am.
post-template-default single single-post postid-8463 single-format-standard tribe-no-js loading
Neville Watson talks