Neville Watson
Neville Watson
15-03-13
DJ and producer, former label and record store owner, occasional KiNK cohort and purveyor of deep, raw and jacking house, the illustrious
Neville Watson
joins us for the upcoming Big Thursday which will kick off the long bank holiday weekend in style. He'll be deep down in the laser basement for
Disco Bloodbath's 6th Birthday
 with Bloodbath residents Ben Pistor and Damon Martin, whilst upstairs Shay Malt and Nick G takeover the top bar for raucous party times. 
Ahead of what is sure to be a totally mental party, we caught up with Neville to find out more about his rave past, what Myspace means to him, creative muses and more...
If you could go back to any dancefloor you've ever danced on, where would you want to be dancing?
Checkpoint Charlie at the After Dark club in Reading, 1994-2004. I walked in to that club as a punter and would eventually become a resident but in all that time the energy on that dancefloor never let up. A Jamaican social club down a dark alley with a thumping sound system and 300 baying lunatics. Magic.
It's pretty well-documented that you met your frequent co-collaborator KiNK via the now mostly irrelevant Myspace. What do you think exists now in terms of social media to connect artists in the way you guys did and is it as important nowadays?
It is just as important, and it's a blessing and a curse. A blessing because you can reach out to pretty much anyone instantly, a curse because it makes it that much more difficult to let things build slowly and get more of a lasting foothold. To be honest I quite miss MySpace; it felt a bit more anarchic and a little less micro managed. I'm fairly active on Facebook but I'll be glad when something else comes along. Soundcloud is also massively important to what I do and is a real godsend. 
You've had Kim Ann Foxman guest on a track of yours and KiNK- are there any other vocalists currently on your wishlist to work with?
There isn't really anyone particularly famous that I have a burning desire to work with but I'm always on the lookout for someone with a unique voice and interesting take on lyrics, and it's much harder than it seems. One of the best vocals I've heard on a house track in the last few years is Lakuti's on Portable's Deeper Love.  There is someone I'm about to approach but I'm keeping it under wraps for the moment.
What can we see of your own music in the next few months?
The single One Four Green gets a re-release on Teng Records with new mixes from Deep Space Orchestra, Perseus Trax and Johnny Aux. A remix for your very own Dan Beaumont forthcoming on Disco Bloodbath. My main focus right now is the release of my album, Songs To Elevate Pure Hearts which comes out on Crème Organization in May.
What one piece of hardware, maybe not necessarily your favourite, could you not make music without?
If we're talking absolute necessity, then as a machine I guess it would be my Mac. Sorry, I know that's not very sexy but it's the truth. I love my machines but if they all broke down tomorrow (I don't really want to think about that) then I could still make shitty, faux "deep" house in the box. 
You were for a long time, the muse of your brother, the photographer Gavin Watson... who would you say was your own creative muse?
My wife, Stephanie. Without doubt. 
What is your favourite photo from the book you did with your brother, Raving '89?
Ooh, that's a tough one. There are so many good ones in there. It would either be the guy with "Go!" printed on his t-shirt, he looks like he's been fired out of a canon and splatted into a patio door. Which pretty much sums up how it felt back then.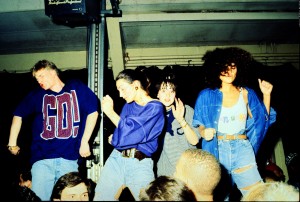 Or the one on page 108-109, it's like some weird renaissance tryptych. Everyone in it looks completely disconnected from the other, and the weird ghostly floating head floating above that guy's shoulder just pips it for me. We were surprised when doing the book how much of a dark vibe the pictures had, in our heads the memories of that time are really positive and uplifting but some of the pictures are almost Dante-esque.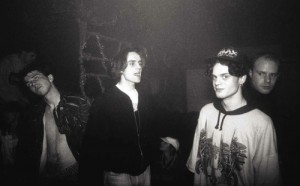 What's your best moment or hijink from that era that you can remember and that wasn't captured on camera?
My favourite moment will always be the local football team moment, there is a picture from it in the book but not of the best part. For those who don't have the book, my friend's were in the local pub team and they went straight from a party to the game; all high as kites. Basically they were in no fit state to be upright, let alone play football. The rest of us pulled up in the car beside the pitch, got out and started dancing to the stereo, summoned one of our friend's in the team from the pitch to come over and make a jazz cigarette. Which he gladly did, abandoning the game. But my enduring memory is of my friend, Stuart, in goal doing the acid house goalie dance (feet spread out hands out in front) and watching the ball just go sailing past his head in to the back of the net. Much to the distress of his team mates who'd all had a good night's sleep, and the utter bemusement of the other team. 
What were the first and last records released on your now sadly defunct record label Mighty Atom and what do they mean to you?
Good grief, you know about that label? I didn't think anyone was taking any notice! The first one was Mono Tracks - Gabes Groove and the last one was Lovejuice - Acid Love. What do they mean to me? I'm not sure. Obviously they represent a particular time in my life but I'm not a particularly sentimental person, so once I put something to bed I'm pretty much done with it. That said we did put out some great records on there and I still play a few of them out on occasion. 
Taking into account the fact Mighty Atom was also a record store, what are your current fave record stores having previously had your own?
In the real world Phonica in the West End, Hardwax in Berlin and Alan's Records in.... actually I'm not telling you where that is, you'll have to find out yourself. Online, Juno for the customer and speed of light service. 
What one track prompted your first ever rave epiphany?
Reese & Santonio - Bounce Your Body To The Box
post-template-default single single-post postid-4173 single-format-standard tribe-no-js loading
Neville Watson